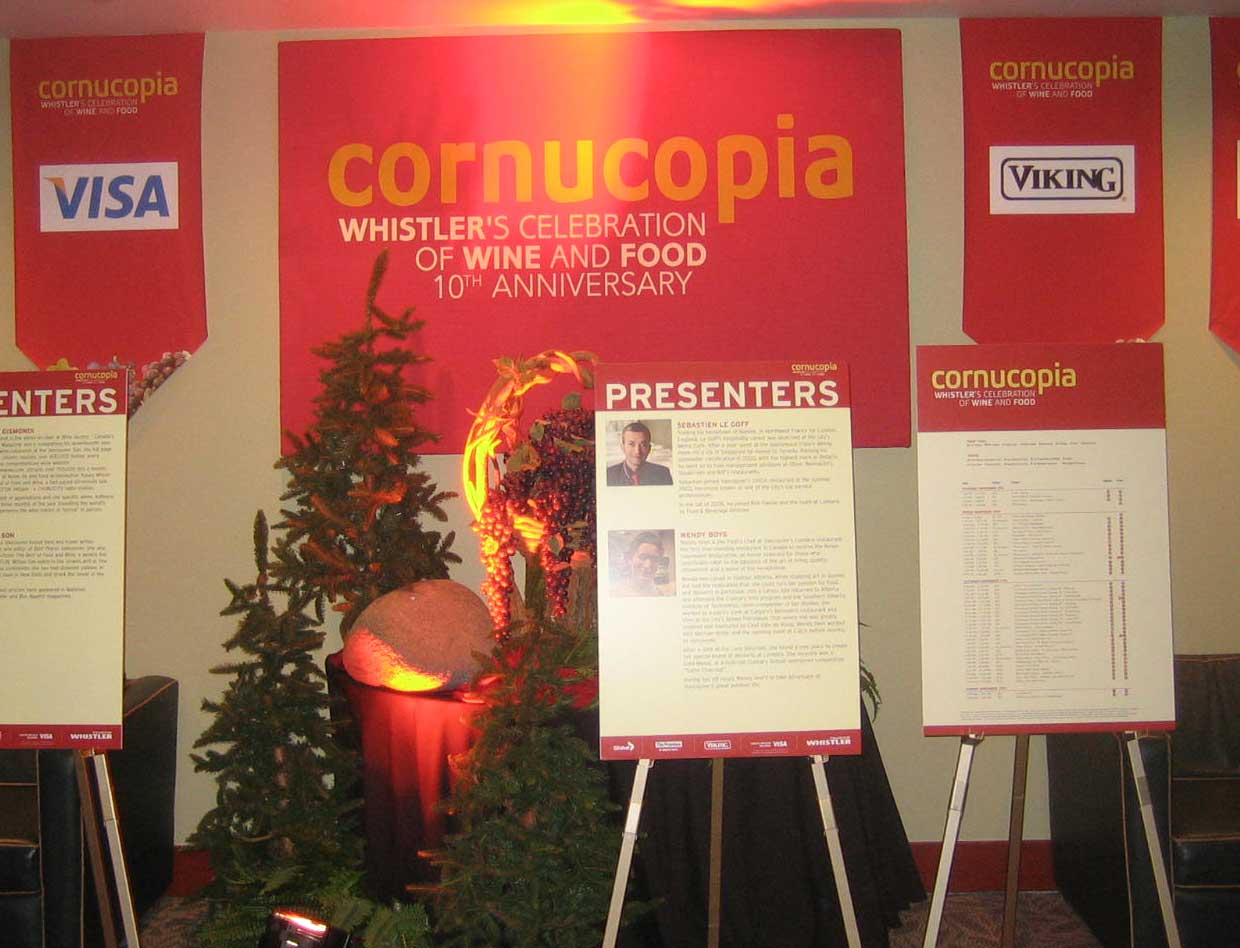 Whistler Cornucopia
November 10th-12th
2006
Whistler, BC
Homepage
Cornucopia Postmortem
By Jason Chin
Writer
Since technological issues prevented this from being posted earlier and in on a different forum, I thought I'd post my abbreviated Whistler Cornucopia journal here for anyone interested.
Cornucopia Varietal Series Tastings (Saturday 9:40 AM – 12:00 PM)
The varietal tasting series is a new event at Cornucopia, showcasing three varieties in three 40 minute sessions. Seeing as these sessions are hosted by some of the biggest names in BC's wine scene, I definitely wanted to make it to all of them. Unfortunately, they began at 9:40 in the morning on a Saturday, so I decided to skip the early session, thus eliminating one of the options. In the end I decided to attend the Pinot Noir and Riesling tastings and forgo the Shiraz session.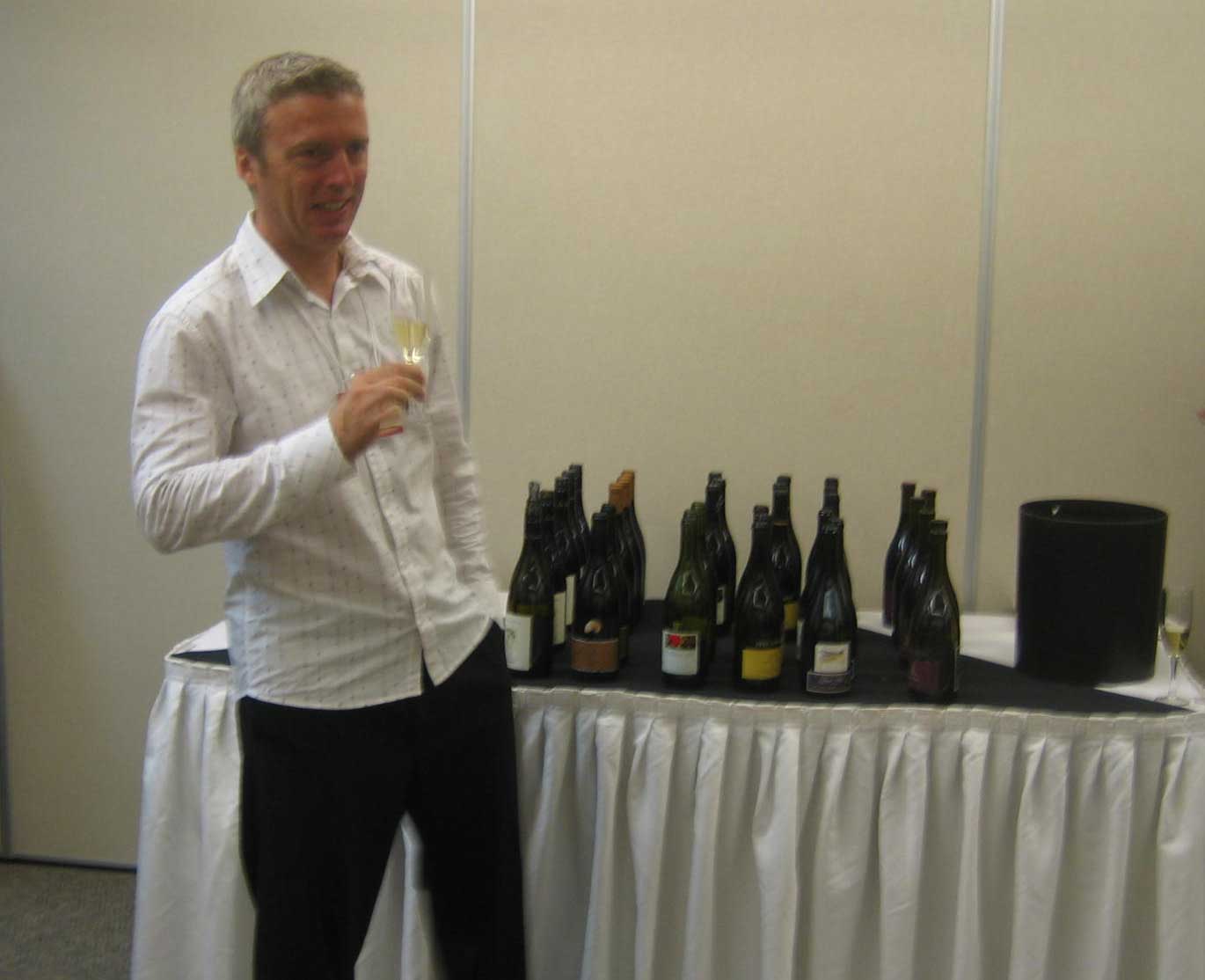 First up was Mark Davidson's (former BCRFA sommelier of the year) Pinot Noir session, where we sampled Pinots from around the globe, starting at the homeland of Burgundy and ending up in British Columbia. Mark was an enjoyable and knowledgeable host, doing his best to take us through eight wines in 40 minutes. Several jokes and his general affability made all of the learning quite enjoyable. Although the British Columbia Pinots held up well (yet at a higher price point), the star was a Santa Barbara Pinot under the Greg Normal label. Go figure.
Next up was Rieslings with DJ Kearney. Her style was somewhat different. While Mark allowed the questions to drive the tasting, DJ was more directive with instructions on when and how to taste the wines, as well as what to look for. Both methodologies proved fruitful. DJ took us on an interesting tour that began with a sweeter German Riesling through to the more archetypical versions, and ending with an ice wine, which she called the very essence of Riesling in that the frozen watery part is extracted, leaving only pure, sweet Riesling.
Overall, the varietal series is a great addition to Cornucopia. It's a great value, with $20 per session buying time with respected instructors, as well as some with some great wines. It should also be noted that the instructors were very approachable and genuinely seemed to enjoy being there. The event did show its age in that 40 minutes was definitely not enough time for each session. Most went at least ten minutes over and caused some scheduling conflicts.

Oysters and Champagne 101 (1:00 PM – 2:30 PM)
Seeing as the opulence of Bearfoot Bistro screams good champagne, and I happen to know personally that Chris "Oyster Guy" Field knows his oysters, this is one event that I was especially looking forward to. Unfortunately, the event did not live up to my expectations at all.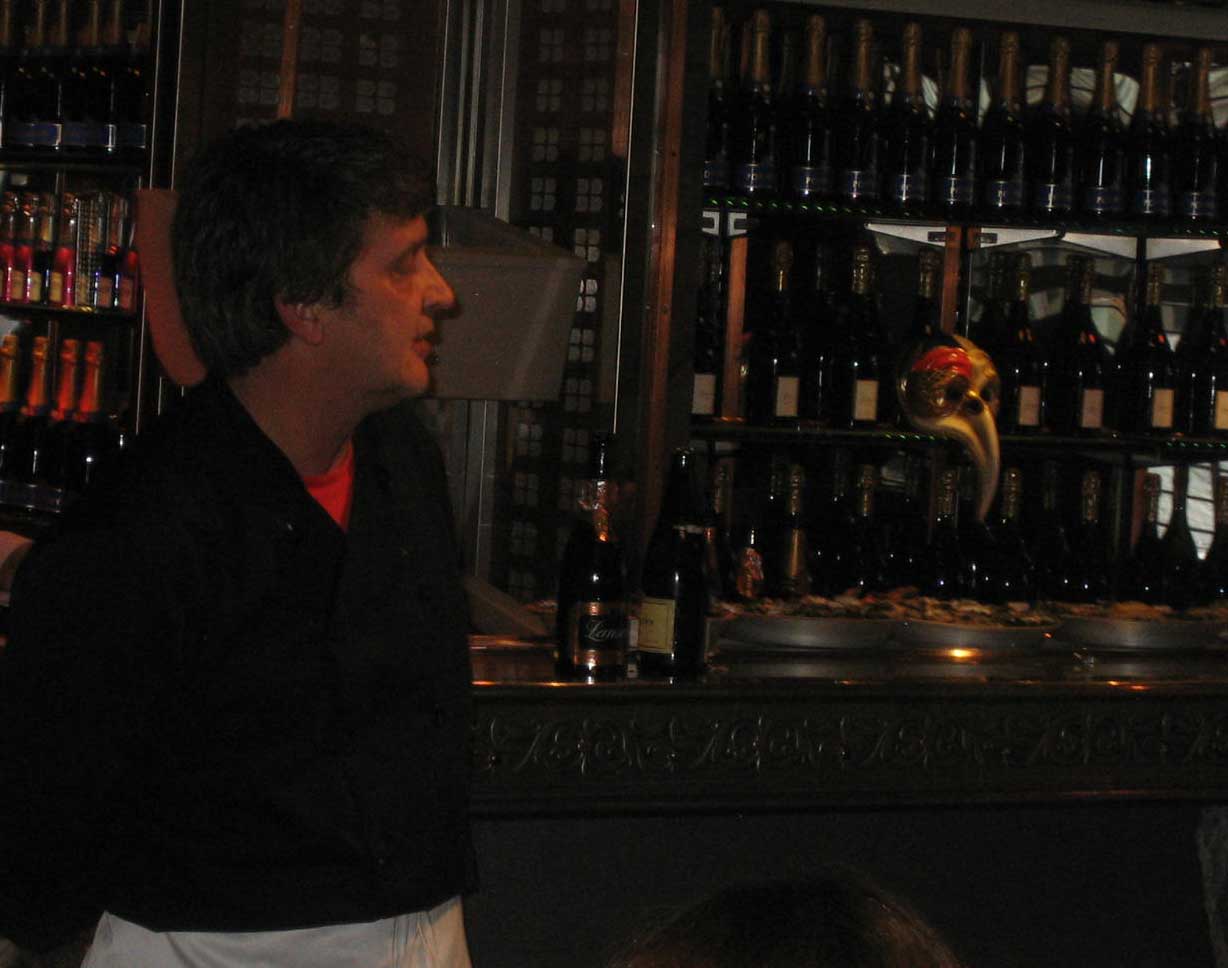 Things started well when we were all poured five full flutes of champagne. I know what you are thinking here and it's how can I complain when there are five glasses of champagne involved. I admit, there was a lot to like here, but the execution was just off. First, one of the wine representatives didn't show, so we didn't get descriptions of all the wines. In fact, only the first two champagnes were explained and we weren't even told why oysters and champagne are such a classic pairing. Chris Fields was very personable and imparted a lot of knowledge, but I thought it quite strange that only four oysters were provided (albeit expertly shucked), while we had five champagnes to drink. Of course, anytime you have a bunch of champagne to drink (and a great demonstration of sabering as way of uncorking champagne), it's not going to be a bad time. Further, the staff was recovering from prior night's Moulin Rouge party, which went to about four in the morning.
Befitting the 101 theme, all participants were given a eight-page (single spaced) oyster fact sheet written by Field himself to take home.
Crush! Gala Grand Tasting (8:30 PM – 10:45 PM)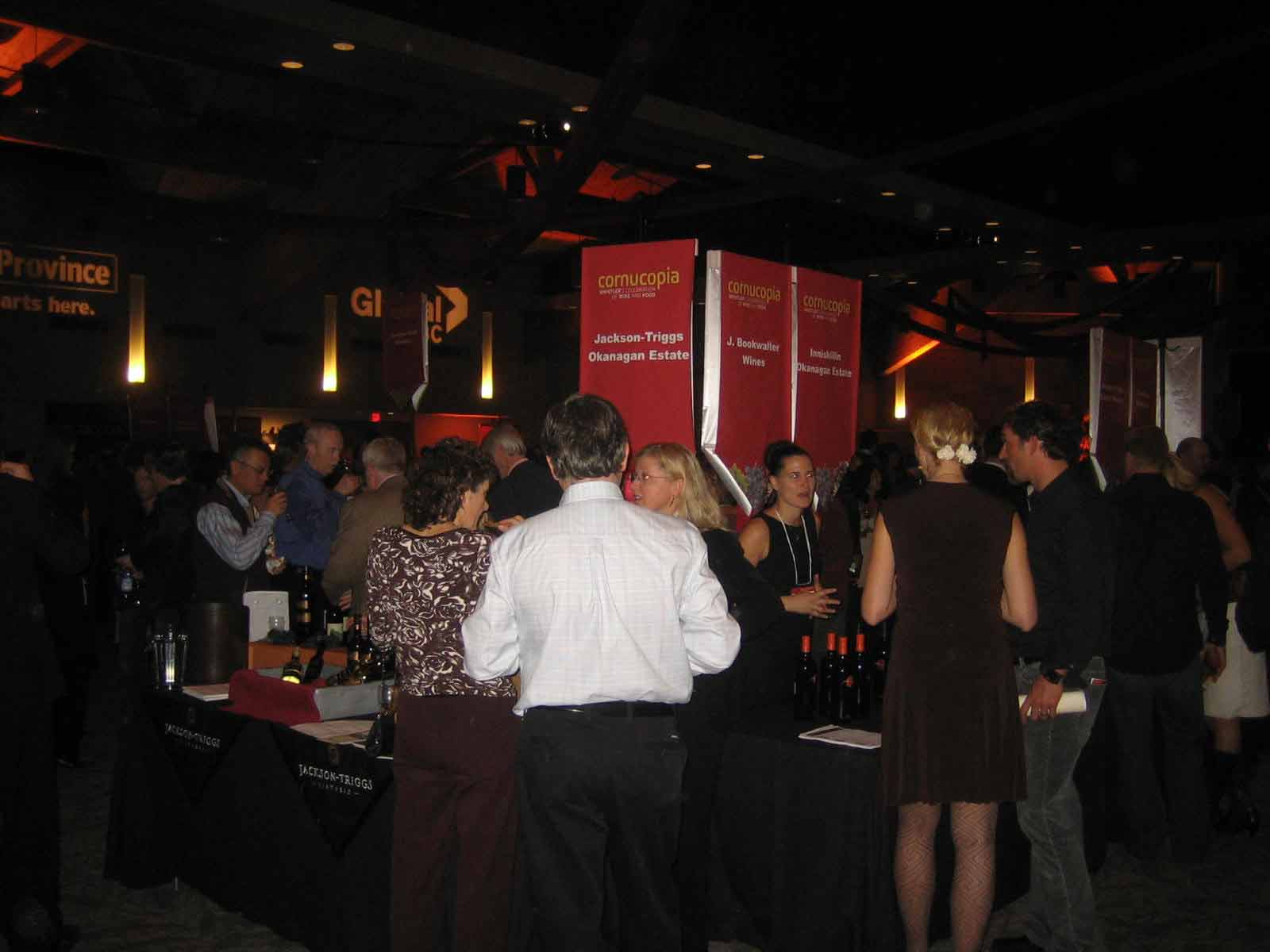 A day of hefty drinking was starting to wear on me, but I trucked on over to the Grand Tasting at the Whistler Conference Center. With over 75 wineries participating it wasn't hard to find something to drink. It was kind of doing tastings at a winery, except that there were 75 wineries all in one building. The food offerings were less impressive, with poor execution hampering the success of several bites: the tandoori chicken was dry, squash risotto was flavorless, and smoked salmon pizza simply didn't come together well. Yes, it's difficult to prepare quality food for the masses, but I was surprised at the overall effort. I spent a good deal of the night hovering around the oyster bar, which doled out quality oysters with all the appropriate accoutrements all night. Despite a few miscues, however, it was a fun night and I think the $100 price tag was not unreasonable.
DiVine Soul After Party (10:30 PM – 2:00 AM)
After Crush! I headed over to the DiVine Soul After Party at the Garibaldi Lift Company (GLC). To sum it up quickly, it was just a really fun party. The GLB was decked out in what I'd call an Arabian theme, with red, purple and gold cloth hanging from the walls and providing a very inviting respite from a cold Whistler night. The band (Mike Henry Band) was excellent and fit with the soulful theme that involved a chocolate tasting and a Starbucks counter. The only piece that didn't really fit was the excellent circus performers literally descending from the ceiling at one point, as well providing excellent demonstrations of classic street entertainment. My favorite was the spectacular yo-yo artist. A complaint would be that the $115 price tag did not include a lot to drink, just a few wines, and a cash bar.
So, Saturday proved to be a full day (from ten in the morning to two the next morning) of drinking and eating, such that "cornucopia" is one of the few English words that can aptly describe it. It left me a beaten, broken, yet very happy man. Needless to say, I'll be there next year.