The Fish House in Stanley Park

Address: 8901 Stanley Park Drive (map)
Tel: 1-877-681-7275 or 604-681-7275
Homepage
Hours:
Lunch – Monday to Saturday from 11:30am
Dinner – Seven days a week from 5:00pm
Sunday Brunch – from 11:00am
Afternoon Tea – Seven days a week from 2:00pm – 4:00pm
Fresh Catch from the Forest
By Desmond Cheung
Eat Vancouver Columnist Emeritus
Sunday February, 18th 2007
*** 1/2 (of four stars)
An English friend from college days was visiting Vancouver for the first time ever. Recently relocated to New York from Beijing, he asked to go somewhere 'quintessentially Vancouver' for dinner. There is, of course, no such singularity here; many places could offer fine flavours that make up our city's distinguished and varied palate. Considering his expatriate and cosmopolitan experiences, plus the fact that I hadn't seen him for a few years, I decided to treat us both to one of Vancouver's most noted restaurants that had long been recommended to me but I had not yet had the opportunity to try out: The Fish House in Stanley Park.
Nestling at the edge of Stanley Park near English Bay, this woody restaurant provides an attractive venue for a nice meal. Indeed, the Fish House is not merely an excellent restaurant but a superb establishment of truly fine and comfortable dining. We both likened this aptly named haven to a splendid and hospitable country hotel. Its two main dining areas (with about fifteen tables spaciously placed in each) extend from either side of the entrance by the brightly lit bar. Pictures of fish, ports, and old docks hang from the walls and beams stretch across the ceiling over a warmly decorated dining room of furnished red, white, and green with a merrily glowing fireplace by which we were happy to sit amid several other parties of families and friends. The friendly staff added much to the experience too. We arrived over one half hour late for our already postponed Friday evening reservation and the welcoming, unrushed service was much appreciated on this chilly winter's evening.
A couple of gins and tonic gave us time to take in the plentiful menu. Naturally, we were going to opt for the house's fine eponymous fare and expectably there are many appealing seafood dishes to choose from. (There are also a small number of poultry, meat, and vegetarian dishes on the menu. I expect that these mainly cater to guests who are not so fond of seafood but dine here accompanying more fortunate eaters open to the fruits of the sea.) To assist diners in their gourmet navigations, there is the Fish House's three-course "Hook" ($29.95) presenting a well thought-out complement of delights each month. On our visit there was a choice of Fried Chinese Dumplings or Soup to start with (it seems that there is a choice only for the starter); a Prawn Satay in a Spicy Peanut Sauce for the entrée; and a Lime and Coconut Panna Cotta to finish. This was an interesting Vancouver fusion but neither of us went for it. Our eyes were set elsewhere.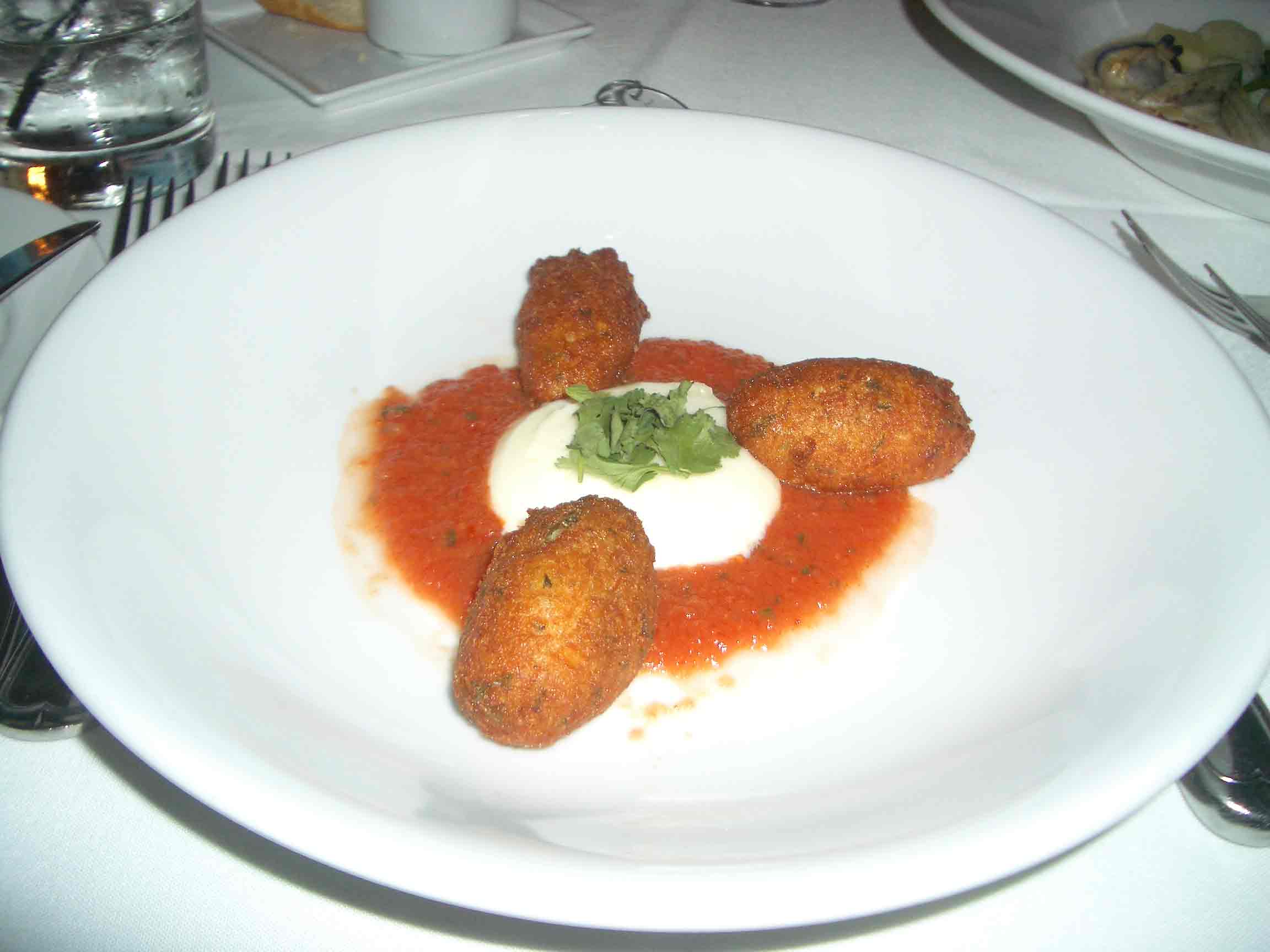 To start I decided on Salt Cod Fritters Spanish Style ($7.95). I was hoping for delicately crisp pieces of fresh cod while somewhat concerned that I would be served over-fried dry flakes of the popular white fish. The promise of 'Spanish Style' with its aioli and gazpacho vinaigrette overcame my concerns and I was certainly not disappointed. The cod was full of fresh flavour that was neatly enclosed in a light herb batter to which the cool aioli and gazpacho were a coaxing complement. My friend chose the Clam Chowder ($9.25) and greatly enjoyed it. Everybody knows that a can of cream can turn feeble broth into hearty soup but excessive creaminess can also rob thicker soups, such as chowders, of other flavours. This clam chowder was a tasty vegetable soup whose tenderly cooked Manila clams were a fine pinnacle completing it and not an added garnish – no matter how exquisite – as I have sampled all too often. I wish there were more of us dining as several other starters caught my eye: Salmon Carpaccio (house cured salmon, lemon vinaigrette, shaved Parmesan and capers, $8.75); Flaming Prawns (six prawns sautéed with garlic, roasted red peppers, tomatoes, spinach & feta cheese, flamed at the table with Ouzo, $14.95); and Oyster Motoyaki (oysters baked with wasabi mayonnaise, pickled ginger & black sesame, $9.95). We were delighted with our choices though and they were a fitting prelude to our main course.
Before moving onto the mains, we clinked our glasses of Pinot Grigio from the Peller Estate's Proprietors' Reserve Selection. This dry and refreshing wine was a satisfying choice for our meal but it definitely does not represent the wonders of the Fish House's award-winning wine cellar – which, I reckon, few other Vancouver restaurants can match. There is an extensive and excellent range of wines representing many wine growing regions in both the 'old world' and the more recently acclaimed areas including, of course, British Columbia. These include around twenty wines by the glass ($6.75-$15.50), and a generous selection of wines by the half bottle ($22-$125 with France and the U.S. especially represented). As for wines by the bottle, one is truly spoilt for choice with very good quality young wines at affordable prices as well as vintage wines marked at three figures.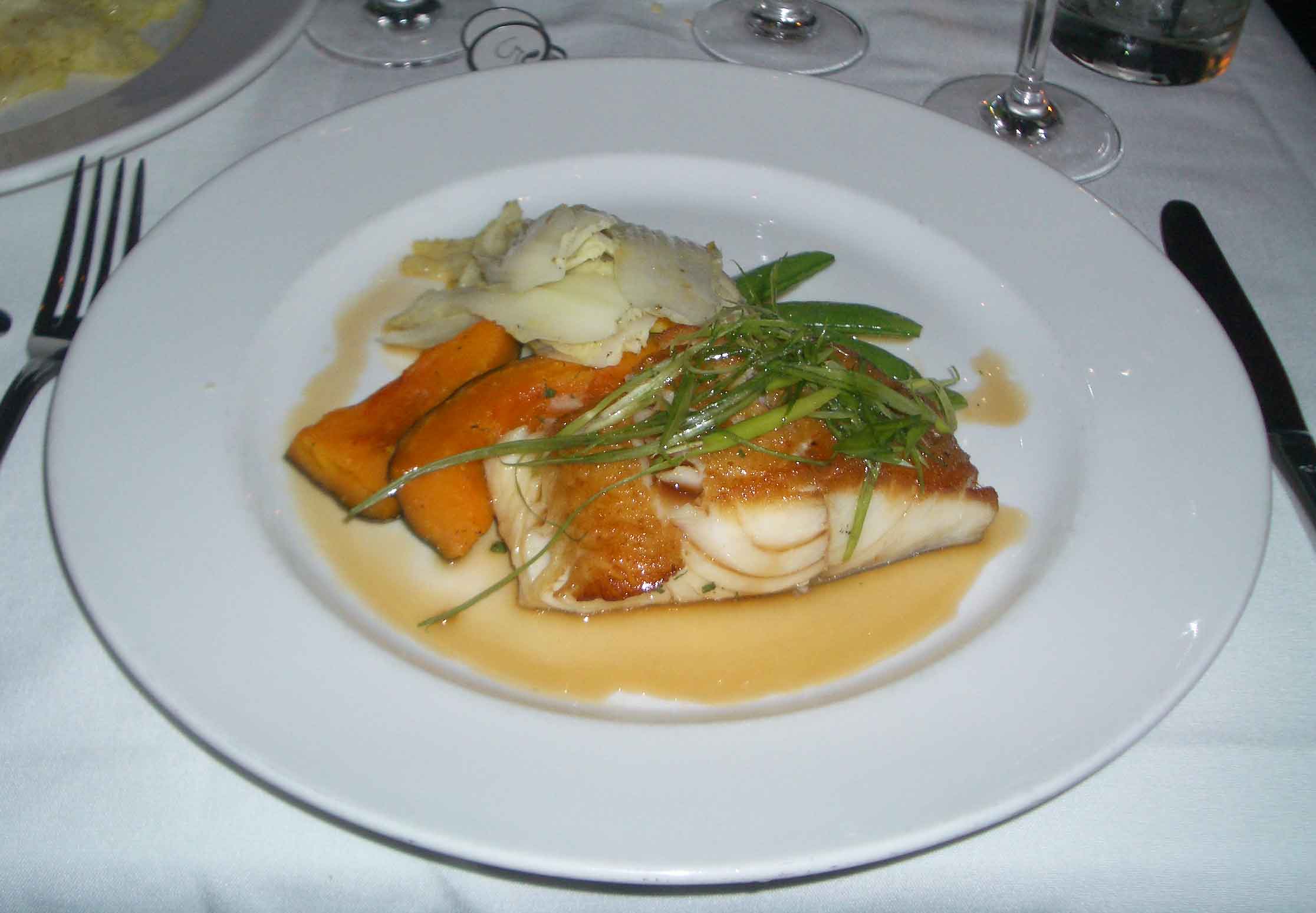 My friend maintained his mission to try the specialties of the region and picked the Sticky Chilli B.C. Sablefish ($28.95). A chunk of this firm white fish was gently pan roasted until juicily sweet, accompanied with a sweet soy and chilli glaze that was perhaps just a little on the sweet side but delicious all the same. Both of us, however, preferred my choice of the Naturally Smoked Alaskan Black Cod ($32.95). On reflection, I'm not quite sure why I chose this as I tend not to order starters and mains of similar substance, nor is smoking my most preferred way of preparing fish. Other mains that grabbed my attention were: Maple Glazed Coho Salmon (grilled in a cornhusk, $23.95); Cedar Planked Trout (local trout, grilled apples, salmon 'bacon' with Calvados butter, $25.95); and Ahi Tuna 'Diane' (grilled to rare with green peppercorn sauce, $29.95). In any case, my decision was well rewarded with the most delightfully smoked fish I've ever tasted. Black cod, of course, is not any fish (perhaps we risk being misled by names alone) and I continue to be thankful for my introduction to this marvellous fish in Vancouver, having enjoyed it presented via various cuisines. Here at the Fish House, the smoking skills must be a well-regarded secret and the saucy sprinkling of herbs added to the magic. Both the sablefish and the black cod came with similar tasty vegetables which made it seem that they were the day's earthy offerings and would have been companion to most mains. There is nothing wrong with this, of course, but more particularly selected sides might enhance the individuality of the fine fish.
Although very happily sated after our mains, we were tempted by the dessert menu. It is not extensive but includes a combination of heartier pies and cakes as well as tartier, lighter options. Unable to choose from the mouth-wateringly alluring descriptions alone, we shared the Okanagan Buttermilk Pie in line with the evening's foray into local fare. This was a fine way to round off our meal and imaginably brought together aspects of the other desserts with its buttery – yet not too rich – bulk with suspended grapes and almonds nicely contrasting their flavours and textures within, a perfectly caramelized top with a crisp edge and lightly dusted with sugar, all of which sat in a light hazelnut crust.
Thus our meal was complete but I left with the feeling that our fantastic dinner was only a small reflection of what this wonderful restaurant has to offer. A glance at its numerous menus (see restaurant web site) vaunting its oysters shucked to order and its many lunch and brunch delights (many particular to the earlier parts of the day, but also with dinner favourites available) confirm this. The rather English Afternoon Tea service presents one side of Vancouver but the Fish House clearly attracts a diversely appreciative crowd, even having a Kids' Menu, a Low-Carb Menu, and Canape and Free-Flow menus catering for large groups. Personally I would like to come here with my family, or a small group of close friends looking for a special meal in a relaxed yet classically comfortable atmosphere. And visit again I certainly will.