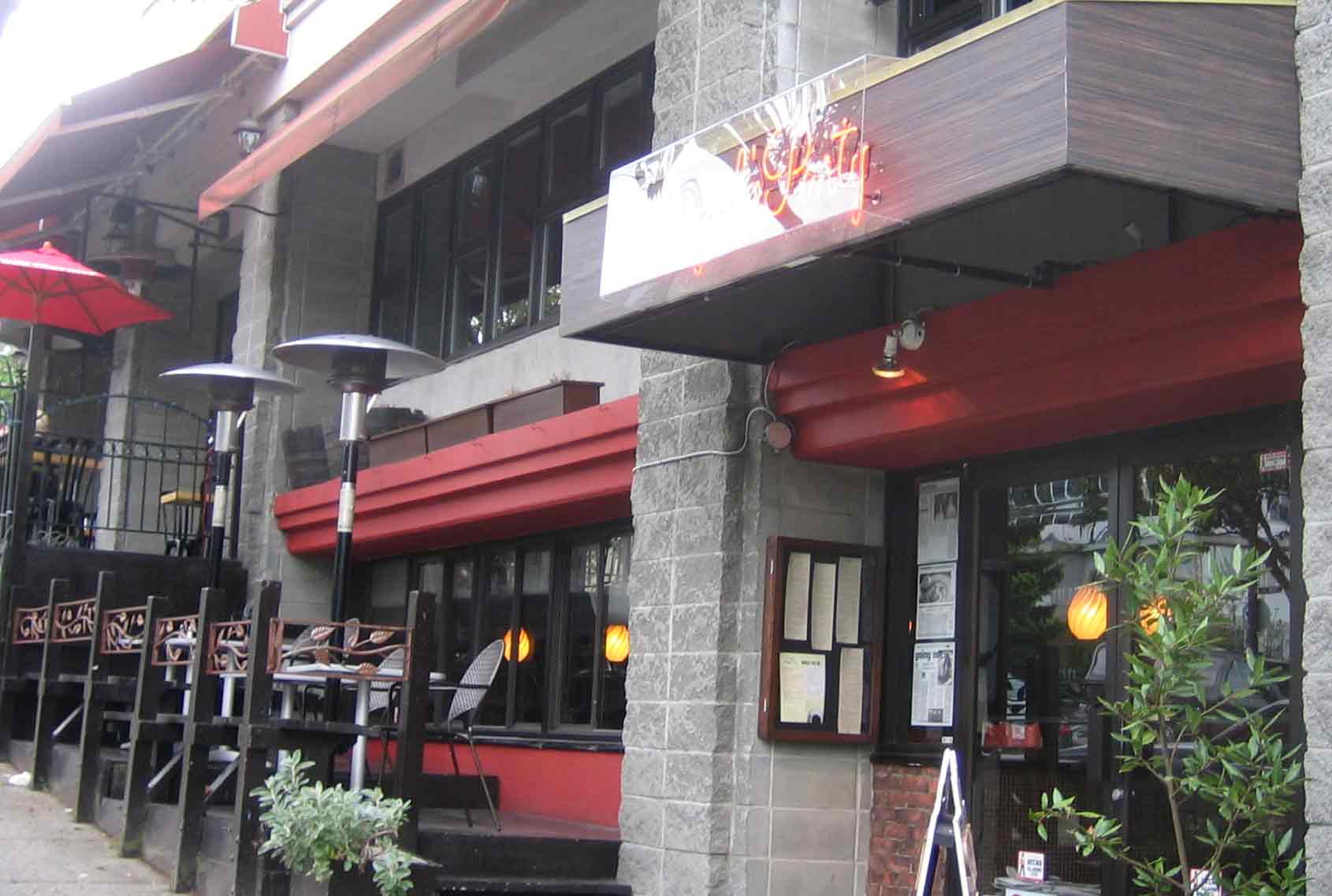 Abigail's Party
(604) 739-4677
Address: 1685 Yew St, Kitsilano (map)
Homepage
Dear Abi,
a restaurant review
By Jason Chin
Eat Vancouver writer
Sunday, May 20th, 2007
½ (of four stars)
With a wealth of new Kitsilano restaurants (Bistrot Bistro, Gastropod, Fuel et al) soaking up our collective attentional resources, it is easy to overlook the several Kits standards that have already made a name for themselves. One such joint is Abigail's Party, which opened over a year ago to much critical praise and considerable success. But has this Cinderella maintained her charm, or is she late for the ball, her coach nothing but a dirty old gourd and her hand servants mere field mice? Recent evidence suggests she is showing her age, but with some serious tweaking, this soiree can regain its former splendor.
Abigail's is an intimate gathering with but a few tables, dimly lit, accented by an open-brick wall on one side and the kitchen in the front where patrons are often greeted by the hard-at-work chefs. Service is casual and efficient, but perhaps not as knowledgeable as one would hope. One night we overheard a server assure one customer, "I find this wine full bodied, unlike most Cabernet Sauvignons." There is no dress code for servers but they are readily identifiable, working the floor with ease. On busy nights the service can get hurried with two servers stretched across the entire restaurant, but they deal admirably.
The warning signs, however, begin with the menu itself, which boasts a "winter salad," "winter poutine" and "winter seafood stew." Last I checked it's nearly June. Lack of seasonality can indicate someone in the kitchen isn't quite on his or her horse, a carelessness I hoped would not affect the execution of what was on the menu. Unfortunately, over two trips to Abigail's, I found that execution was wildly inconsistent.
On one trip we sampled Big Al's Beef Burger ($12) and the Tuscan gnocchi ($13). The aged cheddar stuffing and tarragon aioli on the burger were excellent additions to the burger, but unfortunately the burger was cooked to hockey puck-like consistency. My jaw was literally sore after finishing the meal. Unfortunately the gnocchi entree wasn't much better, having apparently sat under a hot plate for a quite a while it had hardened into a single mass that my dining companion eventually started separating with a knife and fork. Already this didn't seem like my kind of party.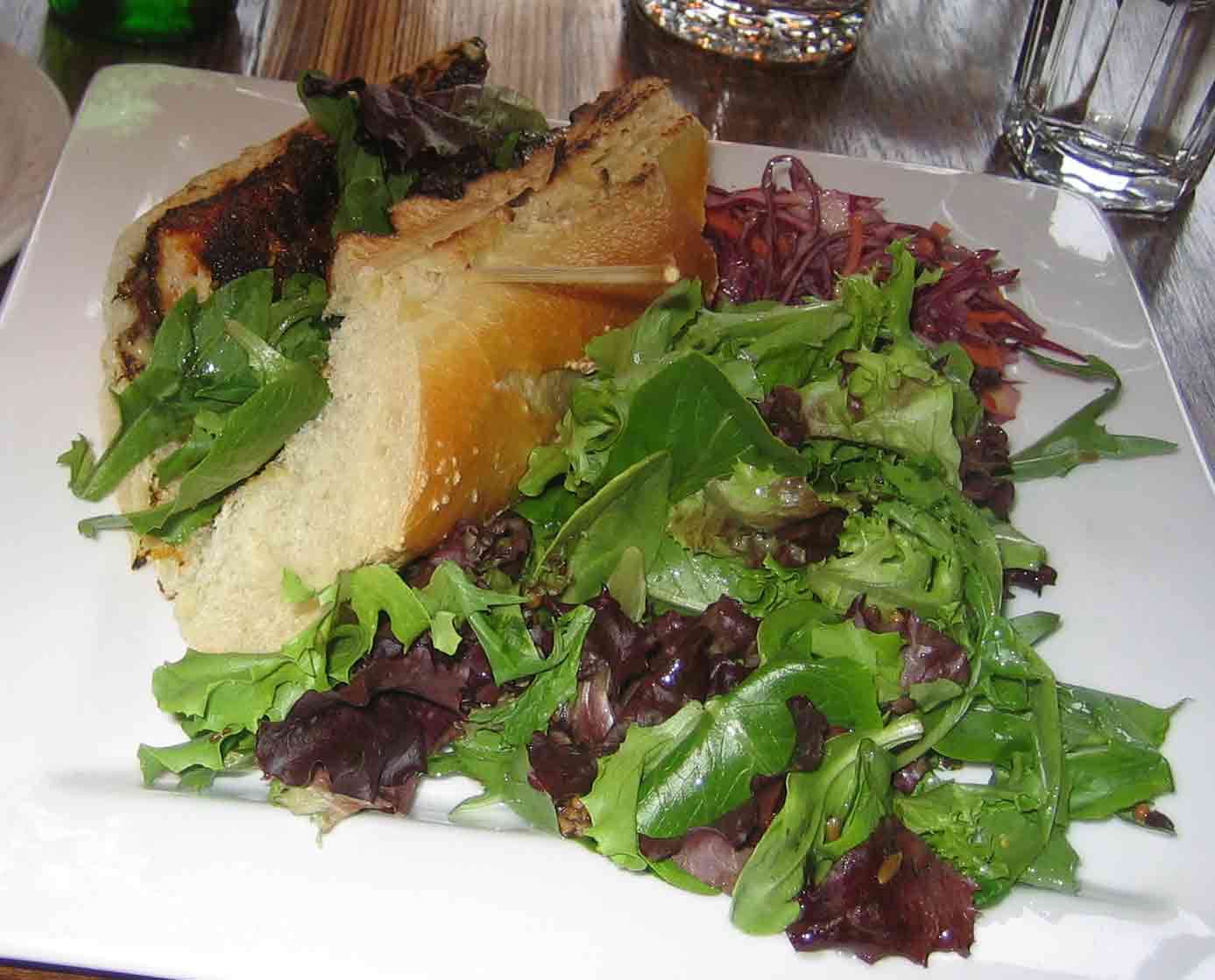 Things looked better another evening, when I sampled the southern fish sandwich ($12), Cajun-style blackened Mahi mahi in a fresh, doughy baguette. The spicy seasoning enhanced the flavor of the fish without overshadowing it, but the accompanying salad, or rather, the pile of greens with a toasted fennel dressing, grew tiring after a few bites. The sheer amount of salad and it's presence inside the sandwich as well are nearly enough to turn me off from ordering this again. The braised lamb shank ($16) was delivered to the table frozen through, definitely a wonderment when dealing with a braised (i.e., cooked slowly and over a long period of time) meat. The kitchen fixed it for us, but they couldn't do anything for the watery macaroni and cheese that accompanied the dish. The highlight of the meal was the steak and Guinness pie ($12), which is actually steak and Guinness stew served with a few strips of puff pastry. The flavor here was excellent, deep and rich, but the serving size was extremely small, representing a ladle at most. Despite sharing an appetizer as well as ordering this for himself, my friend looked at me solemnly and remarked that he would have to eat another meal when he got home.
The idea behind Abigail's is lovable, an affordable casual hangout with great service and a good, if predicable wine list (and cocktails a step above the ordinary – try the Mowgli, which combines gin, mango, oj and a hint of cilantro, $8). Time has apparently not been kind, however, and the execution of the food has faltered. At this point a mighty fine shindig Abigail's is not; it's more the type of party your parents dragged you to as a kid, where there wasn't really much there to interest you and at the end of the night your jaw hurt and all you really wanted to do was go home.