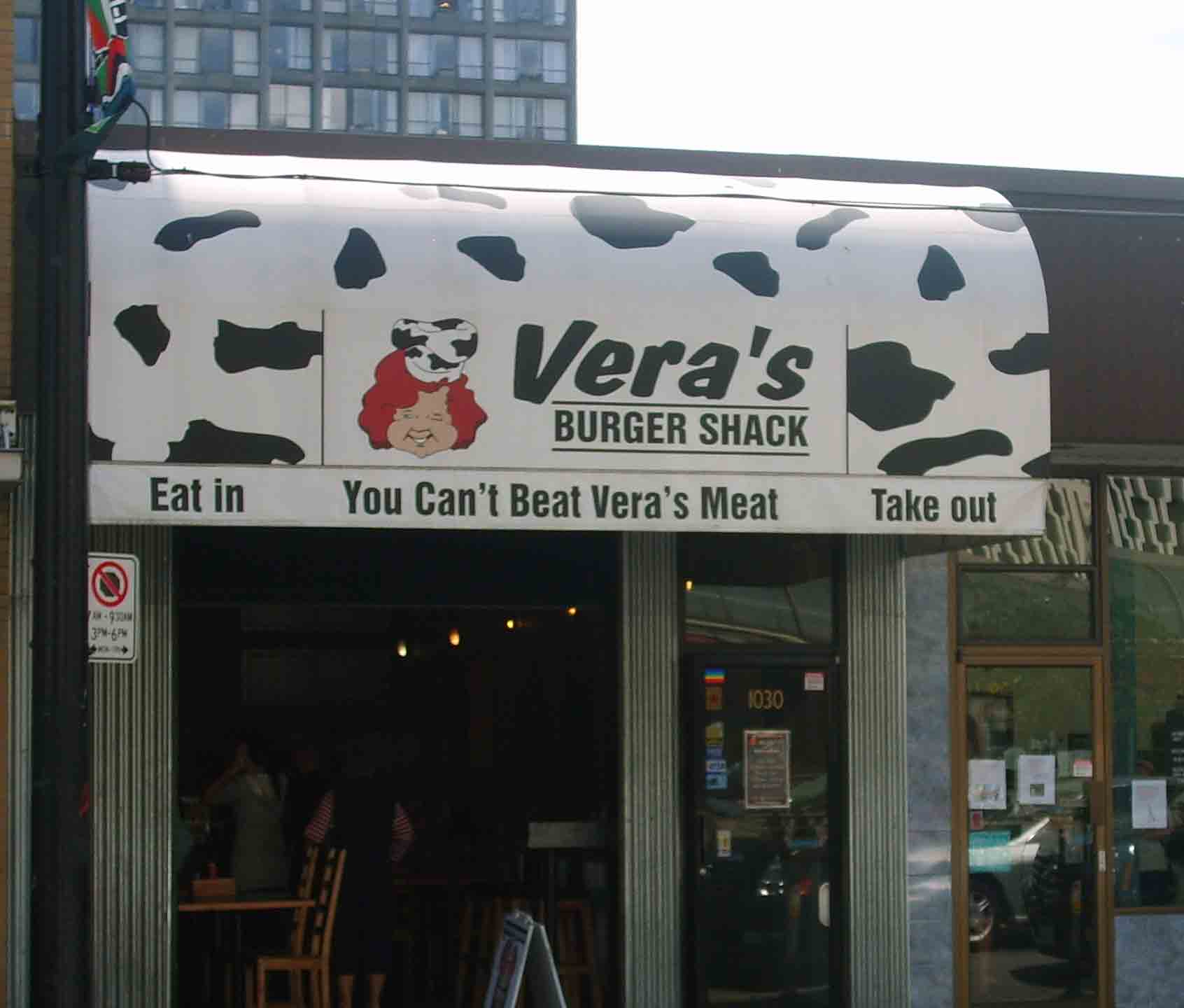 Ding, Dong, the witch is dead
A News Feature
By Daniel Fishman
Eat Vancouver Writer
Thursday May 17th, 2007
Although news of this story first broke last week, we held off on reporting about it here because we didn't want to influence subsequent events. But now it appears that things have been finalized, public outcry has been silenced, and victory is at hand: Vera's Burger Shack's flagship West Vancouver concession stand has been shut down by the heroes on West Vancouver city council (link to article)
I first heard about this story on Urbandiner, where I shared some of my own experiences with the mediocre hamburgers at Vera's. My latest experience, which will be detailed in our upcoming Summer Eating special by Pamela Burkardt caused me to downgrade Vera's from mediocre to horrible. However, my views were apparently not welcomed by a publisher who has received advertising income from Vera's, and they were promptly deleted, despite being completely factual and on topic. Gerald and his apparent lapdog the Urbandiner are quick to claim bias on our part, but given that we pay all of our expenses out of pocket and have only ever reported factual experiences (and of course, our subjective taste experiences, as all food writers do), I would argue that our opinions are more reliable than those of a writer who has received funds from Vera's in the past.
[Note from the author: Urbandiner points out that my posts were deleted because of some sort of guilt by association reciprocal ban and not because of a desire to protect Vera's. See comments #5 and #11 for details]
Recently Vera's owner Gerald Tritt addressed the press release from the good folks in West Vancouver in a rambling, mostly incoherent post that was not deleted, and it is clear that Gerald is either too incompetent to pay his rent on time, or else so unlikable that the folks on West Van's council would rather face complaints from their constituents than have any further dealings with him. Neither seems to reflect well upon Vera's prospects. If there is any justice in the world, the Vancouver Vera's locations, which have been springing up like dry, bland, overcooked crabgrass of late, will follow the same path as their predecessor. Vancouver City Council: the ball is in your court.
To the people who signed this petition trying to save Vera's, I can only ask, what were you thinking? I mean, if you honestly think that Vera's makes a good, or even passable burger, I don't know what to tell you. You really need to try some other places. I used to think it was crazy to pay $6 for an average burger, but now that the quality has slid so far, it is almost criminal to charge what they do. Well, thanks to visionaries like Pamela Goldsmith-Jones and Kevin Pike, fewer innocent people will be subject to that bland fate. Ms. Goldsmith-Jones, if you need any help in your re-election campaign, I would love to join the team. And God Bless America (and West Vancouver).