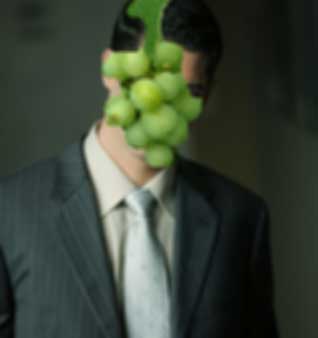 Introducing: Fishman the Grape
Fishman the Grape pt. 1
a wine blog
By Daniel Fishman
Eat Vancouver writer
Thursday, June 28th, 2007
Well, we are always trying to introduce new features here at EatVancouver.net, but I am especially excited about this one. After a lot of talk, I have finally decided to kick-off my wine column, Fishman the Grape. The plan is to try to post a substantial (in terms of length, not value) column every Wednesday night—just in time for the weekend—and also to add random thoughts, comments, notices etc., anywhere else along the way.
You might be wondering what qualifies me to write a wine column. Well, not much really, other than an interest about the subject that was ignited by the amazing Introduction to Wines course I took as an undergraduate, and a love of wine. But I think that the one of the great things about wine is that no matter how much you know, and no matter how much you acknowledge that you still have things to learn, things always pop up that you hadn't even realized you didn't know! And then the next year, all the wines you tasted last year have changed due to ageing, and all the new vintages taste completely different from the old ones.
The plan is to do things like notes about tastings, interviews with wine people, reviews of restaurant wine lists, tips on buying and so on. I am hoping to attend as many of the local wine store tastings as possible, and I am really excited about getting out and talking to people in the business (we already have one lined up for next weeks column). So if you are interested in wine and just starting out, I invite you to learn with me, and if you are already an expert, I welcome your advice, tips, or corrections.
One final note about tasting. I wrestled with how to do this, since I am certainly not going to be able to offer incredibly precise tasting notes like the pros, and sometimes all these scores seem pretty meaningless. But I do think it's important to get across some numerical idea of my own (humble) opinion of a wine's quality. I have decided to use a 30-point scale that will roughly correspond to the 70-100 range that most professionals use. That way no one will get confused and mistake my ratings for those of a pro, but I will still be able to give scores, and I guess we will see how that goes. Most wines should fall in the 12-22 rage I am guessing. Anyways, I hope people will be interested, and if you have any suggestions, please get in touch!