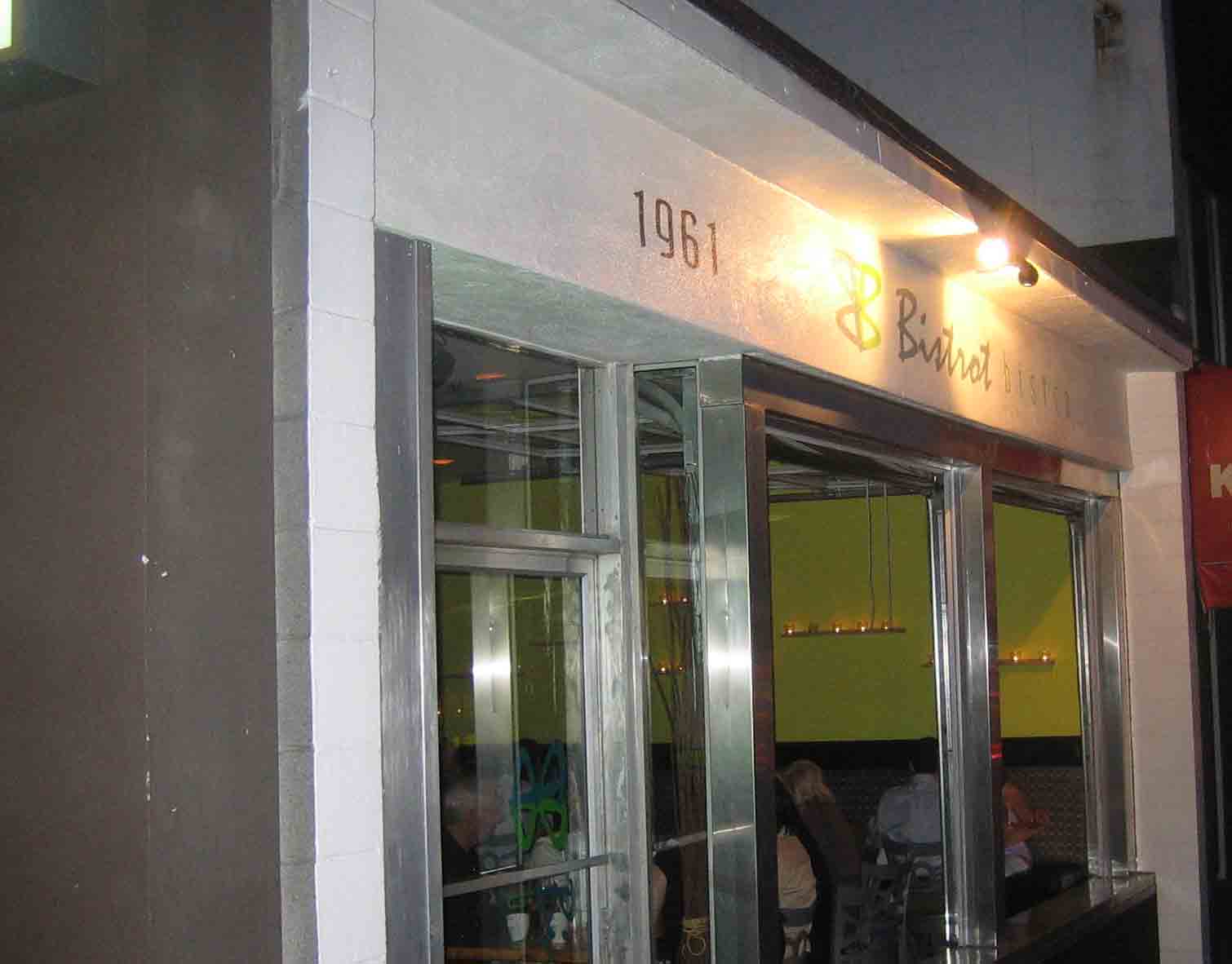 Bistrot Bistro
(604) 732-0004
Address: 1961 West 4th Ave (map)
homepage
French Connections
a Quick Bite
By Jason Chin
Eat Vancouver writer
It gradually crept on us, but lately lovers of casual French fare have been treated to a plethora of fine choices. Among the old stalwarts there is The Smoking Dog near Kits beach which sports a bustling patio, simple preparations, and live jazz. Then there is Bistro Pastis which is a bit more formal (and expensive), and tackles some of the hearty French classics. Mistral, on the same block as Feenie's, offers up classic executions that span the French map. Relative newcomer Jules Bistro brings classic preparations to Gastown at a reasonable price. Joining the existing Kitsilano locations is Bistrot Bistro, a relatively small joint that separates itself with a hip vibe and injections of flavors that aren't typically French.
The first thing that struck me about Bistrot Bistro was that it didn't look like a typical French bistro, with lime green walls and a less-is-more attitude with regards to décor. The rear walls are highlighted by a large wine rack and a large potted shrub. The whole package verges dangerously close to the Ikeaesque, but manages to liven up the traditional idea of a bistro.
The menu at Bistrot Bistro is also somewhat unconventional, each first and second plate being paired with a French or BC wine. The system works somewhat like Cru where menu items are color coded to match with wines on the wine list (except at Bistrot Bistro the items are matched with only one wine). Starches and vegetables aren't included and must be ordered separately. The wine parings took a lot of the guesswork out of ordering and ones we tried worked very well.
We warmed our spirits at Bistrot Bistro on a rainy summer day, sipping wine, and watching forlorn tourists and Kitilanians bump umbrellas on Fourth Avenue (as a side note, I can't help but think EatVancouver's newly formed Summer Eatin' feature jinxed the weather, leading to the worst summer I've yet experienced in Vancouver. This is all my fault. I feel like Bill Macy in the Cooler…Anyhow.) Sitting among several happy diners, enjoying intriguing offerings like a large portion of a classic seafood stew ($19) and beef bourguignon ($17), we couldn't help but feel better about life, as well as a bit overwhelmed with options. Eventually, we decided to start with the classic steak tartare ($12), which was fine but overly mustardy, which overpowered the flavor of the protein, and was the only plate that did not stand out that evening. It is served with a warm crusty baguette, which is actually brought it from Mix bakery in Point Grey.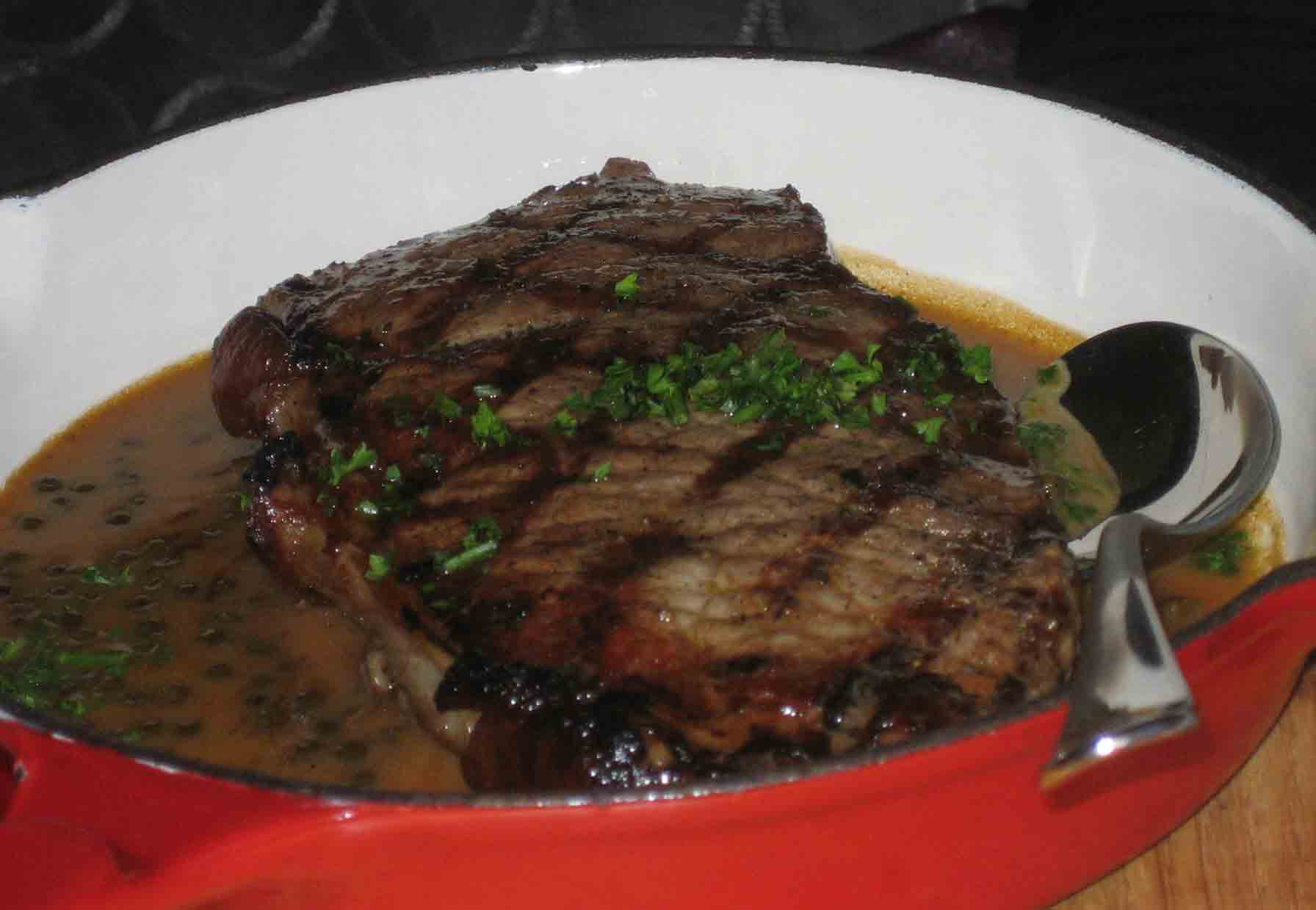 Entrees are served family style in ceramic serving plates to be dished out at the table. We tried the island spiced pork tenderloin ($17) and the eight ounce New York steak with pepper sauce ($18). The tenderloin was cooked perfectly and the spices were nicely offset by a silky banana sauce. The steak with peppercorn sauce, a bistro classic, showed up at the requested medium rare. It was a generous cut, full of flavor that impressed us mightily. The steak was paired with a very interesting hermitage (Paul Jaboulet 2003), and the tenderloin was paired with the circus shiraz. At first, I was worried that a shiraz would overwhelm the tenderloin, but this turned out to be a wonderful pairing, the spiciness of the shiraz matching impeccably with that of the Caribbean spices. As sides we ordered a fine ratatouille ($4) and the gratin dauphinois ($4), which turned out to be the absolute star of the night, and one of the finest bites I've experienced in this city. Ultra-thinly sliced potatoes in a cream sauce brightened with a sprig of fresh thyme was all at once comforting, velvety, and light as a feather. Bistrot Bistro is worth a visit for this dish alone.
After such an excellent meal, desert seemed to be somewhat of an afterthought. The menu was full of classics, but nothing really stood out. We ended up ordering the crepes filled with vanilla pastry cream, topped with chocolate sauce and fresh strawberries. The dish came pretty much as described, a hearty portion more than enough for two, and very well executed.
The buzz about Bistrot Bistro has been almost unilaterally positive, so although I wouldn't attempt a review based on one visit, I wouldn't hesitate to recommend it. Finding a good bistro in Vancouver isn't as hard as it used to be, and it just got a whole lot easier.