Red Robin at Broadway and Oak
Address: 1001 West Broadway (map)
Phone: 604-733-6494
homepage
In the Catbird Seat
a Summer Eatin' feature
by Jason Chin
Eat Vancouver Writer
Monday, July 9th, 2007
My history with Red Robin goes all the way to my discovery of the chain as a young boy in Oakland where I believed it to be the height of fine dining. Then, more recently during my time as an undergraduate in Charlottesville, where our dorm was generously furnished with an assortment of their glassware thanks to sticky-fingered past residents. But now that I've grown older, I've often wondered if these warm feelings are simply nostalgia, or a more or less accurate representation of this burger joint.
I've been putting off testing these questions because, well, sometimes I don' really want to know. It's sort of like in 8MM, when Nicholas Cage's character was getting ready to investigate the seedy underbelly of Los Angeles' hardcore porn industry, and he was warned, "you are going to see things that you can't unsee." Now, I don't mean to compare Red Robin to snuff porn, but it's hard to ignore the similarities: I didn't want to taste things I couldn't untaste. That was until I heard that the patio at the Red Robin on Broadway boasts one of the most spectacular views in the city. My dedication to blissful ignorance would have to wait – there was summer eatin' to be had.
As we were escorted through the dining room to the patio, my first impression of the polished brass and red vinyl décor populated with several smiling families was 80s strip club meets good family fun. Outside the surprisingly empty patio indeed featured an incredible view, specifically that of the Yaletown harbor, downtown Vancouver and the mountains in the distance. If there's a better view from a restaurant in the city, I don't know about it.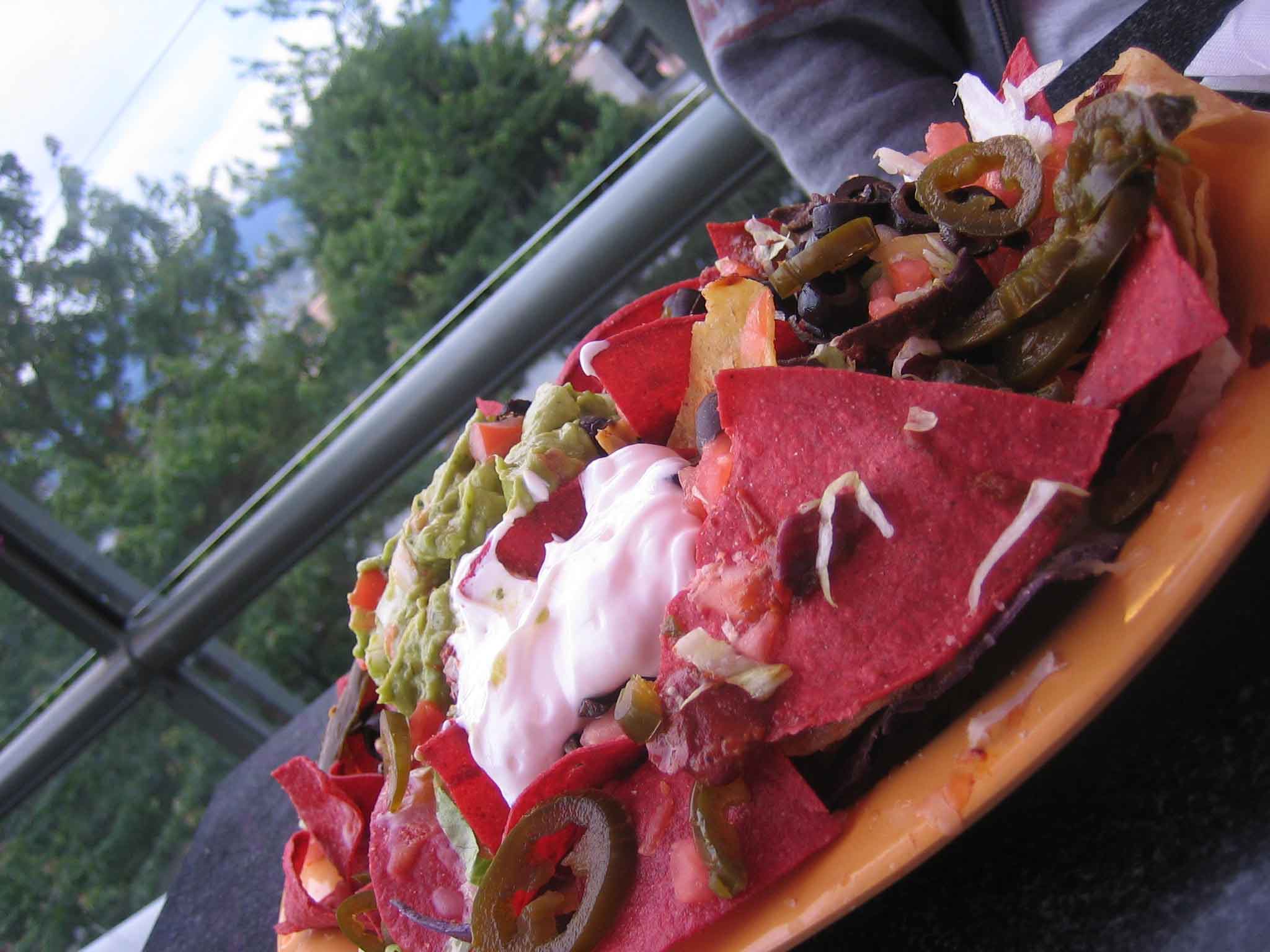 Red Robin's menu is pretty much exactly what one would expect from an American sports bar style dining establishment. Burgers are featured heavily, adorned with nearly any combination one could desire, and priced around $10 including unlimited steak fries. I can't imagine a scenario in which I would actually take them up on more than one order, but I suppose this might be something to keep for our readers trying to move up a weight class for the next big UFC event in August. The burgers are fine, but don't stand out as excellent in any way, with fresh buns, not-overcooked beef and crisp toppings. I chose the five-alarm burger ($9.69), which turned out to be marred by an overabundance of toppings, the tomatoes, pickled jalapeños and tomato-based salsa watering down the burger and overshadowing the meat. I would probably just order the classic next time.
We also tried the mesa chicken salad ($10.99), which turned out to be the biggest miss of the night likely because it was extremely heavy on the salad and low on the mesa. This massive concoction was something like 90% lettuce, overdressed in some stock footage ranch dressing, with a few corn kernels and black beans to eek it into that "mesa" category. Mesa thinking I shouldn't have ordered a salad in a burger joint.
The macho nachos ($11.45) turned out to be a big winner. The serving size was almost comically huge and consisted of not-stale chips, well melted cheese, chili meat, sour cream, boring salsa and decent guacamole. Altogether it was satisfying and more than enough for two people. The same can pretty much be said for this Red Robin location: the food is inoffensive, the service is good and the view is hard to beat. Try out the patio this summer and Red Barber would say you're like A-Rod waiting on a 3-0 pitch, sitting in the catbird seat.