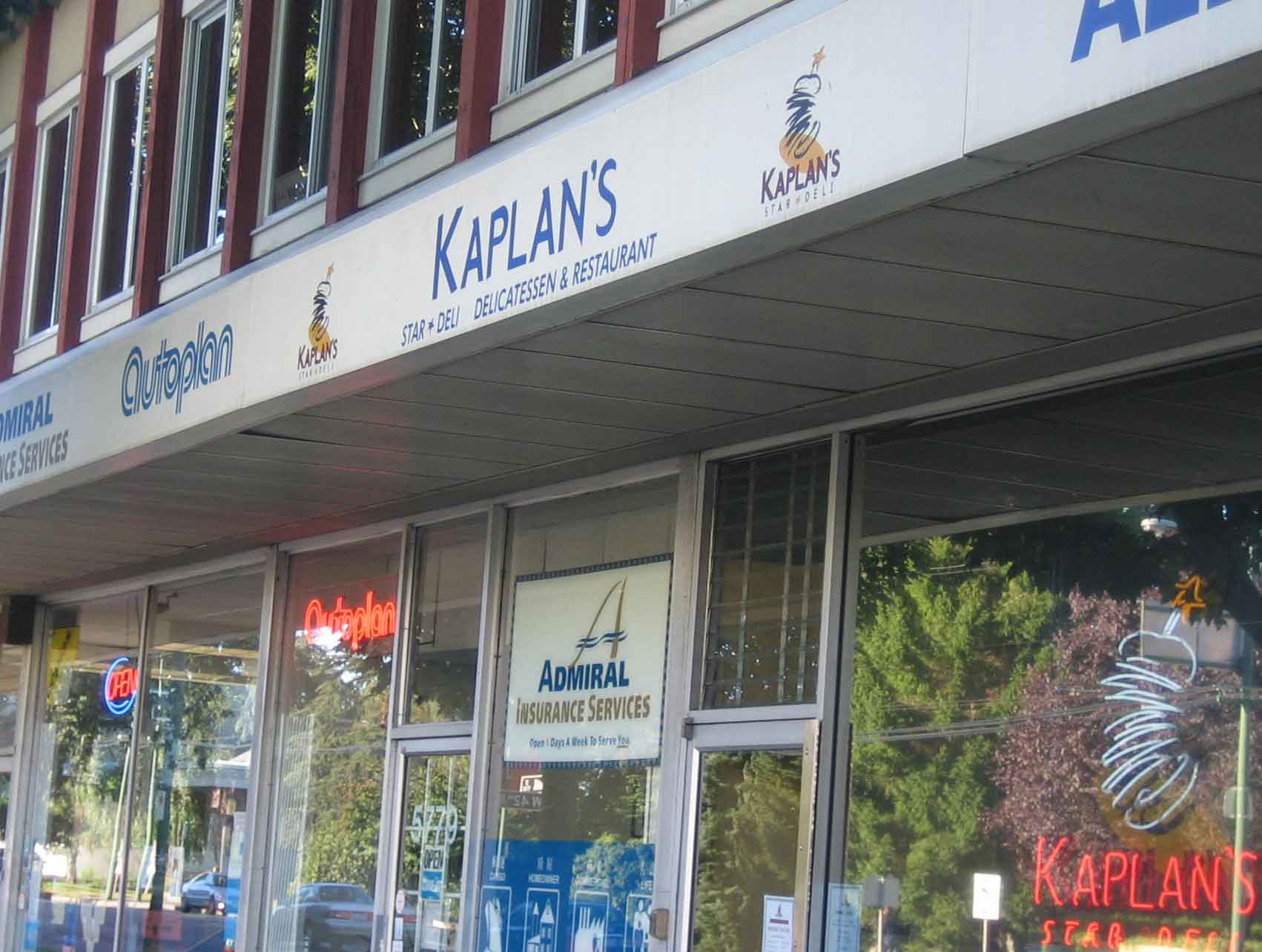 Kaplan's Star Deli
(604) 263-2625
Address: 5775 Oak Street (map)
L'chaim!
a Quick Bite
By Jason Chin
Eat Vancouver Writer
My friends know that I dine out a lot, so I often get asked for recommendations. I can usually answer their questions easily but sometimes I do get a little stumped; such is the case when I'm asked where to find a good deli in Vancouver. I usually reply rather unfairly and tell my friend to hop a plane to New York or Montreal. That is until now. I believe I have found one quality Jewish deli in Vancouver, and it's probably no surprise to many Vancouverites that that establishment is Kaplan's Star Deli.
After a few bad experiences at other local delis (I won't name names) I entered into Kaplan's on an idyllic sunny day with the Fishman, fresh from a brief, yet productive, visit to LA. Due to our earlier and more futile attempts at finding good deli fare in Vancouver, we came in with admittedly low expectations, but left with sizable cured meat induced grins. A sandwich on rye at Kaplan's will run you about $10.25 if you choose the "I'm hungry" version, and about $8 if you choose the "I'm not that hungry" option. I have to assume that these terms refer to how much meat is stuffed in the sandwich because I've only ever gone for the larger option and have no intentions of visiting Kaplan's without a powerful need to consume. And unlike a lot of places in town, the large sandwich is actually…well, large, with the meat of your choice stacked at least two inches high, warm, and between two slices of excellent Jewish rye. Sandwiches are served with tangy coleslaw and a pickle spear, a hunger-sating meal indeed. For about $13 there are other options, such as specialty sandwiches and melts.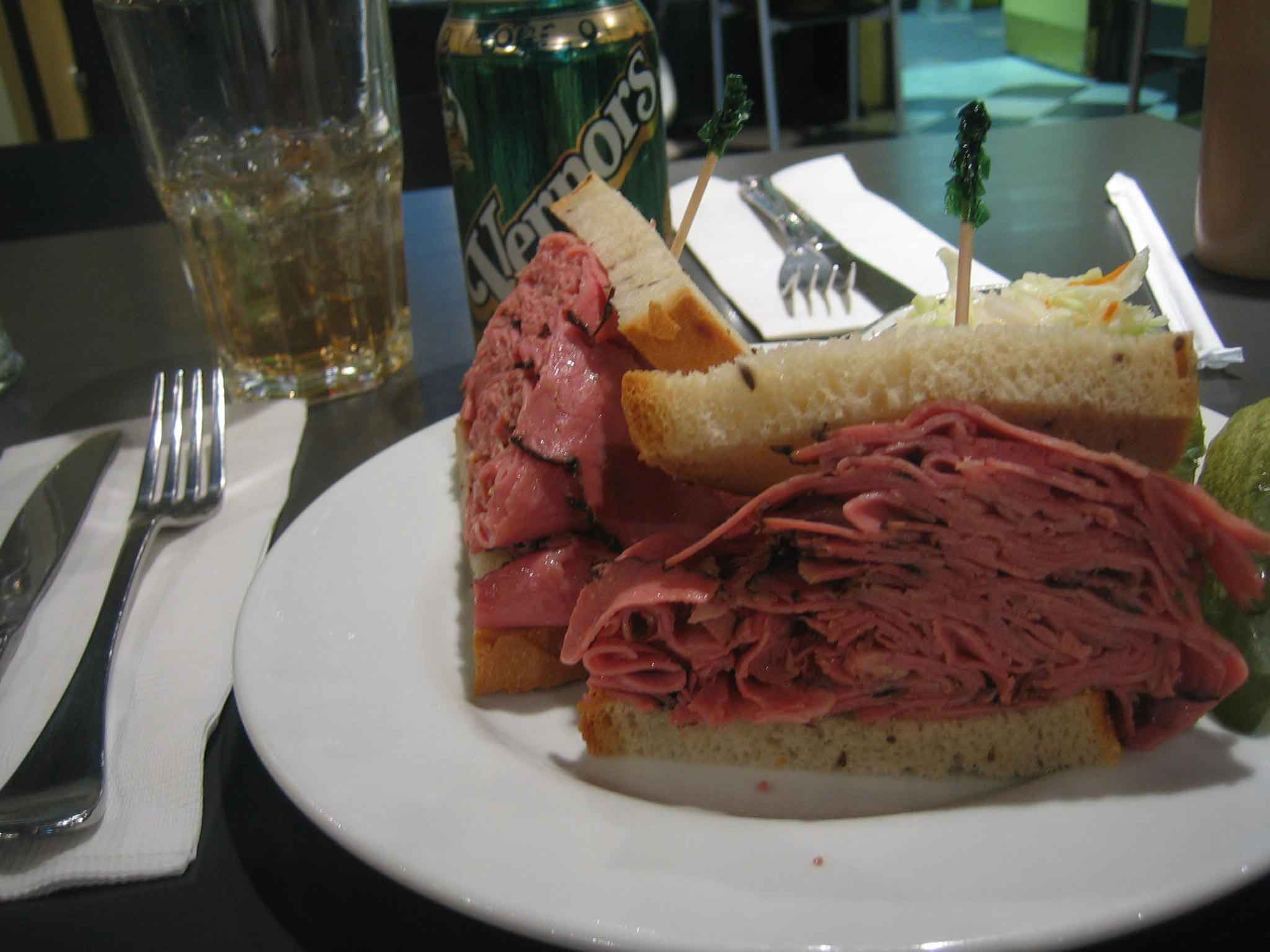 On this particular trip, The Fishman opted for pastrami and I decided on Montreal smoked meat (flown in from the East coast weekly). Both were excellent and while some would argue that pastrami is indeed the most sensual of the salted cured meats, I think a strong argument could be made for Montreal's version. Juicy, warm, and packed with flavor, this is meat that I wouldn't mind having a good smoke after. We were also given a choice of yellow, honey, or deli mustard. While all good, I focused mainly in on the potent deli mustard. I enjoyed my sandwich with a Vernor's ginger ale (pricey at $3.25), which as far as I'm concerned is the epitome of ginger ale, sinus-clearingly strong with great peppery undertones.
Some might argue that $10.25 is a bit much for a sandwich that isn't stuffed nearly as high as the ones you might get in NY or Montreal. By Vancouver standards, however, I think the value is pretty good. Sure the smoked meat sandwich at Costco is only $5, but they've got the bun all wrong there (it's served on ciabatta or something similar), the meat is prefrozen, and it often tastes as it has been sitting in the plastic sous vide bag all day (which I'm sure is often the case). PHAT in yaletown is a great smoked meat option, but its menu doesn't quite span the array of Jewish deli options that Kaplan's does.
Until I taste otherwise, Kaplan's is my recommendation for the best Jewish deli in Vancouver. And in the words of the old country, l'chaim!