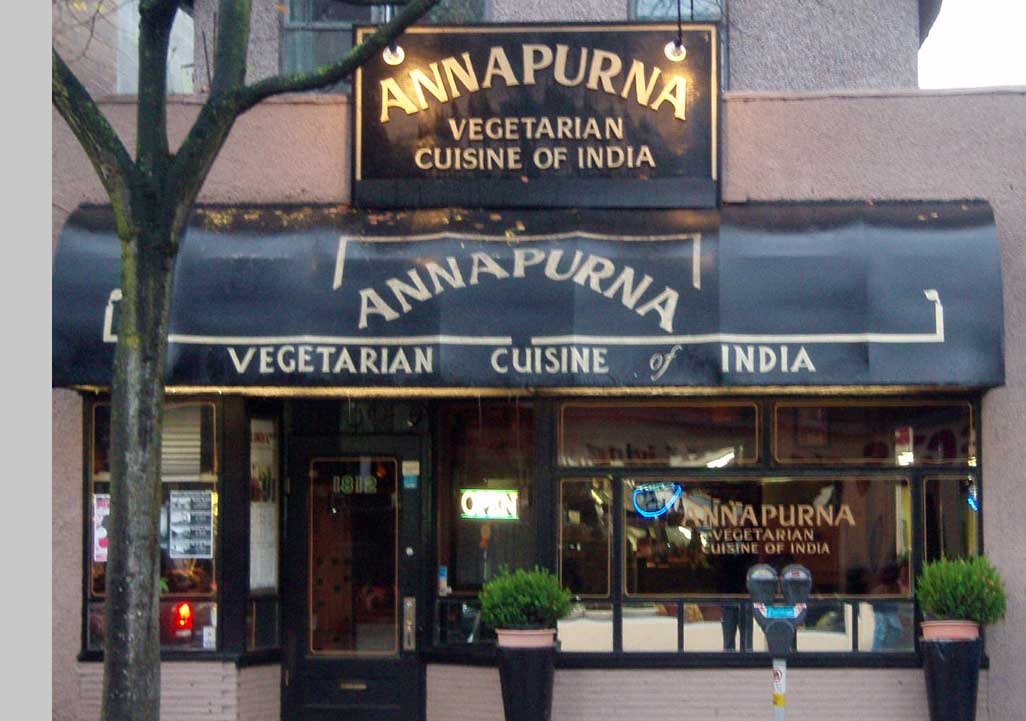 Annapurna
(604) 736-5959
Address: 1812 W. Fourth Ave
Homepage
Goddess of the Harvest gets tired, retires.
a Quick Bite
By Mark Freeman
Eat Vancouver writer
I really wanted great Indian food last Sunday and I really wanted my first review to be a positive one. But there are times in life when we can't have the things we want.
I had a date that night, so to take the focus off of me and my many faults, I suggested we review a restaurant and focus on their faults. It turned out that the restaurant I wanted to review, Jolly's Indian Bistro on W. Broadway, is closed on Sundays, so my date and I decided to check out Annapurna, on 4th, near Burrard, which serves vegetarian Indian cuisine. Luckily, my date was a vegetarian. She's probably iron-deficient, but an attractive, knowledgeable expert on vegetables.
Annapurna is the name of a series of peaks in the Himalayas, as well as the Hindu goddess of the harvest, and the namesake of Indian restaurants all over North America, many of which make it seem like Annapurna has given up on the harvest altogether, and prefers to just reheat mediocre fare in the microwave.
Unfortunately, things went downhill from the moment we entered Annapurna's multi-mirrored interior and the waiter seated us next to two massive fake plants, at a wobbly table that he then proceeded to pour water over. To his credit, he quickly mopped up the spill with my napkin. When he brought our food later, he also gave me a replacement napkin when he handed me cutlery to distribute to my date and I. While some people might have seen that as poor service, I felt it was his attempt to make us feel like we were part of the kitchen staff, not just customers paying to eat clumpy rice and distribute cutlery.
If this wasn't a vegetarian restaurant, I wouldn't pick on the rice all that much because there'd be juicy pieces of bloody meat on top of it. But it was impossible not to notice that much of the rice was so scared of being eaten that it was sticking together in groups. As my date pointed out after she tried to stick her fork in a ball of rice, "If I had tried any harder, it would've flown across the room."
Along with the rice we had an order of Mutter Paneer ($12.95), the highlight of the meal. We both thought it was excellent. The cubes of cheese were tender, the tomato gravy and the spices went together well to form a very flavourful dish that I would eat again.
However, that only helped emphasize how off the spicing was in the Hari Sabzian ($12.95) a dish with some not-so-fresh green vegetables in a tomato gravy. We left most of it. It was almost as though it had been cooked with very mild spicing and then somebody added Tabasco sauce to it. It distinctly tasted like something I would have made at home. And that's not a good thing. I go to restaurants so I don't have to eat what I make at home. And one of the main reasons I go to Indian restaurants is to eat naan. I usually order baskets of naan, but there was still a large piece of stiff, dry Basil & Garlic Naan ($2.75) sitting in the basket when we left the restaurant. In the dim, orange lights inside Annapurna, I think I saw a tear fall down my cheek in the mirror behind my date's head.
I'm not a vegetarian, so after we left, I asked her, as an expert vegetarian living in Kitsilano for a couple of years, if she would be coming back to Annapurna and she said no, there were just too many great places to grab delicious vegetarian food in the neighbourhood to have to worry about the inconsistency that we'd just subjected ourselves to.