Taco con Chile
(778) 371-3508
Address: 1308 Burrard St (map)
Menu
Hannah Montana
a Quick Bite
By Jason Chin
Eat Vancouver writer
Have you ever had the feeling that things are just a little bit off? Nothing that was overtly wrong, just an alteration in some key details that made things just a tad disconcerting? Kind of like finding out your mom listens to hip hop music, or seeing a 40-year old guy eating alone at Chuck-E-Cheese. That feeling pretty much sums up my experience at Taco con Chile the other week.
I was taking the bus home when I spied a large Mexican flag in a storefront that certainly wasn't there a few days ago. Intrigued, I jumped out of the bus at the next stop to scout out this new territory. And a strange new land it was. Housed in a small little space on Burrard is a homage to all things Mexican: the aforementioned flag, stacks and stacks of imported Mexican products, and Mexican music blaring from a boom box. Like the guy carrying around mistletoe at your office Christmas party, it was trying too hard. I proceeded to the counter to check out the menu, which is filled with all of the usual suspects: tacos ($1.75 each), burritos ($7), enchiladas (oddly described as 2 tacos for $8) and tortas ($5). I decided to go for the $6 dinner special including two tacos, rice and beans. After a bit of thought I opted for one pork taco and one al pastor, a notion that was quickly rebuffed by the cook who told me they are actually the same thing. Never mind that they are listed separately on the menu, this was my second major warning sign.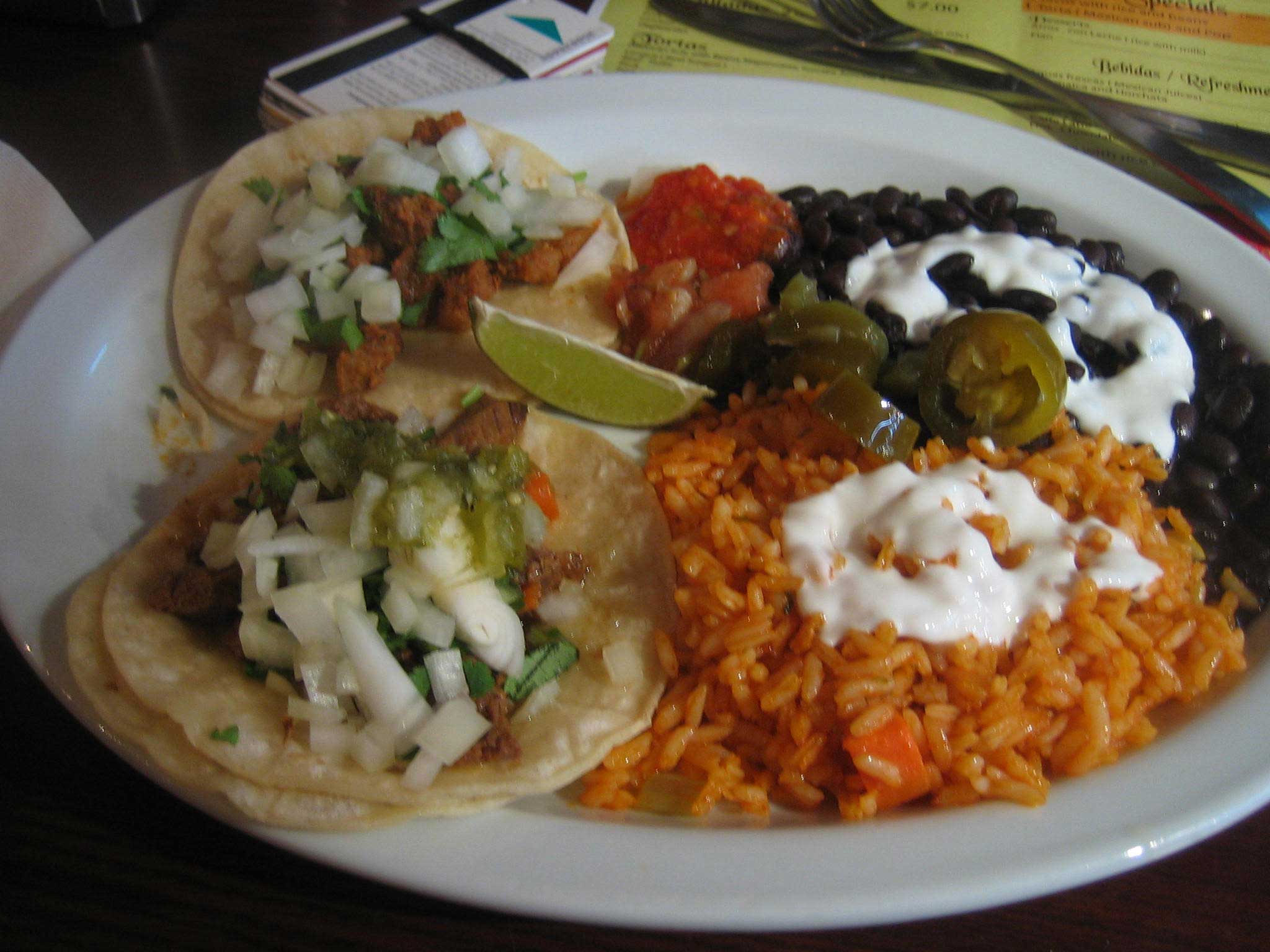 After receiving my tacos, I hit the beverage and condiment station, where I garnished my tacos with a couple of sauces (more on these later), lime and some pickled jalapenos (see condiments here). I also poured myself some thoroughly bland and watery horchata ($2.75). The meal, for $6 mind you, was fine. The pork taco was not al pastor, as he said, lacking the pineapple flavor, but it was nice and generously packed. The beef taco was also fine but marred with too much chopped onion. The rice and beans were nice filler, although the beans were obviously from a can and didn't have any added flavor. My biggest gripe is with the sauces, which were far cries from the deliciously nuanced ones at Dona Cata. In fact, the red chili sauce tasted more like siracha than anything else. Strange times.
Overall, I'd say Taco con Chile could be a decent spot for a cheap meal, with fresh food, and what locals say are good tortas. The Mexican element, however, is one degree off, nothing tasting quite how one would hope or expect. Sort of like discovering your roommate watching Hannah Montana.