Target 1: Chen's Shanghai Restaurant (Bai yu lan canguan)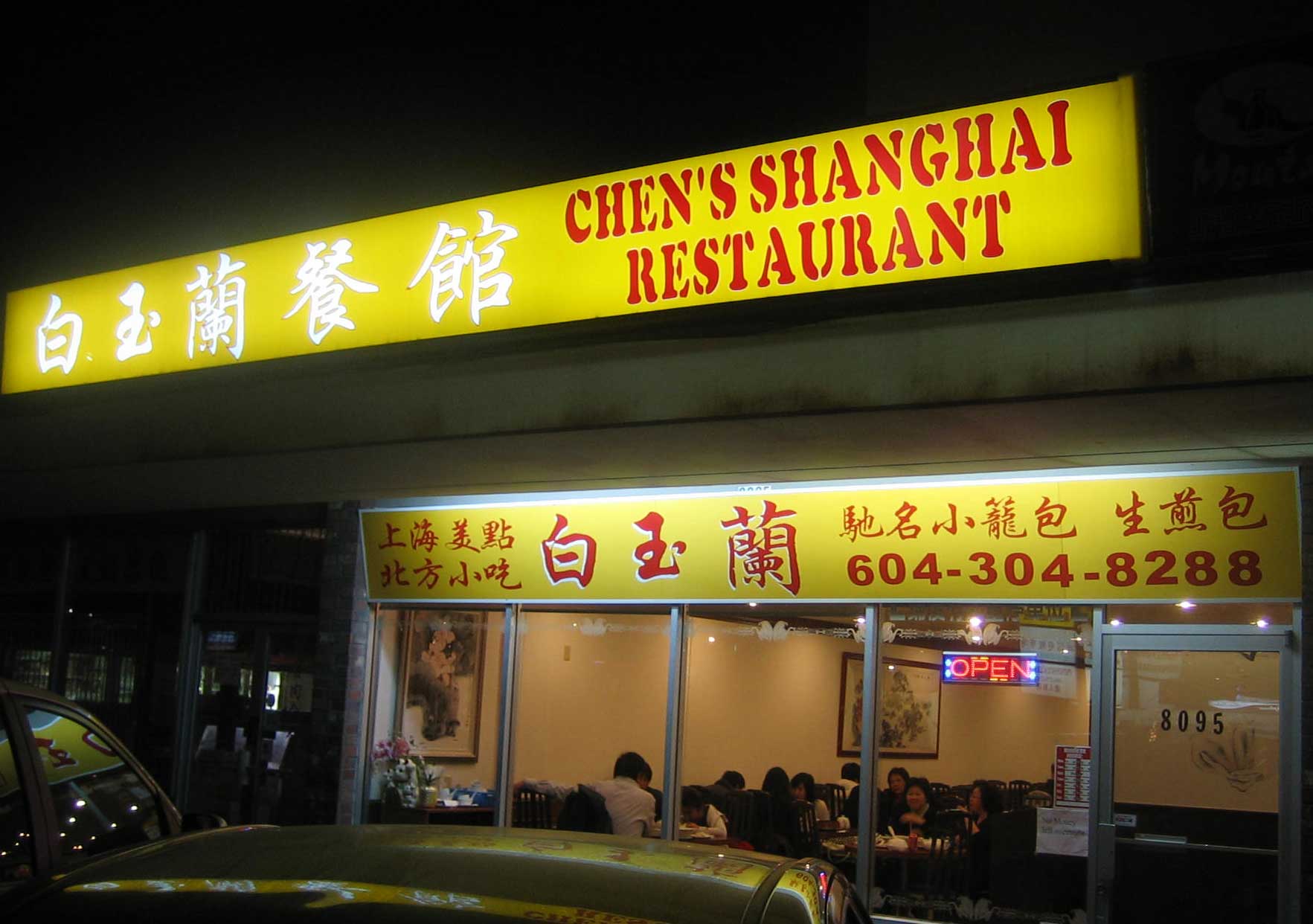 Address: 8095 Park Rd (map)
Phone: 604-304-8288
Menu: Page 1; Page 2; Page 3
Price: $4.20 for 6 baos
Hours of operation
Visit date: January 29th, 2008
Visit time: 8:00 PM
–ratings–
Jason's ratings
Soup: 7.5/10
Pastry: 6/10
Meat: 8/10
Other items & condiments: 4/5
Service & atmosphere: 4.5/5
Jason's total: 7.5/10
Des' ratings –
Soup: 8/10
Pastry: 7/10
Meat: 7.5/10
Other items & condiments: 4/5
Service & atmosphere: 4/5
Des' total: 7.625/10
Total Score (averaged across both raters, all variables) = 7.5625
Quality per dollar (based on an order of six) = 1.8
—
Description from Des
With much anticipation, we made our way to Chen's on Friday evening for the first venture of the Xiaolongbao-down. Recommended highly for its Shanghai fare, we were also warned that there would likely be a line-up. Indeed there was – over twenty minutes' wait. But time passed quickly as we decided what to order by looking at the menu and scanning the tables of other hearty diners.
One thing to note is that the Chinese-only section heading the menu does not match the bilingual listings that follow. A glaring omission is the eponymous goal of our culinary mission: the xiaolongbao itself! This standard Shanghai fare is not to be missed – and the other diners all agreed judging from the bamboo steamer baskets adorning their tables – and so be sure to order it. Otherwise, we'd recommend a selection of cold appetizers and hot dishes including some of the Shanghai specialties.
At first sight, the xiaolongbao appeared rather flat and heavy. Because xiaolongbao are pockets of soup, their pastry needs to be stronger than that of most steamed dumplings. This makes it more difficult to produce a delicate pastry that also holds the soup until the savoured moment. One of the six xiaolongbao actually came doubly pierced and leaking soup, much to our dismay. Yet this did not overly diminish our enjoyment of them (well, not mine as the injured morsel was graciously picked up by the editor). The soup was delicious and the meat inside was succulent and with just the right amount of fat. The pastry was just a touch on the heavy side but still not stodgy.
We also ordered a cold appetizer of 'Jelly pork' (zhenjiang yao rou, $6.50) since so many other diners seemed to be enjoying it. This came as a cut-up slice of cured pork, gently salty and quite palatable, especially when dipped in vinegar – the favourite Shanghainese condiment. We toyed with the idea of ordering one of our favourite spicy Sichuan dishes, 'Boiling fish slices' (shui zhi yu pian, $11.95), but went with the friendly manager-owner Mrs. Chen's recommendation of 'Sliced fish with wine sauce' (zao liu yu pian, $11.95). These melted in the mouth and were finely complemented by the jelly-chews of 'wood ear' fungus they came with although I would have preferred a greater swig of wine in the sauce – probably I'd also marinate the fish in wine first if preparing the dish at home. Going with the Shanghai theme, we also ordered 'Pickled mustard greens and pork fried cake noodles' (xuecai rou si chao nian gao, $8.50). The greens dominated the dish's flavour while the pork mince was mainly decorative. The chewy slices of glutinous noodle provided an interesting texture quite unlike most noodle dishes.
In retrospective, we might have ordered a spicy dish because it would have provided a nice contrast of flavours and we both like chilli peppers. But really we should have invited a few more friends to enjoy a greater variety of dishes. I made a note of other regional specialties to try on a future, visit including: Smoked duck, 'Beggar's Chicken' (fugui ji – this needs to be ordered in advance), 'Pork with brown sauce' (Dongpo rou), and a crispy rice (guo ba) dish. Among other cold appetizers the 'Spiced beef' (wu xiang niu rou), 'Nanjing style spiced and salted duck' (Nanjing yan shui ya) and 'Spicy pig's ears' (mala er si) stuck out. And for those who enjoy Canadian Chinese cuisine, why not try the 'Calgary ginger beef' (gan bian niu rou si)? But on our first visit, we left happily satisfied bidding goodnight to the friendly owner-manager Mrs. Chen who had taken a friendly interest in our visit to Shanghai and whose husband had prepared our feast in the kitchen. I wager that I shall visit again.