Joe Fortes
777 Thurlow Street
604-669-1940
11am until 11pm seven days a week.
**2 stars (out of a possible 4)
A recent stop on our quest for the ultimate downtown 10 buck lunch was at enduring Joe Fortes for their Lunch Blue Plate Special. For nearly 25 years Joe's has been considered a favorite seafood and chop house destination and a haven for suits around the piano and oysters on any given Friday afternoon. Right now they're pulling them in at lunchtime with their different-everyday 10 buck lunch.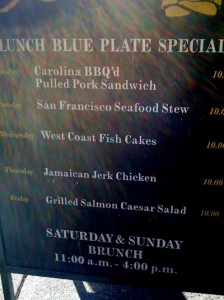 We went there on a Friday and true to form the joint was bustling with suits and tourists alike in a very upbeat jazzy atmosphere. We were shown to a small deuce and kind of wedged into a long line of table and our pleasant server organized the standard water and bread items while we perused the lunch offer. We knew we wanted the Special but I noted that going off that special menu puts you, not surprisingly, into the realm of the upper end of lunch pricing. One particular bonus was nicely starched linen napkins – a rarity at lunch.
Being a Friday the 10 buck lunch was Grilled Salmon Caesar Salad. We didn't wait long. In a heartbeat our meals arrived. This made me instantly suspicious as perched atop the Caesar salad was the expected grilled salmon and I knew there wasn't time to have cooked this to order. The salmon itself was a whole piece  – a good sign and unlike the often chunks or strips you sometimes see.
Unfortunately, unlike my companions salmon which she insisted was "fine", mine was overcooked and hard on the outside,  dry and cool leading me to believe that my suspicions were well founded and that this fish was pre-cooked and awaiting an order.  The good news is that the friendly and attentive server immediately organized a replacement and when the second piece arrived  – after an appropriate cooking time –  it was perfectly cooked and delicious with light spice and a drizzle of olive oil over the top. That's the good news. The slightly less good news is that the Caesar salad was decidedly lackluster with a very light uninspired creamy Caesar dressing – I confess I am not a fan of the creamy Caesar dressing in general and will cover that problem off another time. However, the croutons were nice, fresh and homemade. In addition to the basket of bread the salad also came with a rectangle of garlic toast that was fresh and tasty but not particularly special.
Overall, the atmosphere had that exciting downtown action feel to it, the service was very good and the food  – at least for a tenner – quite acceptable. We are looking forward to trying some of the other days.