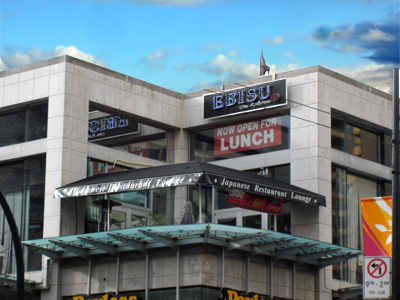 Ebisu on Robson
827 Bute Street – Second Floor
Vancouver, BC
604.689.8266
****4 Stars (out of a possible 4)
I confess to being a regularly evening Ebisu on Robson customer. It's close to my home, and the evenings are busy with a great mix of local Japanese students and a pan-global clientele tempted by the sometime's inconsistent but usually very delicious Izakaya-style food, and the well-priced drinks.
We recently discovered their lunch special and it just so happens to nearly fit our smackdown requirements. It's in the plus/minus a dollar or two range so we are going to be liberal and include it in the mix. Why? Because I can!
Ebisu provides a complex array of choices in this lunch price range. First up (see the photo's) there's a mix and match menu of items for 3.99 each or 3 plus dessert and beverage. Then there's a 1, 2, 3, 4 combo choice that gives you Soup, Salad, Entrée and Dessert options. There's also Noodle Combos, the standard Bento Boxes and then 4 different Seafood Boats.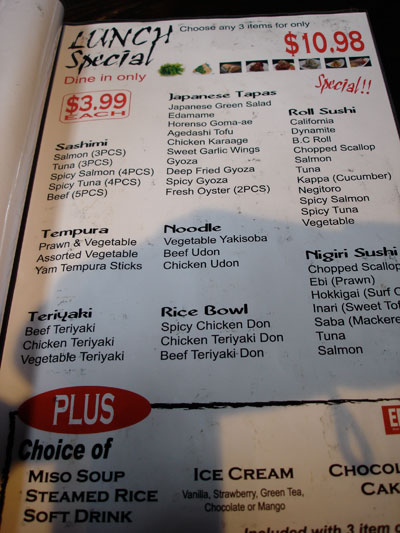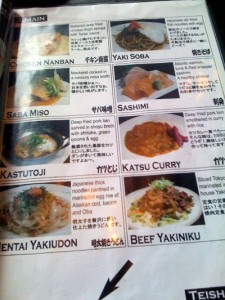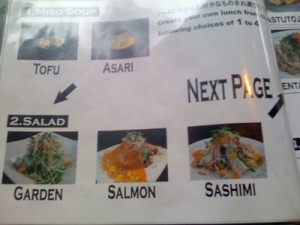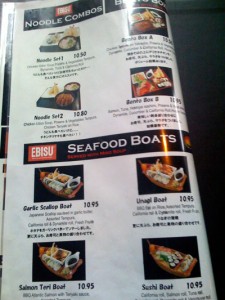 My regular dining companion has had numerous of the 1-4's and it was at her behest that we were there for lunch this time. 
Surprisingly, the place wasn't very busy. It was mid-week but given our experience the joint should have been jumping. I often take that to be a bad omen for a meal as I've found many times both as a customer and when I worked in the business, when a restaurant is having a slow day that's when the overall quality of the experience tends to suffer. I asked the manager why he thought they were so quiet and he said they were always pretty quiet at lunch – the place is always packed at dinner. He thinks it's because local office people only have a short lunch hour and they are just a block or two enough off the path that the perambulatory commute shaves off too much time to make the eating time relaxed and enjoyable. Whatever the reason the quiet restaurant isn't skipping the quality.
On our first occasion we settled on the Saba Miso with Sashimi Salad and Asari and the Bento A. On a subsequent visit my dining companion enjoyed the Sashimi 1-4 and I had the Sushi Bento. All turned out to be, as expected, very tasty choices.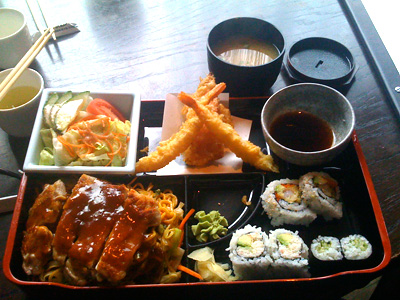 To start, the Miso soup was delicious. Piping hot, fully flavored and the seaweed was not overboiled as it so often can be. I am often very disappointed in the quality of the Miso soup that accompanies Bento Box meals and other combo types. I think that many restaurants see this item almost as a throw-away and don't give it the loving attention it deserves to make it the beautiful soup that it should be. Happily, on both occasions the soup was delicious.
The Sashimi salad both times was also fresh and delicious with this strips of snapper, fresh greens all drizzled lightly with miso and sesame oil based dressing. Very refreshing flavours.
And the mains did not disappoint either. The Saba Miso was cooked perfectly and lightly glazed. The Teriyaki Chicken Bento Box had a nice fresh salad (could have had a slight bit more dressing for my taste but that's purely a personal call). The tempura consisted of two pieces of root vegetables and two perfectly cooked prawns and none was greasy. The teriyaki chicken was also cooked right, moist and tender in the middle and slightly crispy on the outside with a light jelly-teriyaki sauce. The chicken sat on a bed of yakitori noodles that had their own tasty flavour too. Often in a Bento Box the chicken either sits on a bed of bean sprouts that end up greasy from the chicken or, whatever it's sitting on is overlooked and either flavourless or just flavoured by the teriyaki sauce from the chicken. In this case they had taken the effort to provide another distinct item. Very nice.  The box also included 6 pieces of sushi roll, two dynamite, two California and two cucumber roll pieces. Each fresh and while not spectacularly remarkable, still very nice.
Equally nice was the Sushi Bento with 18 roll pieces including tuna, salmon, California, dynamite and smoked salmon roll. Fresh, delicious and a couple of lovely fruit items to cleanse the palate afterwards. Good flavours. Good value.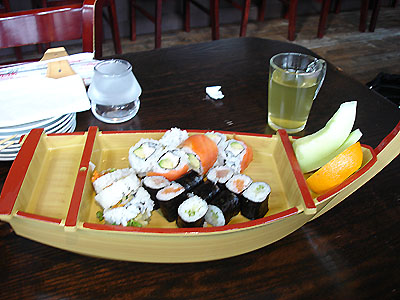 The Sashimi was also fresh and delicious and served with a nice bowl of plain white steamed rice.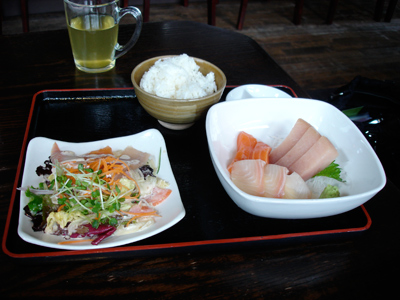 I am looking forward to returning to Ebisu on Robson and trying numerous of the other lunch options. The price, value and quality is compelling.
Just as a quick addendum Ebisu on Robson is also affiliated with Kamei Royale on Burrard and I have heard they have opened another Ebisu somewhere on Broadway. If anyone has any experiences with the new one we would be happy to hear about them.