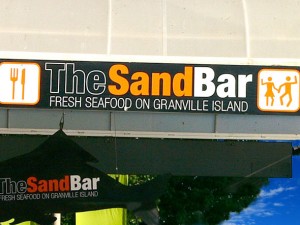 The Sandbar Seafood Restaurant
1535 Johnston Street, Granville Island
Vancouver, BC, V6H 3R9
T: 604.669.9030
F: 604.669.9033
*1 Star (out of a possible 4)
Looking For Brunch In All The Wrong Places
It's not easy finding a good traditional style brunch spot. Sure, there are lots of restaurants open between 11 and 2 on the weekends. They say they have brunch because of the time-slot but they don't have a traditional brunch menu. On a recent outing of the brunch crew it took 3 times before we could locate a restaurant with a proper brunch. At least we thought we had located one.
The first attempt was at Monk McQueens on the southern shore of False Creek where they claimed on the phone to have Sunday Brunch and, while there is no specific menu for brunch on their website, they do advertise on the homepage that valet parking is free at brunch. Ergo they must have brunch. When we arrived at Monks we discovered, after sitting down, that a Monks brunch means the regular, all day, menu on a weekend with a couple of brunch-style items: of course, the ubiquitous Eggs Benedict and a Frittata. We were disappointed. While most of us are generally adverse to leaving a restaurant once seated, we felt like we had been somewhat misled and a quick conversation around the table led to the consensus that we should attempt to go elsewhere. Since we were close to Granville Island and we thought that of anywhere in town, GI should have a brunch spot given it's tourism leadership, we decided to quickly head over there and try our luck for brunch at the generally consistent Bridges restaurant.
Since I was on my scooter, I arrived first and popped immediately into Bridges to secure a good spot only to discover they don't have a brunch. Yes, I know, I was dumbstruck as well.
Finally, A Contender
When the rest of the posse arrived we stood for a moment slightly in shock and determined that the next contender was The Sandbar Seafood Restaurant. Located mid-island right under the Granville Street Bridge in the same location that what was for a long time the historic – and missed – Mulvaney's Bar and Restaurant, it affords lovely urban views of False Creek and Yaletown and we thought for sure they would have an equally as lovely brunch. We ambled over to the restaurant and found ourselves a few minutes before opening but a quick inquiry with the host revealed that The Sandbar did indeed serve brunch. Hallelulah! By this time we were getting a bit fed up and hungry and this was promising news.
The Sandbar Seafood Restaurant is part of the Sequoia Company's group of restaurants that include Cardero's, The Teahouse in Stanley Park, and Season's In The Park. All of these are classic Vancouver tourist destination restaurants and as such we expected the full Vancouver treatment that would impress us in the way any visitor to our beautiful city would expect to be impressed in a top tourist location venue.
How You Start Is How You Finish
Ten minutes later we were being led up to the patio bar to two tables of two pulled together that would ordinarily accommodate four but that had been fitted to accommodate our group of five. Ordinarily, in a busy restaurant we would take what we could get but we were the first ones in the room and there certainly wasn't any line-up behind us. There was another deuce right next to our table and we inquired immediately with the seater and the waiter if we could pull it over to give us the room we needed. We were told that we could not and that every seat was spoken for as they were going to get very busy right away.
I understand the desire to fill every seat but I don't understand it at the expense of customer comfort and satisfaction. Particularly in a large restaurant when there clearly isn't any immediate pressing requirement.  In fact, the table for two that we were denied didn't fill for 40 minutes from the time we arrived. I timed it purposely to see. To me that is simply greed and arrogance. But we had no choice – other than to leave again –  and so hungry, we were left to squeeze ourselves into the supplied spot.
It was the start of a string of disappointments punctuated by the substandard food.
The first thing I noticed about the patio was that it was cozy with a nice view. The second thing I noticed were the astounding number of flies that seemed to be everywhere when you looked up. It was as though a light fog of flies was buzzing above us and I found it disgusting and detracting. I realize a patio is technically outdoors but this seemed excessive to me and I could not figure out why there were so many.
Our waiter was always pleasant but simply not very competent. It started with each coffee cup being filled to a strangely different level. I know this sounds picky but it was weird and everyone in our group commented on it. Due to the tight quarters of the table there wasn't enough space for all the water and coffee and drinks and side plates and the waiter was forever slightly spilling things as he worked.
I ordered a spicy Bloody Caesar to start my taste buds tingling plus, being hungry, I knew it would come with some garnish I could eat immediately. In this restaurant it was supposed to have a marinated bean – these are usually delicious. When the drinks arrived and spillingly placed on the table, mine was minus said bean. No problem. The waiter said he would get one right way. Ok. We were literally 5 steps from the bar so I waited. And waited. And waited. He went off somewhere, came back, took the order for the table behind us, punched it in and then finally remembered to bring my bean. Why? Why? It wasn't busy yet. I simply don't understand this kind of service. This same ridiculousness was repeated when we asked for a straw. Why?
And On To The Food
Again, we had been misled about brunch. There was only a couple of brunch items – unsurprisingly 2 styles of Eggs Benedict, one with seafood and the other classic, and a chicken and chorizo hash with an egg – otherwise it was a regular lunch menu. We'd had enough of moving around by then and decided to stay and eat. This was a mistake.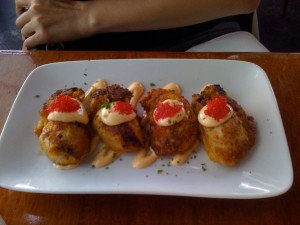 Out of all the dishes only the $11.95 Panfried Oysters with chili lime aioli passed any kind of muster. The oysters were nicely prepared – as you would expect in a seafood restaurant – properly fried with a dollop of aioli and spoonful of tobiko.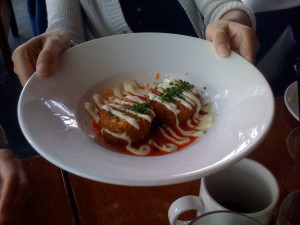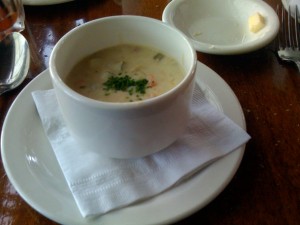 The $10.95 West Coast Crabcakes were oddly tasteless with too much aioli – I guess to compensate for the lack of flavour. The $4.25 Homemade Clam Chowder was pasty, lukewarm and under-seasoned. It also arrived only partially filled as you can see in the image.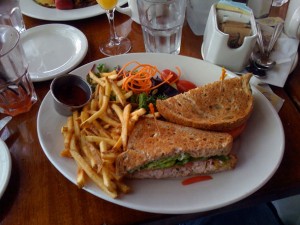 Both the $14.95 Island Seafood Club and the $13.95 Sandbar Benny came with the same oddly lukewarm shrimp and crab filling. Unfortunately it too was completely and utterly without taste. I am not sure how it was assembled but it was as if all the flavour had been boiled out of it. The hollandaise on the Benny also tasted peculiar. Not housemade. And had there been any flavour to the seafood it would have been mismatched . The bacon on the Club had clearly been cooked much earlier and allowed to dry out in a holding bin and when the sandwich was assembled one half didn't have any bacon on it. This was the first half that I started with and I was going to complain to the waiter until I discovered that it had all been crammed on the other side. Nor was there more than a whisper of guacomole as advertised. And they call this sandwich a signature dish on the menu. It was just another example of the appalling lack of standards at this restaurant. You can see by the images that the roasted potatoes were grossly overcooked and subsequently inedible. And, on each dish some element of the fruit garnish wasn't fresh.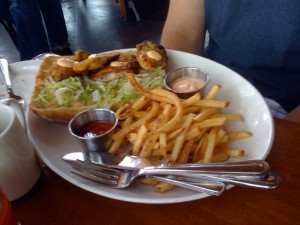 The $13.95 Oyster Poor Boy was passable if unimaginative, as it was a duplication of the panfried oyster dish on a bun.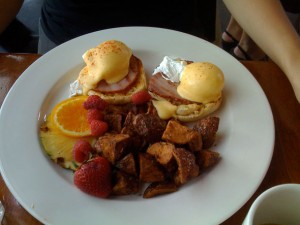 And, the regular $11.95 Eggs Benny suffered from the same strange hollandaise flavour and the astoundingly over cooked potatoes.
The Unfortunate Conclusion
Maybe it's because this is primarily a tourist restaurant but it wasn't anywhere near close to being good value for money. We were misled about brunch, we were unapologetically crammed into a tiny table in a fly infested room, the service was poor and food was well below average.  To me, a restaurant in this location, of this calibre should be representing to our valuable tourists the best of what Vancouver has to offer instead of the worst.
We won't be rushing back to The Sandbar for any meal anytime soon.