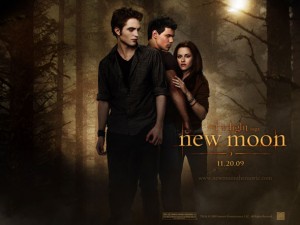 I'm not exactly up on my Twilight lore – although I do love most things Vampire – but apparently while the latest film The Twilight Saga: New Moon was shooting here in Vancouver the much publicity hounded star, Robert Pattinson was a frequent diner at Glowbal Grill Restaurant in fashionable Yaletown. His dish of choice was the Kobe Meatballs with Truffled Spaghetti – which, admittedly, sounds delicious. I have been a frequent patron of Glowbal in the past and have been generally very satisfied with the quality of the food.
In honour of tonights grand opening of the Twilight movie and clearly as an excellent reason for some publicity, Glowbal is offering until December 3rd, a 50% discount on Robert's fave dish when you present your Twilight movie stub.
Complete text of the press release follows:
glowbal grill's 'Twilight' Special
Half-off glowbal's famous Kobe Meatballs with Truffled Spaghetti.
Vancouver, BC (November 17, 2009): Sink your teeth into this delicious after-dark offer. The Twilight Saga: New Moon opens on Friday, November 20 and glowbal grill is offering fans of the popular Vampire movie series half-off its decadent Kobe Meatballs with Truffled Spaghetti dinner entree* as the superlative sustenance for the suspenseful flick. Popcorn be damned. Stave your hunger like a superstar.
Twilight: New Moon was filmed in and around Vancouver and glowbal quickly became a favourite haunt for the cast filming in the city. Lead actor Robert Pattinson (who portrays Edward Cullen in the Twilight films) chose the happening Yaletown drinking and dining spot to celebrate his 23rd Birthday, much to the delight of swooning female patrons. Robert's favourite menu item? The Kobe Meatballs with Truffled Spaghetti, of course. Blanketed in creamy tete-de-moine cheese, tomato-garlic confit and delicate truffles, the pasta comes replete with tasty Kobe beef meatballs. This is a dish to love at first bite.
Once word escaped that Robert and the other cast members frequented glowbal, fan mail addressed, "For Robert's Eyes Only" started pouring in and once a week a tour bus stops in front of glowbal, so that visitors to the city can follow in Robert's footsteps and experience the restaurant for themselves. Celebrity clientele aside, glowbal is recognized for its high-energy atmosphere, excellent service, and great food. Plan a visit to take advantage of this bewitching special.
*Guests must present their Twilight: New Moon ticket (or ticket stub) to take advantage of the Kobe Meatballs with Truffled Spaghetti 50% discount. The Twilight offer cannot be combined with any other specials or promotions. Valid November 20 – December 3.
glowbal grill is open daily: Monday through Friday from 11:30 am for Lunch. Saturday – Sunday from 10:30 am for Brunch. Dinner available Sunday through Saturday from 5 pm.
Make your reservations online at http://glowbalgroup.com or call 604.602.0835. Text 'glowbal' to 82442 for a mobile directory of all the GLOWBAL restaurants and instant links for reservations and special offers. Check out THE GLOWBAL COLLECTION blog for the latest news on all the restaurants at http://blog.glowbalgroup.com/.