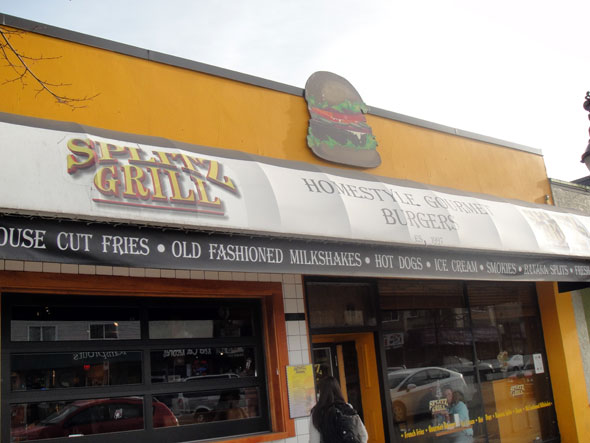 Splitz Grill
4242 Main Street
Vancouver, B.C.
V5V 3P9
Phone: 604.875.9711
www.splitzgrill.com
vancouver@splitzgrill.com
Open everyday at 11:30am
Closing times subject to change – for current hours call ahead.
**Stars(out of a possible 4)
I love hamburgers. They are one of my favourite indulgences and I find it hard not to indulge in all of the varieties from time to time. This means from the lowest of fast food "sandwiches" – I don't know when they stopped being "hamburgers," or "burgers," at fast food emporiums, or why – to the loftiest of gourmet creations ala DB Bistro Moderne (though this one is still on my burger agenda). I consider myself, at times, to be a modern day Wimpy.
Recently we were cruising around the Main Street area – an area rapidly becoming a foodist destination – when the Wimpy craving surfaced and, as luck would have it, we remembered Splitz Grill.
A long time Whistler, BC favourite – since 1997 – I have recollections of their hearty hamburgers after a long day on the slopes and have wanted to visit the relatively recent Vancouver location – since January 2008 – for quite some time.
The Splitz Grill menu is split between their "Splitz Classic Burgers", which includes what you would expect; hamburgers in various sizes alongside a veggie lentil burger, a hot dog, a bavarian smokey and chicken fingers; and what they call "The Wild Side" which is a selection of alternative-to-beef choices like bison, lamb and salmon with a different sausage and chicken fingers. The groupings are a bit odd to me but the menu is simple and easy to figure out. There's also the sides you expect in the form of fries and onion rings and gravy and the Splitz version of poutine plus a couple of salads.
We were there for classic hamburgers and that's what we ordered. Two legendary Splitz burgers. A 1/3 pound for my companion and a 2/3 pound for me as I was feeling quite hungry.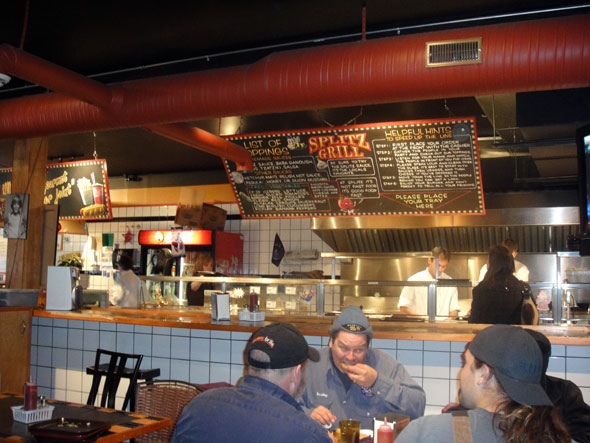 At Splitz, like some other hamburger joints, you line up and indicate what you want on your burger so they can customize it for you. Here they have all of the usual items like lettuce, tomato, onions and such as well as some unique Splitz-made items like their homemade Splitz sauce as well as a few extra payment items like aged cheddar or swiss, grilled pancetta bacon, sauteed mushrooms and onions.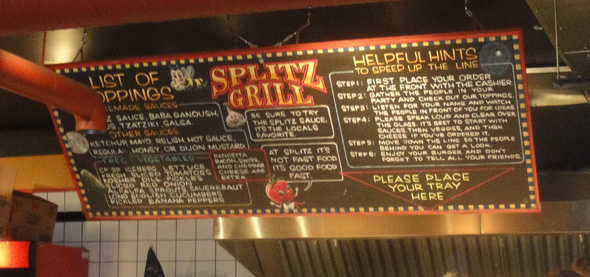 I like a lot of things on my burger to complement the beef and mingle flavours and textures. I settled on the Splitz garlic mayo, dollop of ketchup and mustard, lettuce, tomato, onion, sauerkraut, pickle and the cheddar cheese. We had also chosen combos that included fries and a beverage.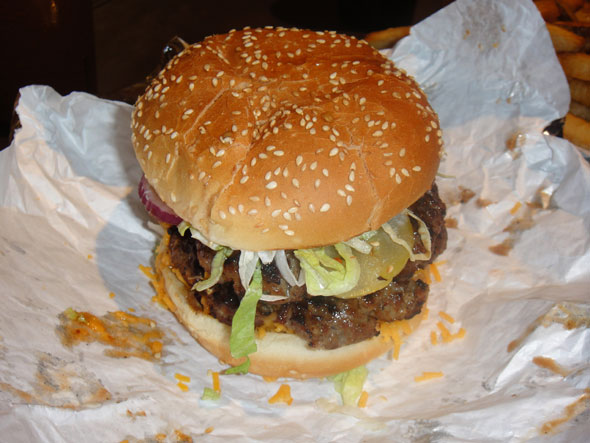 You can see by the pics what the results were like. The 2/3lb burger was substantial. Next time, I will opt for the single patty. This one was, if you can believe it, even too much for me. The beef was flavourful but not overly spiced such that the spice was all you can taste. This was balanced and very nice, although for me, it was overcooked but I do understand this is the local health regulations at work. The bun was fresh and didn't fall apart too fast. As a quick burger-aside, this is one of my major burger peeves. The bun shouldn't disintegrate as soon as it gets moist with sauces. It should hold up to this and hold the burger and contents through most, if not all, of the consumption. All the ingredients were fresh and delicious and the flavour meld was just right – I guess particularly considering I customized it.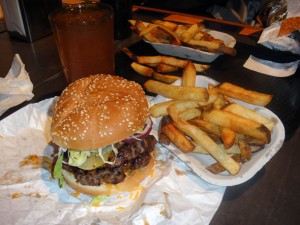 The fries were fresh cut with some skin on, which I generally like. However, and this is just my personal preference, they were too thick cut for me. I like skinnier fries. They tend to be crispier and not as potatoey. For some reason too, big thick fries seem to go cold faster. I don't understand why. It doesn't make a lot of sense but my companion concurred on this point.
Overall the Splitz Grill burger rates high for me, particularly against the competitors in town with similar concepts. I am looking forward to trying a few more combinations as well as taking a walk on "The Wild Side"