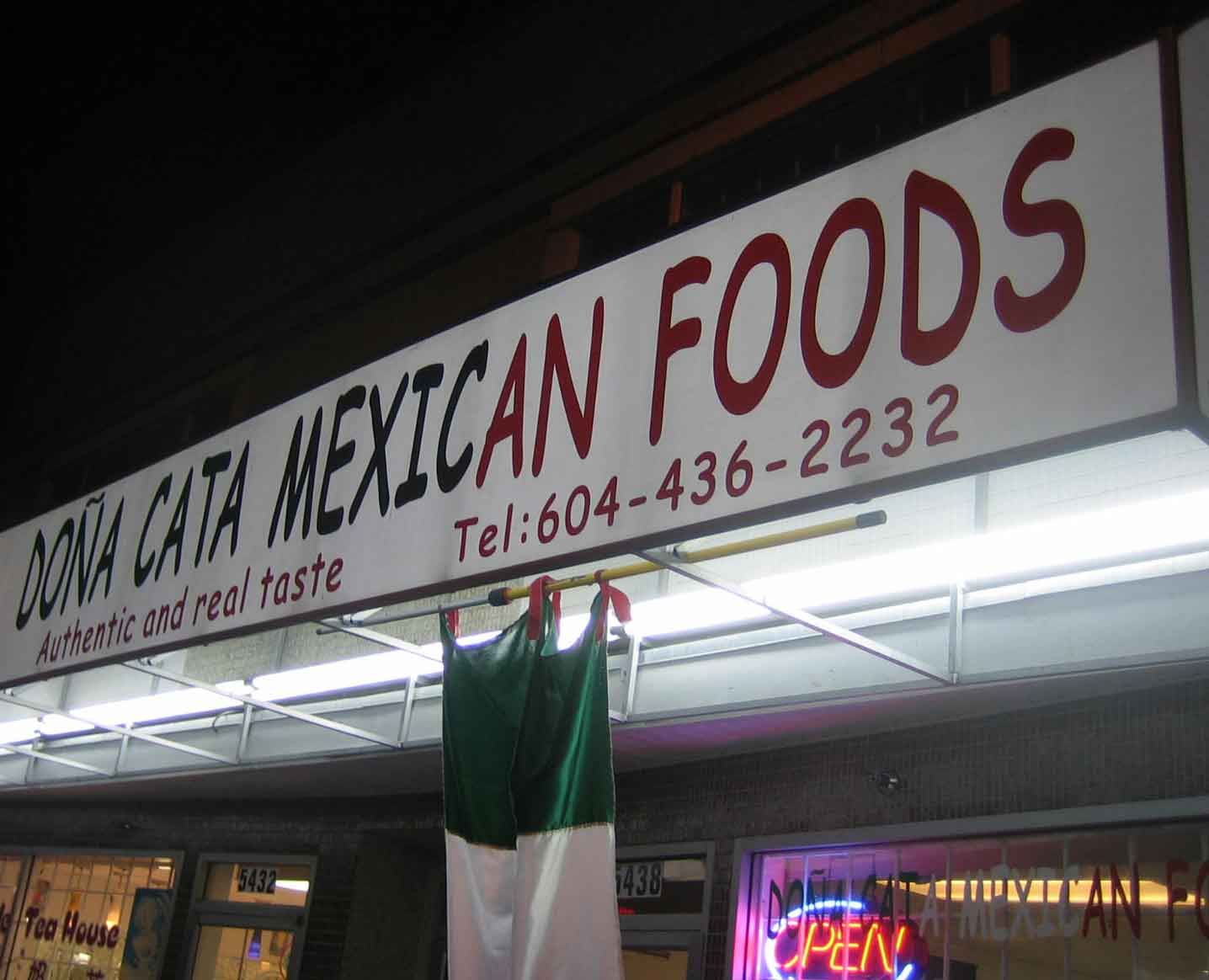 Dona Cata Mexican Foods
Address: 5438 Victoria Drive (map)
Phone: 604-436-2232
Menu
Quickbite: Dona Cata Mexican Foods
November 26th, 2006
By Jason Chin
Writer
Vancouver, it would appear, is beginning to emerge from a taco dark age. Establishments featuring this popular Mexican street food are popping up at rate that was unimaginable just a year ago. A good deal of this action is going on around Victoria Drive, to the extent that if a few more Mexican shops open around between 35th and 38th avenues, a little Mexico may be born. The newest Mexican restaurant in this area is Dona Cata.
Dona Cata is dressed up in the colors of the Mexican flag (red, white and green), with a few cute paintings on the wall, emblematic of traditional Mexicana. Expect drawings of matadors and tequila bottles, which coincidentally is exactly the spirit I would require prior to engaging in a bullfight. The centerpiece is a portrait of the late Dona Cata herself. I'm not quite sure what the story here is, and although the portrait certainly can be a very sobering presence, it's hard to fault this family-run business for honoring the memory of someone who was clearly a loved one [Eat Vancouver reader Lucy adds that the owners are the third generation relatives of Dona Cata, who was in the business for 45 years. They are using the same recipes, as well as dedication to wild spices and herbs – the chicken mole includes over 40 ingredients. I know what I'll be trying next time I'm there.] Tacos are assembled from precooked meats at the back of the restaurant, just behind a selection of 5-10 freshly made sauces.
The sauces are truly this restaurant's main selling point, both for their quality and the variety involved. To be honest, I don't have the knowledge of Mexican food to list out the sauces here, but the variety alone promotes really fun experimentation. Some are based on dried chilies, other on fresh chilies, yet both styles present interesting flavors. My favorites include the one labeled "avocado," which is a very spicy blend of jalapeño and avocado, and a recent peanut sauce, the peanut lending an excellent dry saltiness to the mix.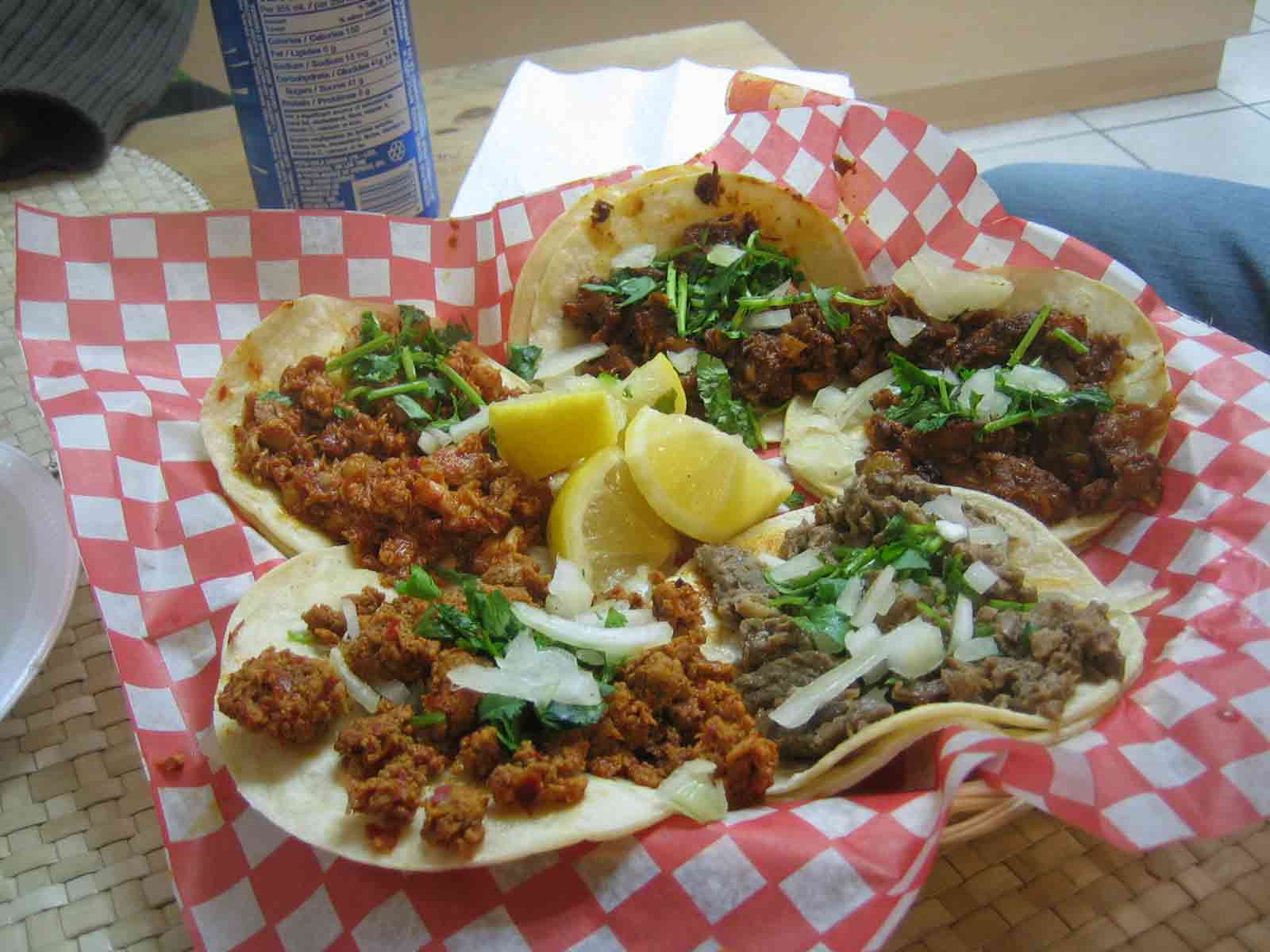 The food itself is quite good, and actually quite complementary to Chilo's Taqueria y Mariscos a few blocks down. Like Chilo's, Dona Cata sells tacos at a reasonable $1.25 (now $1.50, or $2 with cheese – "con queso") and they happen to be significantly larger than those at Chilo's. That's not to say Chilo's doesn't have its place, such as in the world of seafood – Chilo's currently offers one of the best shrimp cocktails in town.
The tacos at Dona Cata are very good and there a few that you just can't get a Chilo's. My favorite is the Al Palstor, a combination of pork and various sweet and savory spicing, with a tropical note coming from pineapple. The Longaniza is also good, a spicy blend of ground pork and various spices I can't quite put my finger on.
I'd stick to the tacos, however, as other offerings have been somewhat lackluster. The quesadilla, for example, is pretty boring – white Mexican cheese between two tortillas – and nothing you couldn't make at home in a few minutes.
Although the tacos are the highlight of the menu, the most fun is to be had in playing around with the different sauces. Each time I go, my friends and I seem to find another "mind-blowing" flavor combination:
"Dude, the peanut sauce with carnitas is amazing."
"No way dude, tomatillo and pork is a classic combination."
Clearly there is no right answer here, and that's the fun of Dona Cata.