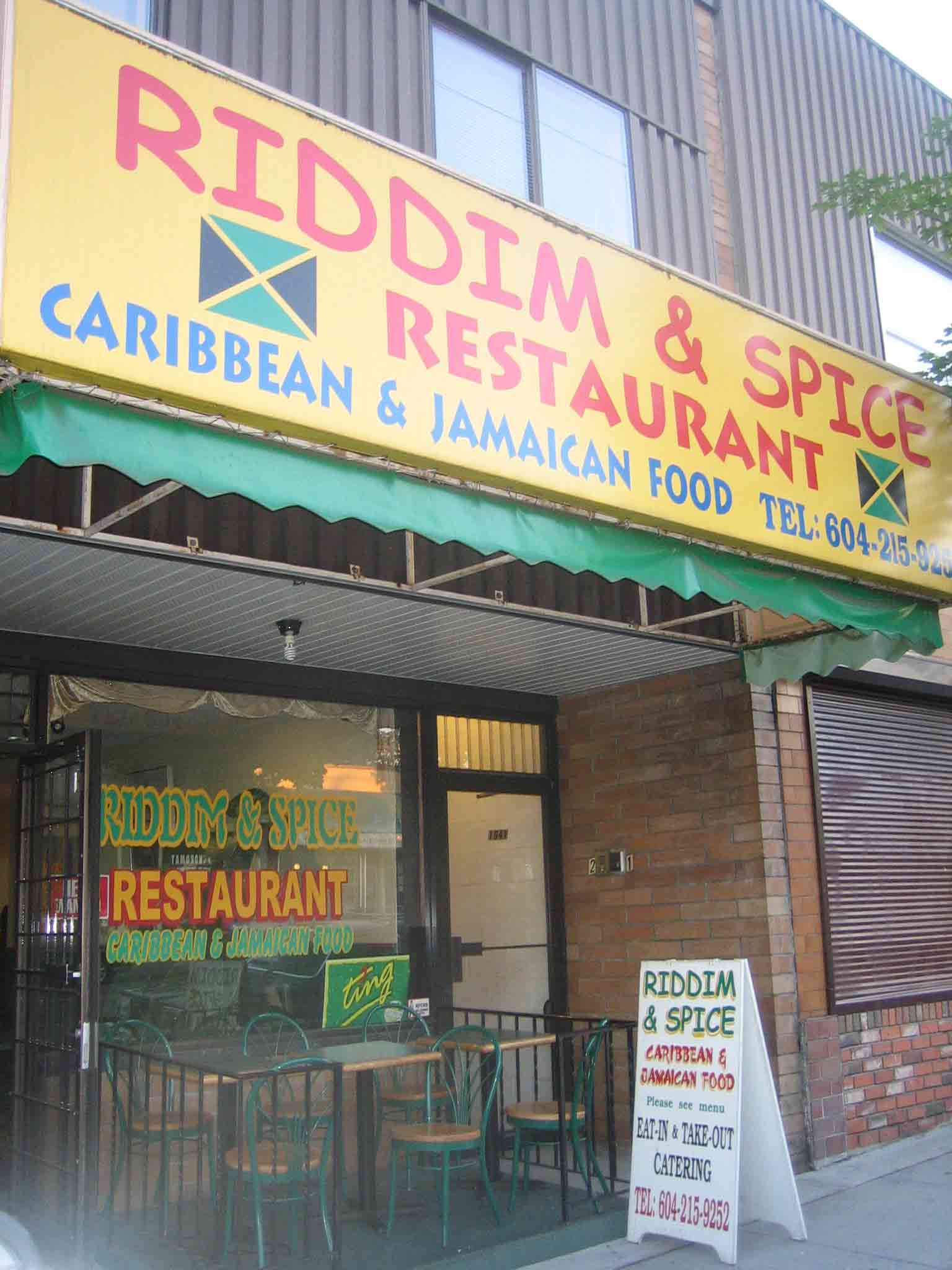 Riddim & Spice
(604) 215-9258
Address: 1945 Commercial Drive (map)
Menu
Chicken. Good.
a Quick Bite
By Michael Chin
a Special to Eat Vancouver
Do you remember the scene in the Fifth Element, where Milla Jovovich has just been recreated, and has to bone up on like five thousand years worth of history? And in the midst of the huge study session she gets up, pops a few pills in the microwave and a huge chicken comes out? Well I've always been envious of the technology, but that's not really the point. It's what Milla says right after she grabs the bowl out of the microwave that I want to point out. With a huge grin she remarks, "Chicken. Good." Now those were always words I lived by.
Perhaps, I'm a bit jaded by living in the states, where Peruvian chicken is king.
Anyway, in my last visit to Vancouver, my brother and I went on quite the food binge one night killing time till a Vancouver A's minor league game. And well out of my Peruvian chicken element, but still craving some dark leg meat, my brother suggested we hit up Riddim and Spice.
I'm quite glad he did.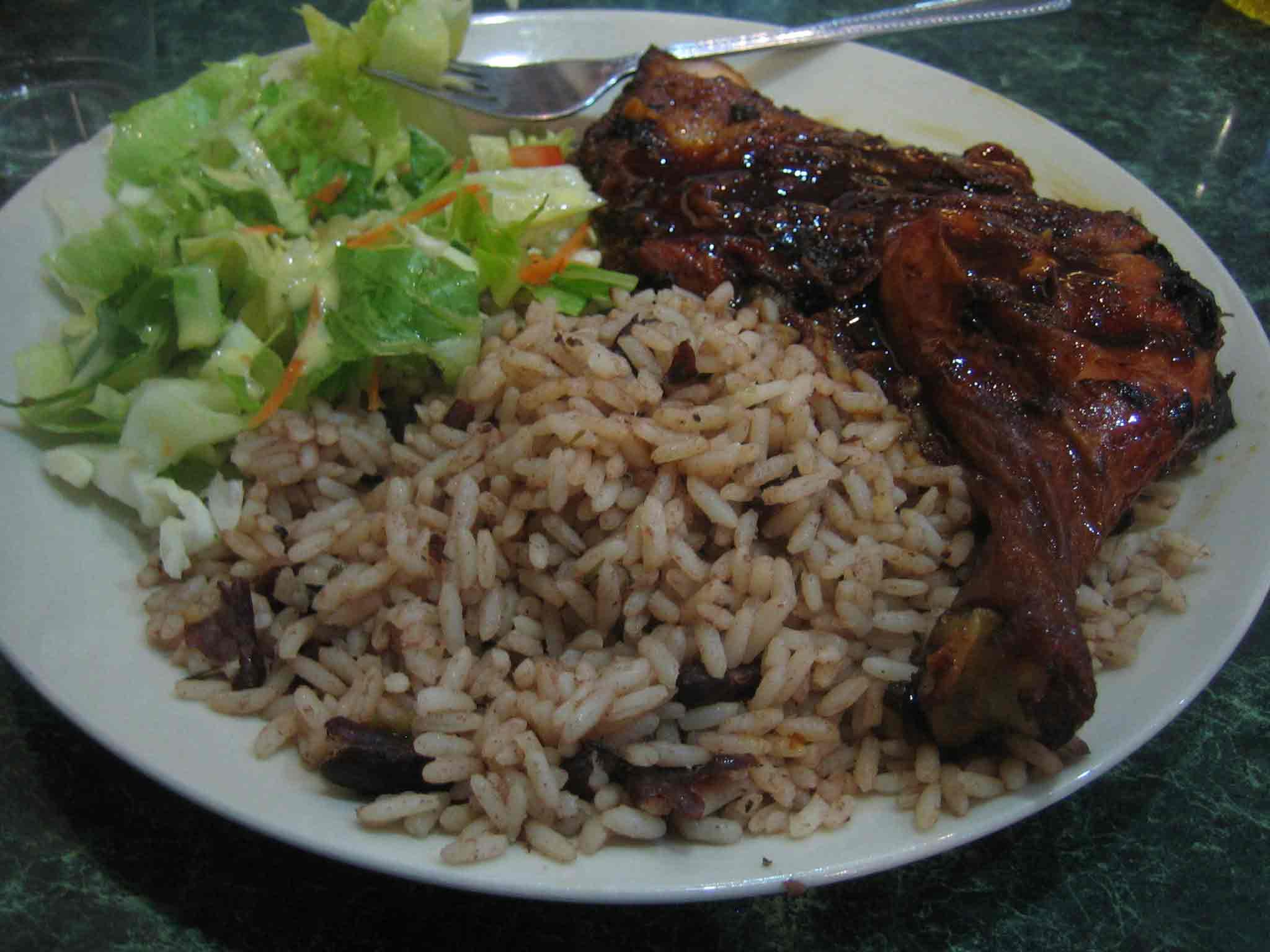 Not a stranger to Jerk Chicken I did have some qualms about Jamaican food in Canada. But those fears were easily put to bed as soon as I entered the place and got a good look at the decorum. It's the kind of place that reeks of the feeling, "I don't really give a **** what the inside looks like, just as long as there is a place to eat." Now I'm not trying to say they were lazy in decorating, the ambience is great and authentically ethnic, I'm just doing my best to say that the place is devoid of any pretension. Basically it's the opposite of Nando's.
As the food is concerned, you order up front, sit down, and have the food in about ten minutes time (at least when I went, which was late afternoon on a weekday, and relatively empty). My brother had the small portion of oxtail and a champagne kola while I had a small portion of jerk chicken and a water (the reason for the smaller portion was because we had just dominated about four tacos each at Dona Cata. I told you…food binge.). The chicken was very moist, a product of the slow roasting style of the Caribbean and which has been implanted well at Riddim and Spice. The sauce on the chicken was almost a little too sweet for my liking, but the house-made scotch bonnet hot sauce at the front counter all but fixed it for me. The rice and salad was a tad pedestrian but altogether much more satisfying than the sides at Stepho's (I will end you!). My brother's oxtail was also the beneficiary of the Caribbean touch, and from the couple bites I had I found the meat to be very tender, but I would have preferred it better in a stew..
While the reduced portions don't hold a candle to Peruvians living in my home country, it's still very reasonable; $7.75 for the reduced and $9.25 for the larger is pretty damn good. I will warn you that even though I had killed four tacos not but thirty minutes ago the small portion, and specifically the chicken, was in fact small. I'd suggest getting the largest portion in almost any case because of it. Regardless, I will definitely hit up Riddim and Spice again, because their chicken is in fact…well…Their chicken…good.