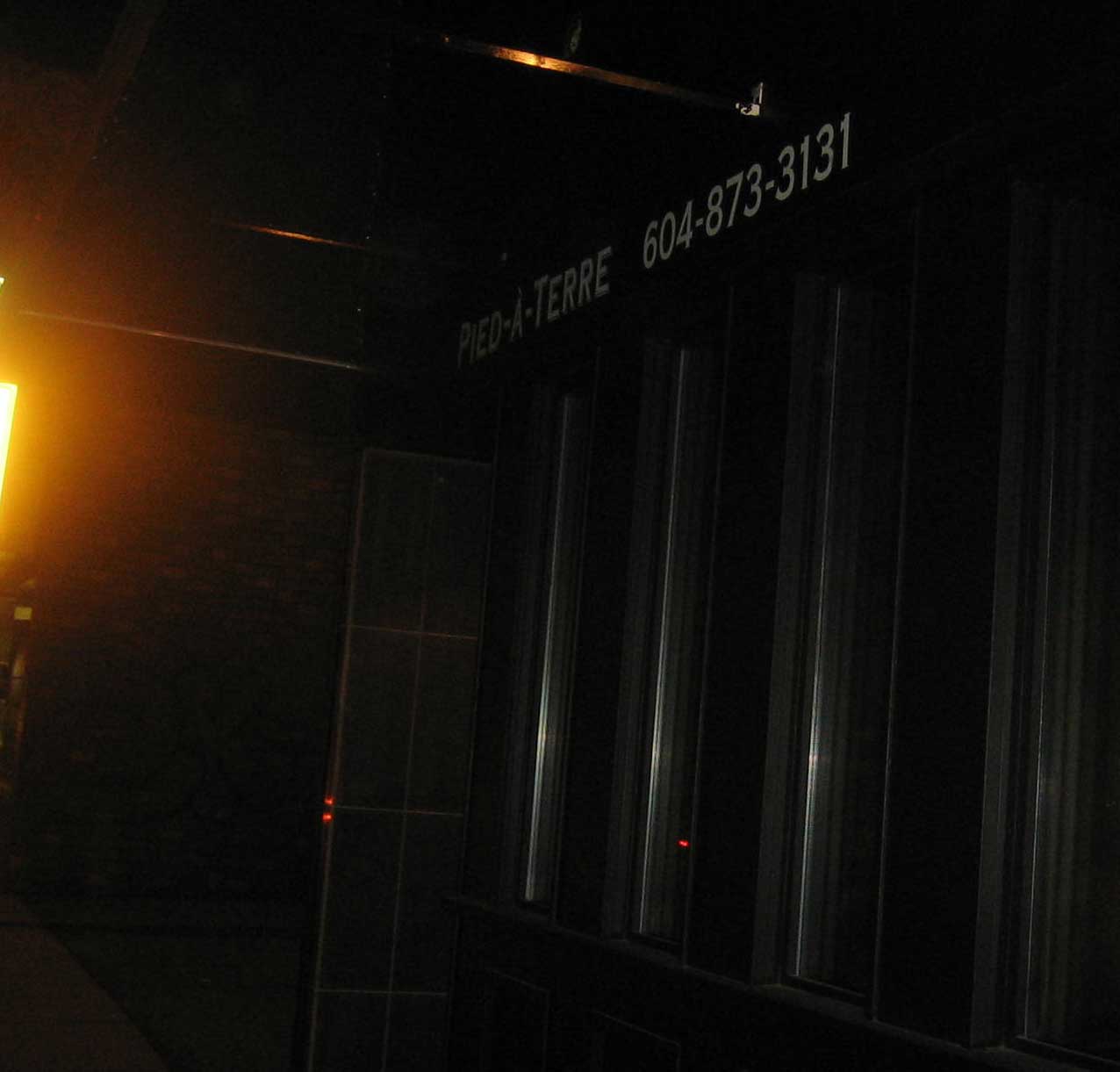 Pied-à-Terre
(604) 873-3131
Address: 3369 Cambie St (map)
Homepage
If you build it, they will come
a Quick Bite
By Jason Chin
Eat Vancouver writer
Canada Line Schmanada Line.
For the record, I never asked Chris Stewart or Andrey Durbach if they were worried about building their new little French bistro on construction-ridden Cambie Street. But if I did, the above would have to be their answer, right? With businesses on Cambie bailing out left and right (notably, Tomato Café's exodus to Broadway), opening a new restaurant would seem to many a recipe for disaster. But it all fits Stewart and Durbach's apparent mantra of late: If you build it, they will come. Take a location not typically known for fine cuisine, such as La Buca at 24th and Mcdonald and now Pied-à-Terre on Cambie. Add in simple but expertly prepared regional cuisine, seasoned staff, small but comfortable room, fair prices, and you've got yourself a hit. Of course, it's a bit too early to tell with Pied-a-Terre, but word on the street is they've been packing them in since opening, my visit last Thursday being no exception.
Pied-à-Terre can be found between 17th and 18th on Cambie, and do make sure you look closely, because without an illuminated banner it's easy to miss – I drove by twice before I found it. I happened to check it out on Thanksgiving, and there was indeed a lot to be thankful for: delicious food, precise service, an inviting space, and of course, good company.
Pied-à-Terre's interior embodies the idea of a chic French bistro, with ornate light fixtures casting shadows across a room highlighted by a tiled bar-like area at the room's end. I say bar-like because Pied doesn't have a full bar, opting instead for a France-dominated wine list, a few aperitif wines (e.g., Lillet), and one beer (Kronenbourg). No complaints here. No complaints with the service either, which was both helpful and timely. Perhaps that's no surprise given the staff includes alumni of restaurants like Lumiere and Ciopinno's.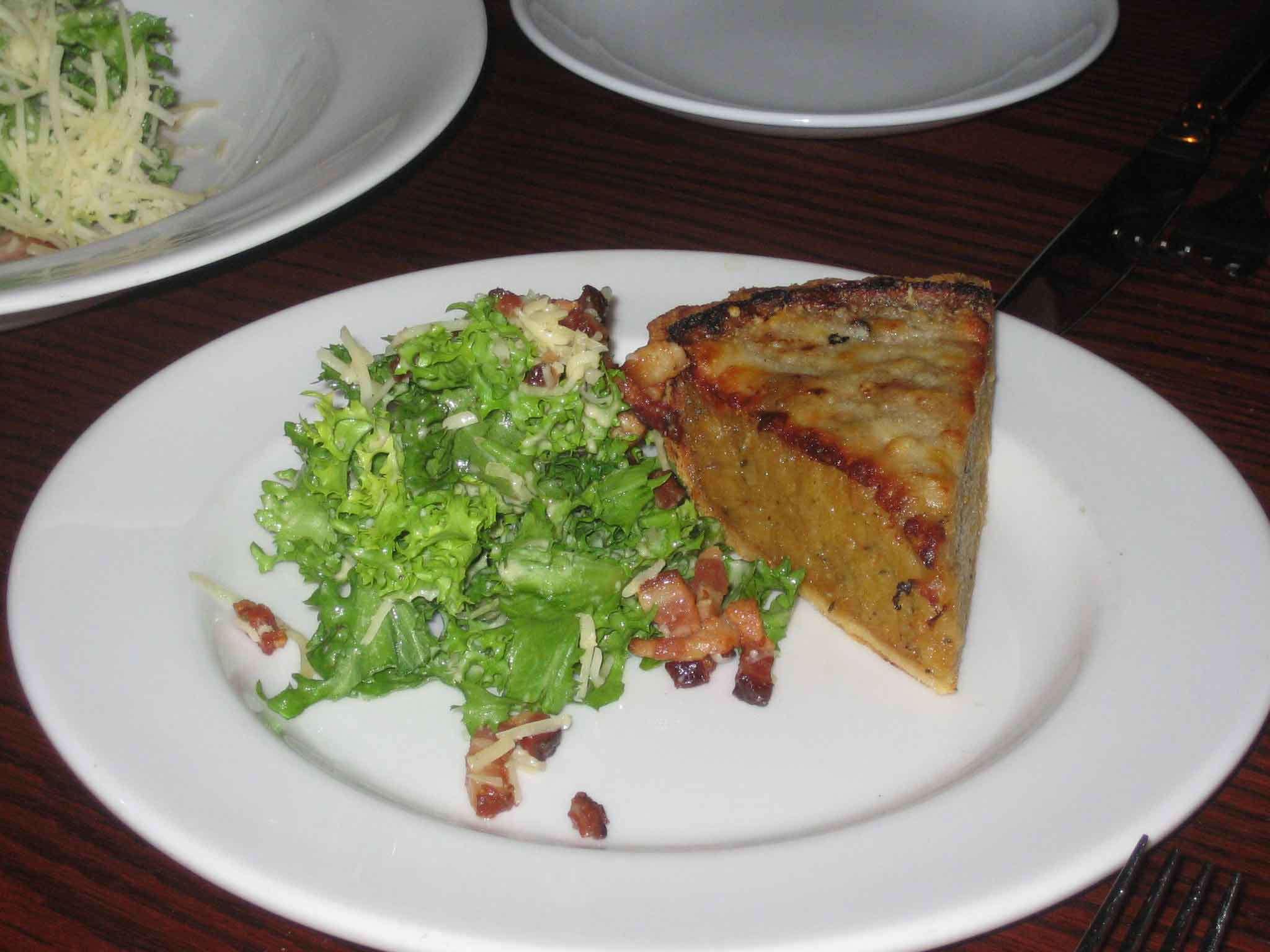 Of course, I was most thankful for the French classics sent out by the kitchen. We started with the house terrine ($8.50), which was pheasant and prune that day, the salade paysanne ($9.50) and the Alsatian onion pie ($8.50). All three were terrific and authentic to the classics from which they drew inspiration. The terrine is reminiscent of a Parisian picnic, accompanied by toasted bread, gherkins, and Dijon mustard – perfect for sharing. The salad was impressive not only for its flavors but for the temperature, with the country sausage and potato at the bottom of the dish warming the endive above just enough to avoid wilting. The onion pie, however, was easily my favorite starter; served just slightly warm, it was kind of like a bowl of French onion soup in pie form, accented by a perfectly crispy crust.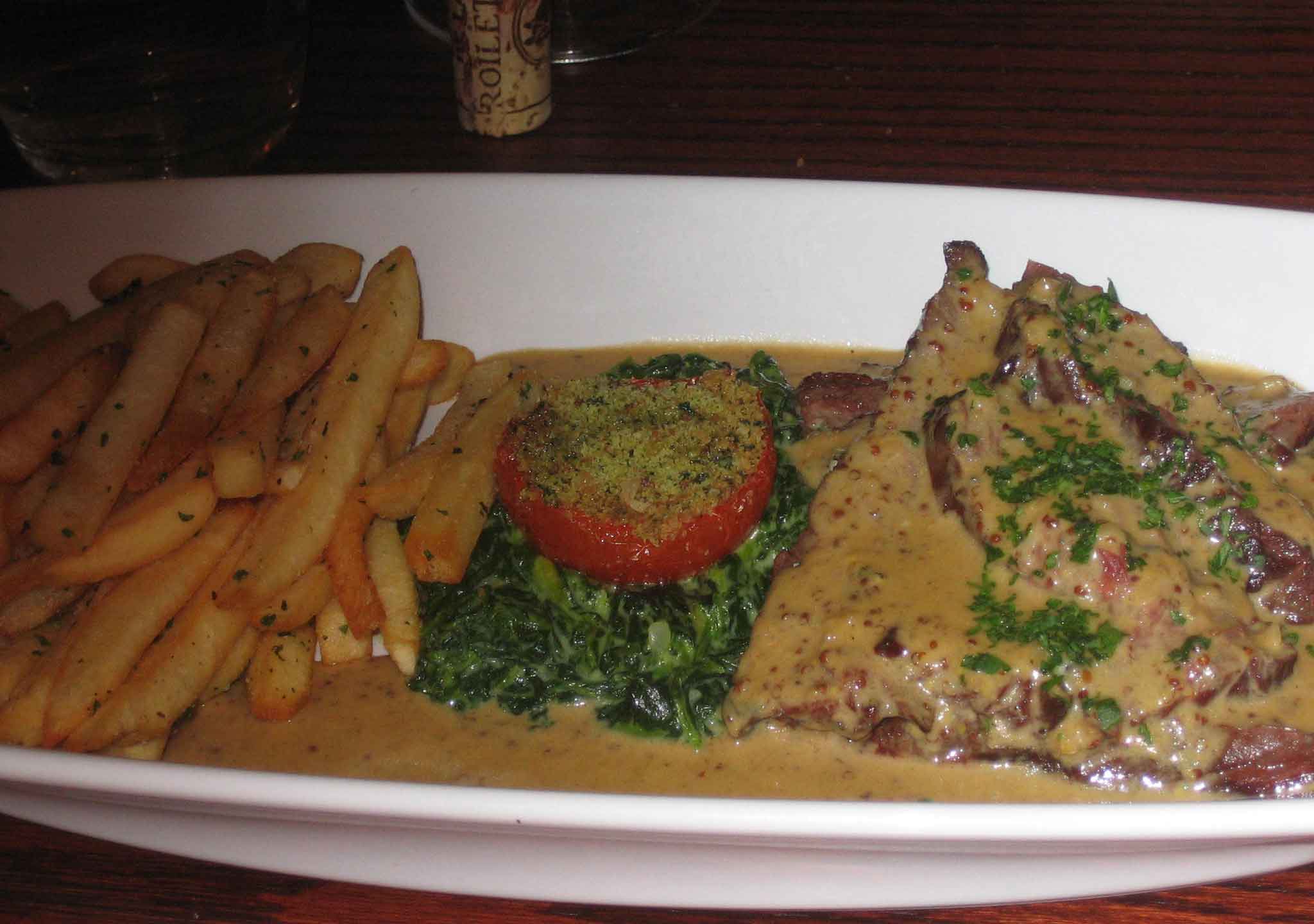 While there were several mains that caught my eye, it was the steak frites section of the menu that held my attention that night. A choice of four cuts of steak is offered with a choice of four classic sauces. I tried the onglet (18.50), aka hanger steak, which is known to be one of the most intense, almost organy, flavored cuts of beef. I honestly can't imagine a scenario in which one should order the filet instead, which besides costing more, certainly isn't as flavorful a cut (albeit slightly more tender). More bang for your buck also resides in the entrecôte, which should also be more deep in flavor. The onglet comes rare-medium rare and is served with frites, a creamed spinach and a roasted tomato that provides a much needed acidic contrast to the richness of the steak. The Roquefort and mustard sauce worked well with the steak and was a nice dip for the fries. It being Thanksgiving, I had the tarte tatin, which is basically an apple cooked upside down in a pan so that the bottom gets nice and caramelized. Although it was good, I found myself fancying my friend's lemon tart brulée, a classic lemon tart with a wonderfully crisp burnt sugar coating.
The mostly French wine list shows its strength at about the $50 mark, with a Chapoutier Crozes Hermitage ($50) and Drouhin Côte de Beaune ($60). We ended up drinking a bottle of Clos de Roilette Fleurie, which was surprisingly bright and played well with both our starters and mains.
If you build it, they will come – be it Shoeless Joe Jackson, Kevin Costner's dad, or fans of classic French preparations in Vancouver. Stewart and Durbach sure built it, and they're a' coming.