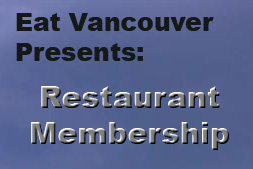 Eat Vancouver Presents: Restaurant Membership
a news item
Friday January 16th, 2008
By Jason Chin
Eat Vancouver editor
I am very happy to announce a new Eat Vancouver feature tonight, one that I believe can change the way Vancouver's dining public receives information about the city's restaurant scene. This feature will allow restaurateurs that may a have limited, or non-existant advertising budget to quickly and efficiently publish information about their restaurant. That new feature is Eat Vancouver's new restaurant membership program. In application, this system works much the same way that Urban Diner's restaurant community operates, except for one key difference: Our program is free. That's right, Eat Vancouver restaurant members get all of the same benefits as Urban Diner community members (or any other restaurant guide for that matter) including sample menu publication, photos, links or quotes from recent reviews, except this time I'm footing the bill.
So here's how it will work, restaurateurs please contact me through the contact portion of this website. Send over your logo, photos, sample menus, and whatever else you want on your page (within reason). I'll put this information up on your restaurant's web page in the new restaurant members section of Eat Vancouver. It's as easy that.
Worried about distribution? Don't worry about that, Eat Vancouver has an identical google ranking to Urban Diner. Worried about future fees? Don't, I'll cover the cost of your page for the life of Eat Vancouver, guaranteed. Worried that you'll get turned down? Don't fret, this offer is open to any local restaurant.*
So that's it, Eat Vancouver's Restaurant Membership Program is officially online. I'm not sure anything like this has been done before – all of my colleagues charge for this sort of thing. I think this, in a way, levels the playing field a bit while retaining our objectivity. Let's see what happens.
*Unless this restaurant is owned by Daved Benefield