Target 2.1: Vong Gac – Now Closed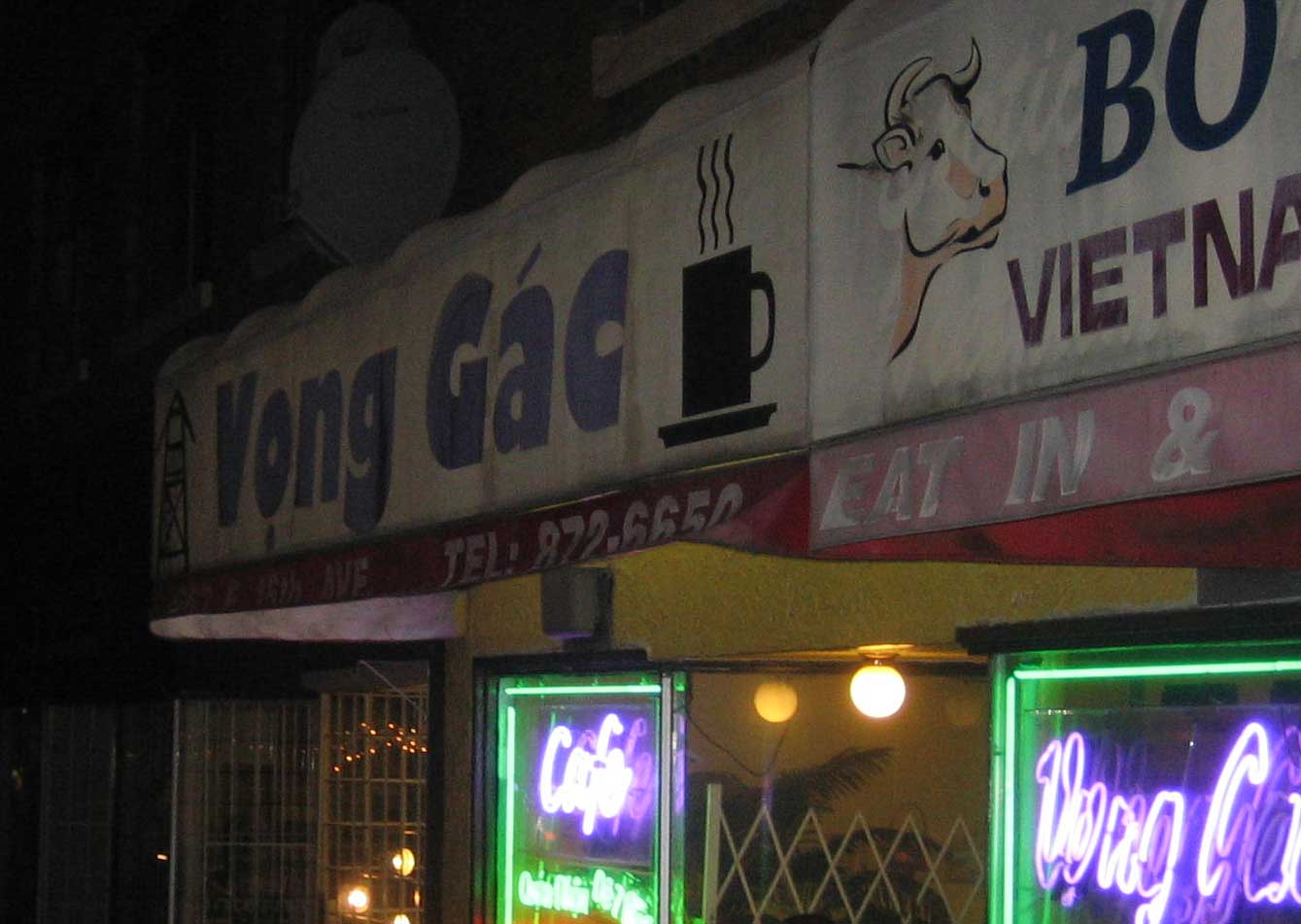 Address: 663 East 15th Ave. (map)
Phone: 604-872-6650
Menu: Page 1; Page 2; Page 3; Page 4
Price: $5.25 small; $5.75 large
Condiments Photo
Fishtank Photo
Visit date: January 24th, 2008
Visit time: 7:20 PM
–ratings–
Jason's ratings (#16 rare beef, flank & tendon except they were out of flank and added meatballs) –
Broth: 7/10
Beef: 5.5/10
Noodle: 8.5/10
Condiments: 7/10
Other factors (service, atmosphere, etc): 6/10
Jason's total: 6.8/10
Des' ratings (#13 rare beef & meatballs) –
Broth: 7.5/10
Beef: 6.5/10
Noodle: 7/10
Condiments: 6.5/10
Other factors: 7/10
Des' total: 6.9/10
Total Score (averaged across both raters, all variables) = 6.85/10
Quality per dollar (based on large pho) = 1.191/$
—
Description from Jason:
Last year we started a Vancouver phenomenon. It was called the Great Phodown. Our eighth phodown was a place called Pho Thai Hoa. On March 28th, Frances Xu commented on that phodown and suggested I check out Vong Gac. Last week, I did just that.
Whenever I go into a pho shop, I expect the service to be fairly abrupt. That's one of pho's charms, really. But at Vong Gac, I honestly felt like I wasn't wanted. There was only one other table, but it wasn't even 7:30 yet, so I didn't think it was too late for pho. Anyhow, after waiting for about ten minutes, a man I can only assume was the owner extricated himself from an intense card game and handed me a menu. Ten minutes later, he took my order and ten minutes after that, the pho arrived.
The first thing you have to know about Vong Gac is that it's a Northern Vietnamese style of pho, so the spicing and condiments will be a bit different than the majority of places. I kind of like that as a change up. So for instance, you're probably not going to get basil or bean sprouts. Instead we got some sawtooth herb, which I normally like for it's fresh oniony flavor, only Vong Gac gave me mostly stems, a questionable move if ever there was one. I ordered the pho with rare beef, flank and tendon, but when it arrived, it had meatballs in it. I questioned this and was told that since they were out of flank, they gave me meatballs instead. These are moves I would like to know about beforehand.
Fortunately, the pho itself was pretty good. The noodles stood out as excellent with no clumpage and great texture. The broth was very well spiced, something common with the Northern style, but unfortunately highly watery and oily. The oiliness I can live with, but I just can't abide a watery pho. The meat itself was fine, but I deducted points for getting the wrong kind.
Overall, I'd recommend Vong Gac as a good option for pho, if not for the rude service and kitchen mixups. Next up: where to find a pho closer to Kits/downtown/Point Grey? Does anyone know?