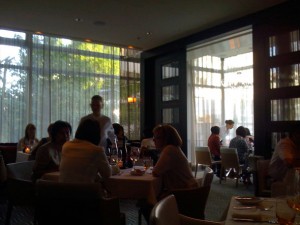 Market by Jean-Georges
1115 Alberni Street -Level 3, in The Shangri-La Hotel
Lunch:
 Weekdays 11.30am-2.30pm
Dinner: 
Mondays to Saturdays 5.30pm–10.30pm
Cafe/Terrace:
 Weekdays 11.30am-11.30pm.
 Saturdays 4.30pm-11.30pm
Bar:
 Weekdays 11.30am-midnight. 
Saturdays 4.30pm-midnight
Valet Parking
Secured underground parking available at 1137 Alberni, between Urban Fare and Coastal Church.
Dress Code: Business casual
Smoking Policy: Smoking is not permitted inside the restaurant or on the seasonal outdoor terrace.
****4 Stars – Superlative. (out of a possible 4)
Recently my partner had her family in town from Taiwan and they are a group of jet-set sophisticated diners.  I surprised them one evening by making our culinary destination – a first time visit for me – Market by Jean-George in the new Shangri-La Hotel. As it turned out our dining companions had made numerous excursions to other Jean-Georges locations and they had mostly favourable but somewhat mixed reviews. They were not happy with a recent visit to the Hong Kong location but they were on their way to New York next and were planning a visit to one of the nine New York locations – the one known simply as Jean-Georges, and in fact, during our dinner had the Vancouver location arrange the reservation. They were delighted at this choice for our meal in Vancouver but I had some trepidation after hearing their comments.
Jean-Georges Vongerichten is a celebrated 3 Michelin star chef and this recent Vancouver location is just the latest in a long string of international venues that bear his stamp and style. Born and raised in the Alsace region in France, JG honed his culinary skills apprenticing under such multi-Michelin star masters as Paul Haeberlin,  Paul Bocuse and master-chef  Louis Outhier of L'Oasis in the south of France. But it was the influence of Asia developed through positions at The Oriental Hotel in Bangkok, The Meridien Hotel in Singapore and The Mandarin Hotel in Hong Kong where JG developed his signature 'vibrant cuisine' that eschews traditional meat stocks  in favour of flavour intensity and textures derived from the use of vegetable juices and fruit essences, light broths and herbal vinaigrettes.
All of these were on display in our recent meal.
The first thing to note is that the Market dining room is a beautiful venue. My poor iphone photos don't capture in any way the ambience. It's elegant and airy yet still felt intimate at the table. And, while the sun streamed into the room and then subsided through sunset there was never that sun-in-your-face feeling and the transition from light to dusk to dark was seamlessly accommodated by drapery and lighting changes that just seemed to happen. It's actually only thinking back on it that I am aware of the changing ambience and how lovely it was accommodated by the design of the room and the process in the restaurant.
After a glass of wine and a brief perusal of the menu we all decided to opt for the variety of the tasting menu called the 'Market Menu' as follows:
–Rice Cracker Crusted Tuna, Citrus – Sriracha Emulsion
–Foie Gras Brule, Meyer Lemon – Pineapple Jam and Rose Seasoning
–Crispy Bacon Wrapped Shrimp, Passion Mustard and Avocado
–Roasted Red Snapper, Sesame Vinaigrette, Radishes and Fresh Ginger
–Barbeque Lamb Chops, Potato Puree, Spring Peas and Mint
–Dessert
One of our party had an aversion to lamb and we inquired about the possibility of substituting a portion of the Lobster, Potato Gnocchi, Smoked Butter, Lemon item from the main menu and after a brief inquiry to the kitchen it was settled favorably and easily accommodated.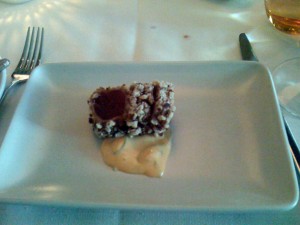 From this point on our experience at Market was simply lovely. We were a busy, chattering and jovially happy group and the service flowed around us in a non-interruptive but efficient manner, with all of our needs anticipated from wine, to water to bread, and butter to cutlery to cleaning. It was all as it should be in an establishment of this caliber and it was executed well.
And the food was, at every course, delicious.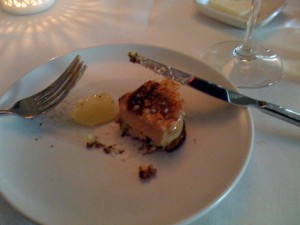 My particular favorite – actually I think at this point going forward I would call it an obsession, as I simply must have it again – and hopefully again and again – was the Foie Gras Brule with Meyer Lemon – Pineapple Jam and Rose Seasoning. This exquisite item was so clever and so succulent and melt-in-your-mouth that I am sure the moaning of my culinary satisfaction was being misinterpreted by other diners.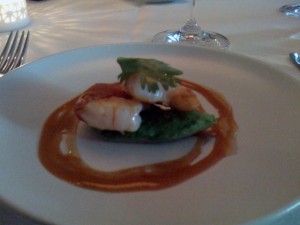 This is not to detract from the other items. The tuna was seared perfectly and the contrasting textures combined beautifully with the tart tang of the sriracha. The shrimp and avocado while somewhat unimaginative was fresh and light with the shrimp texture popping in your mouth while the creaminess of the avocado embraced it.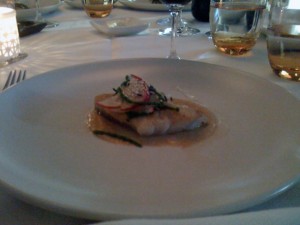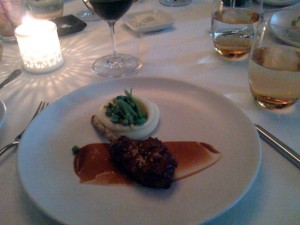 The snapper was also light and fresh and the fish was perfectly cooked – and we all know how I feel about overcooked fish. The highlight of the mains was the Lamb. Succulent with the light bbq sauce expertly applied and the contrast of the mint and peas worked magically. Every item was seasoned beautifully with the flavour balance just right. Finally, the light dessert item, again not too fancy or imaginative was still delicious with fresh strawberries and cream and a light biscuit.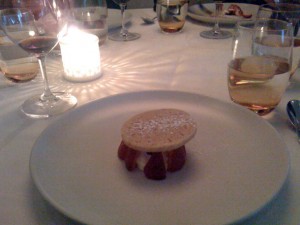 I like to eat and I like to eat a lot and have often found that a tasting menu just doesn't satisfy me from a portion perspective but when we were through, I was fully sated.
I would highly recommend an evening at Market by Jean-Georges. Contrary to what you might expect from a celebrity chef's restaurant in a 5 star hotel, the prices are quite reasonable and competitive and the experience is wonderful.