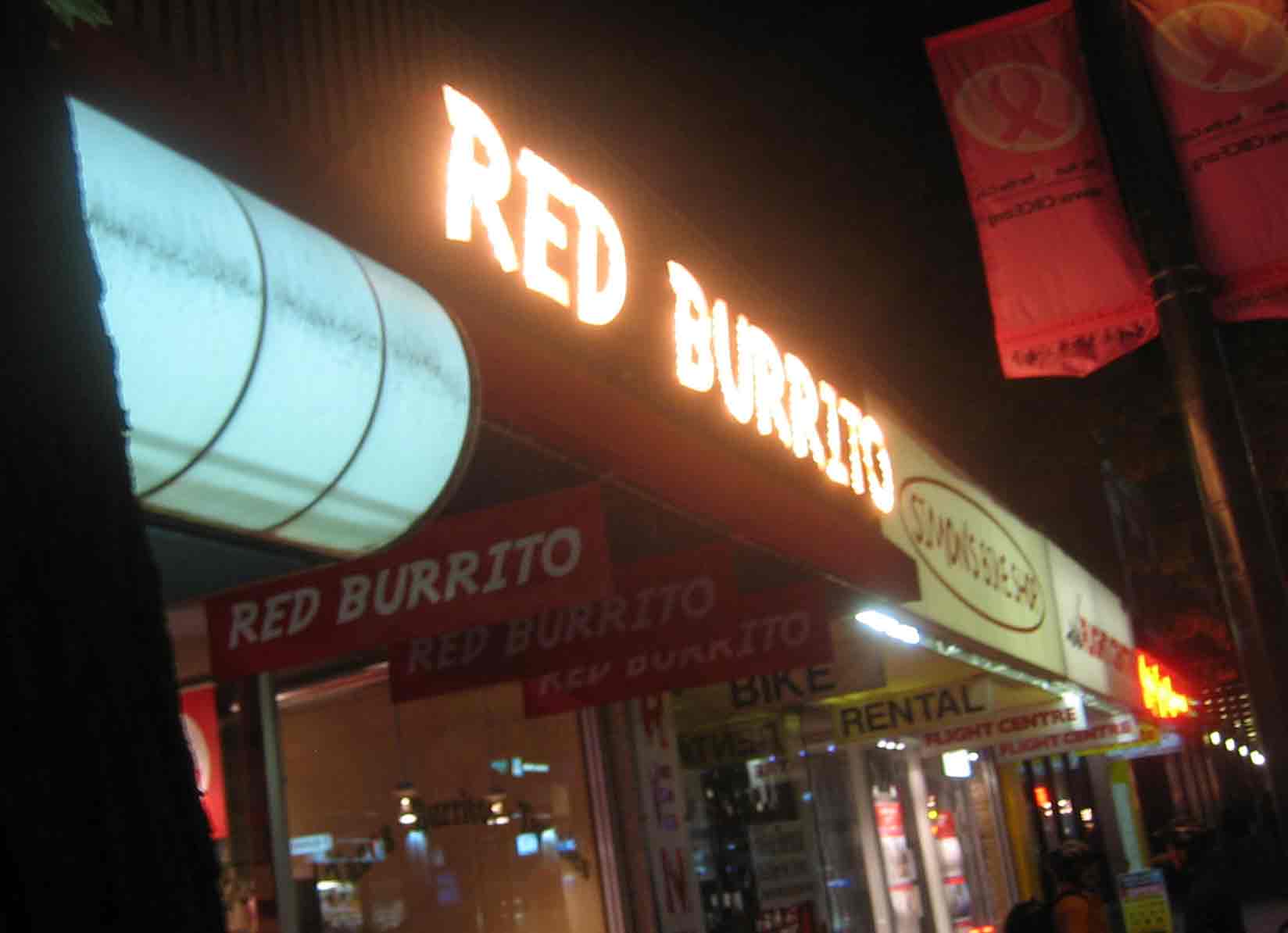 Red Burrito
Locations downtown, Commercial,
and North Van, see Homepage
The Red Menace
a Quick Bite
By Jason
Eat Vancouver writer
Burritos have been a staple in the Southwest USA for at least two decades now. Coming in sizes as large as a human forearm and stuffed with ingredients like rice, beans, potatoes, fresh salsas, and several varieties of braised or grilled meats, a burrito can be a meal in itself. Portable, delicious and often more healthy than a burger, the trend has recently spread to the rest of the States with several big chains ensuring that stumbling across a decent burrito is about as easy running across a bad George Bush joke in an academic talk. McDonald's commands the surprisingly not-as-bad-as-you'd-expect Chipotle chain and Wendy's oversees the pretty-bad-if-not-for-the-salsa-bar Baja Fresh chain. There's also Qdoba, which offers a fine burrito and a rewarding customer loyalty program, one outlet being found in the food court at the Seatac airport.
Like most trends in the US, a watered down version has recently cropped up north of the border here in Vancouver. And like any copy of a copy of a copy, it's not quite as sharp as the original. At the vanguard of this movement is Red Burrito, which showed up a couple of years ago on Commercial Drive and has spread like Michael Jackson through a 5pm showing of "The Seeker" ever since. Sporting a menu that, down to the font, is almost an exact and perhaps copyright infringed replica of Chipotles (evidence: menu at Red Burrito, menu at Chipotle), as well as open rotisseries most often found in Lebanese restaurants, my first reaction was to steer clear of this place. After a couple of experiences here, it's become pretty clear that my first reaction was the correct one.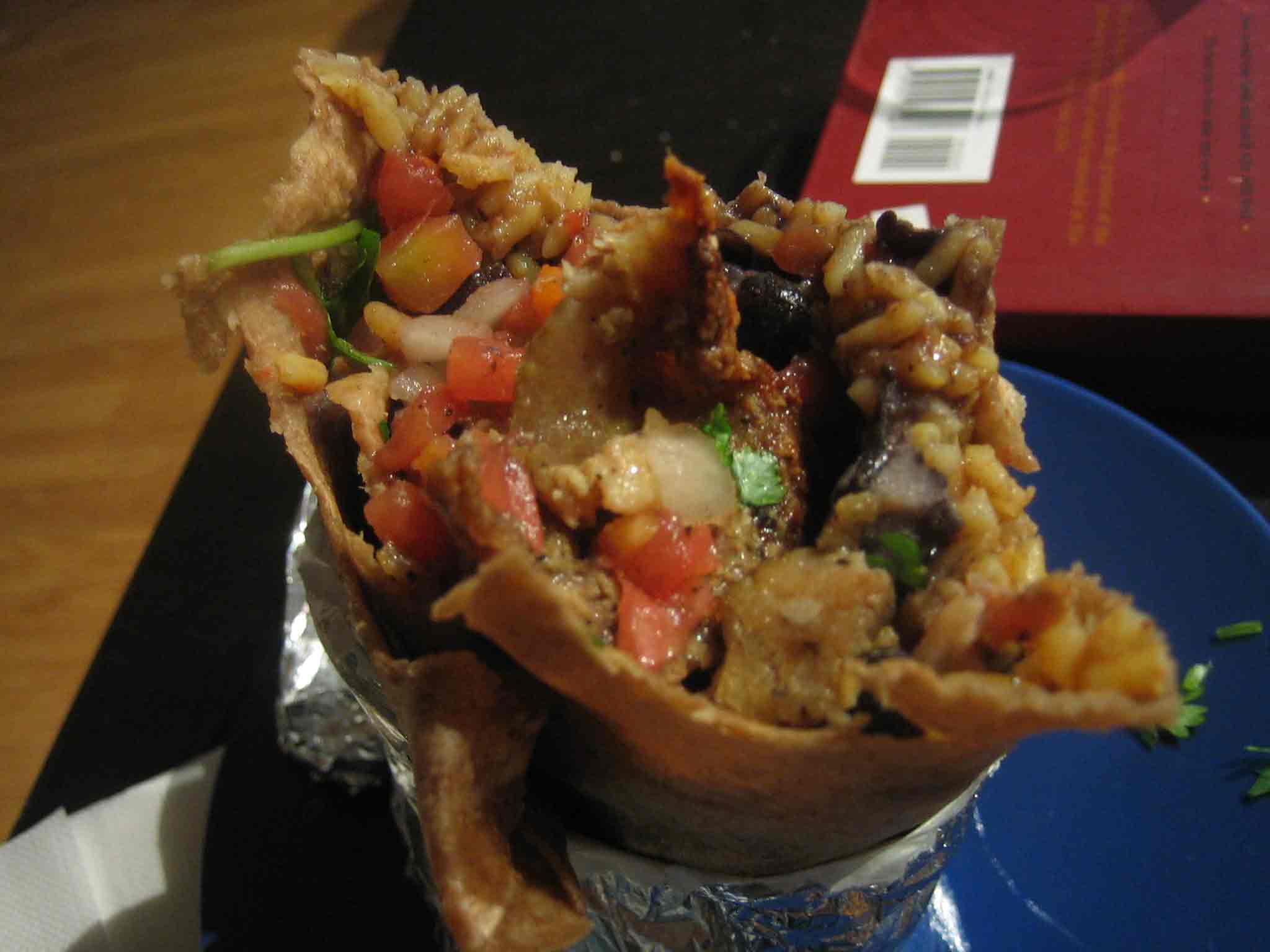 I most recently tried the newer Red Burrito on Robson and ordered a "grilled" chicken burrito with black beans and hot sauce. I felt like Tom Hanks in the terminal, except my terminal was in blandsville and there was no Catherine Zeta Jones to help get me through the layover. The decidedly not grilled chicken was the main culprit, which was sparse and somehow, crunchy. I think it was last of the stuff from the open-air rotisserie, mostly skin and fat. How this place can get away with calling this chicken grilled is beyond me – this meat has never come anywhere near a grill. The beans tasted out a can, unseasoned and boring, while the hot sauce barely registered as hot and did not make up for this with any other discernible flavor. The best I can say is that at just over $6 with tax, this was not an expensive mistake.
At the end of the day it just has to be said that one can do worse than Red Burrito, but also, a hell of a lot better. It's kind of like throwing a dump-off pass to the fullback with ten seconds left in the half and sixty yards to the endzone – a give up play, safe but boring in every way. If you're in search of a proper burrito, head to Southern California or New Mexico where they've mastered the art of wrapping large portions of hearty, delicious food in handheld form. If that's a bit unreasonable (and it probably is), the chain versions found throughout the US are reasonable options. As for Vancouver and Red Burrito, it's just too soon.