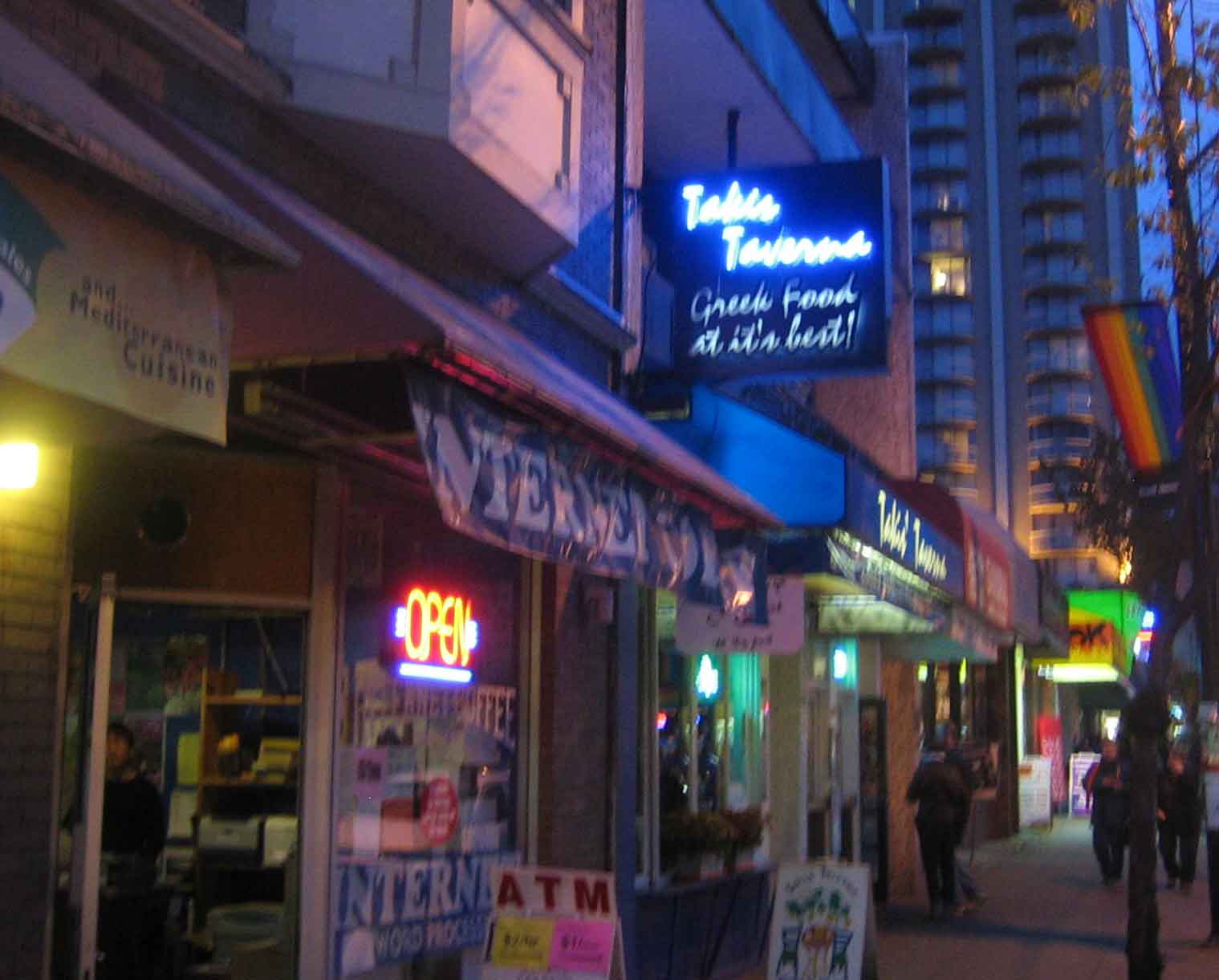 Takis Taverna
(604) 862-1336
Address: 1106 Davie Street (map)
More Assembly Line Greek
a Quick Bite
By Jason Chin
Eat Vancouver Editor
There's something about Greek food that apparently makes it very easy for the restaurant to fall into a deep rut. It may be the nature of the food, or perhaps even the expectations of the customers, but the result is that these Greek restaurants eventually turn into mindless food factories churning out mass quantities of the same old jazz.
Takis Taverna, unfortunately, is no exception. Before trying this restaurant I had often dubbed it as the "Stephos runoff" place, where those who grew tired of the long line settle to pay a few extra dollars for a smaller portion. This assessment was more than a little dismissive and completely unfair given I hadn't yet tried it. Turns out, it was completely accurate.
I went to Takis Taverna as part of a large group celebrating a co-worker's birthday, an event that (unfortunately) allowed me to try a large portion of the menu. The interior of the restaurant is not significantly different from any other Greek place in town, with the requisite potted shrubbery and Greek themed posters on the wall. Still, it was clean and the front-of-house staff functioned exceptionally well. Water, drinks, food, helpful suggestions and amicability flowed quickly and with ease all night.
We started off with a trio of appetizers: the hummous ($5.50), grilled halloumi ($6.95), and calamaraki ($8.95). Of the three, the powerful, garlicy hummous was the best and probably the only dish of the night worth returning ordering again (excepting a surprisingly formidable Caesar). The halloumi was a travesty, served barely warmed through, rubbery and exceptionally bland. Finally, the calamarki were tender, but unfortunately a bit soggy.
I ordered the roast lamb ($13.50) as my main and found it indecipherable from what I'd get an pretty much any other Greek place around town, besides Simpatico which for a few extra dollars packs a lot more flavor. The lamb itself was tender, but bland, making the search for meat between chunks of fat and bone highly unrewarding. It turns out I should have followed the lead of the Scotsman at the table who ordered the Athenian chicken ($13.50), a formidable piece of crisp-skinned chicken accented with plenty of fresh lemon. Both come with the ubiquitous rice, potato and steamed carrots.
I left the restaurant very full, but not at all satisfied. I couldn't help but feel as though my money would have been better spent on a restaurant doing something creative. Further, I'm still no closer to the answer to why local Greek joints are spinning their wheels. I also can't help but feel that it's going to be a while before I give this restaurant a shot again.