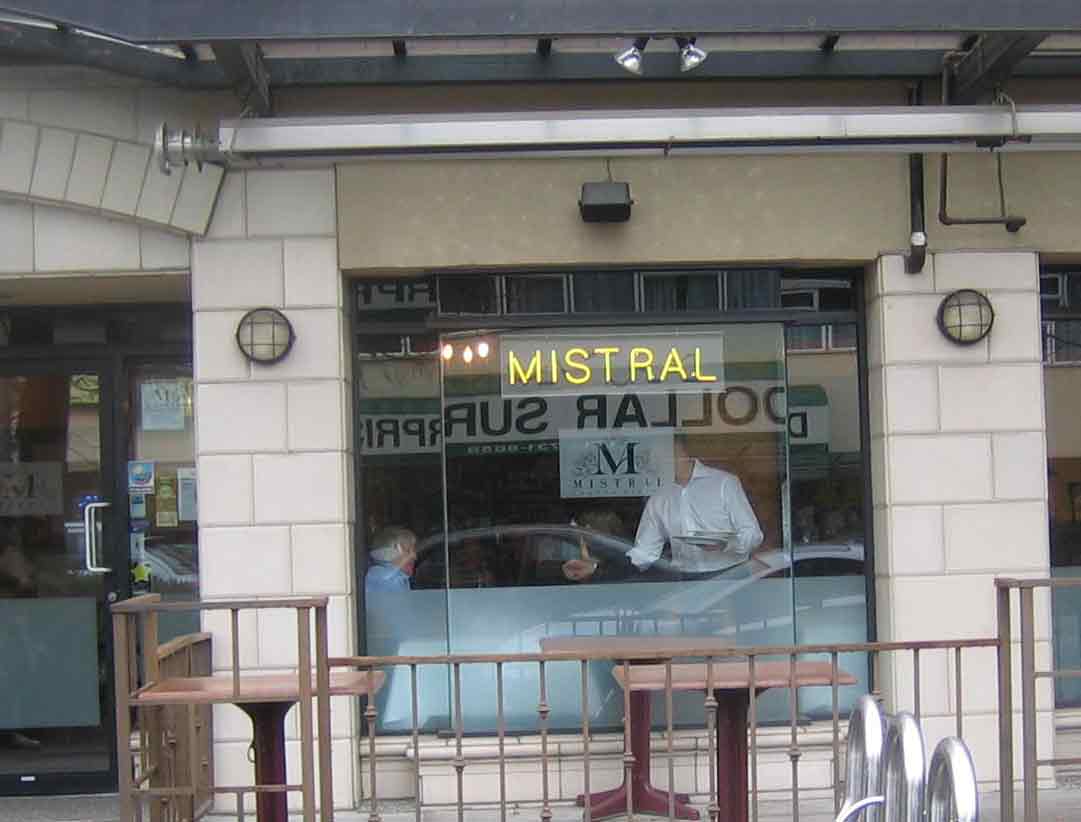 Mistral Bistro
(604) 733-0046
Address: 2585 West Broadway (map)
Homepage
Very tres, tres bien.
a Quick Bite
By Mark Freeman
Eat Vancouver writer
Cheese. Of all the elements in the universe, cheese is one I value the most. And when it comes out of a goat, I appreciate it even more. And when I stopped by Mistral Bistro on Broadway at Trafalgar and they took two thick medallions of wonderful goat cheese, browned them and set them on a bed of organic greens with two paper thin slices of very fresh, light prosciutto I was so overwhelmed by how delicious this appetizer was that I almost didn't want the main course, I just wanted more of the goat cheese salad.
Of Mistral's four prix-fixe lunch options, I went for the Menu Riviera because it was a cloudy and cold day and I wanted to feel the opposite of cloudy and cold. With the Menu Riviera, for appetizers there's a choice between the goat cheese salad and an onion tart, and for the main course there's a choice between fresh Niçoise-style pasta and grilled squid with Ratatouille. For dessert there's a lemon tart with raspberry cream. At $19, for the quality of food – which comes quickly, attentively and with many a merci – this was a phenomenal value. I would have paid that much to eat the goat cheese salad.
When I did venture into the main course, a rich pile of basil-sprinkled green noodles under three grilled prawns surrounded by crisp, flavourful steamed seasonal vegetables, I only slightly regretted not asking for another serving of the goat cheese. The pasta was so filling I didn't eat anything else until dinner.
Speaking of the vegetables, one of the things that impressed me most about Mistral was the attention the kitchen paid to details. Tiny details made this fantastic lunch truly exceptional. The olive oil on the salad, for instance, had a very subtle, toothy taste that lingered in my mouth and made me want to shove all of the greens in at once. The steamed vegetables, which I normally avoid like a 12-year-old when I'm in restaurants because they're almost universally limp and tasteless, were delicious and not just on the plate to fill up space, but were actually an homey, French Provençal accompaniment to the prawns.
To finish, I was suspicious that the lemon tart might be an econo-sized dessert for someone watching their weight but it wasn't! It was a long slice of sugary lemon tart with two big raspberries on one side and a pool of raspberry cream on the other. It was fresh, sour, sweet and a bright way to end the meal on an otherwise cool fall day.
The best part of Mistral's lunch menus is that because there's a choice of appetizers and main course with each menu, it's possible to eat 16 different combinations before having to repeat a lunch. I'm going back to Mistral Bistro. I have 15 lunches left to go.