Blogging Cornucopia
a photoblog feature
Sunday, November 11, 2007
by Jason Chin
Eat Vancouver editor
In the tradition of the great Tony Pierce and his pioneering photo essay medium, I've decided to present my Cornucopia blog as a photo blog.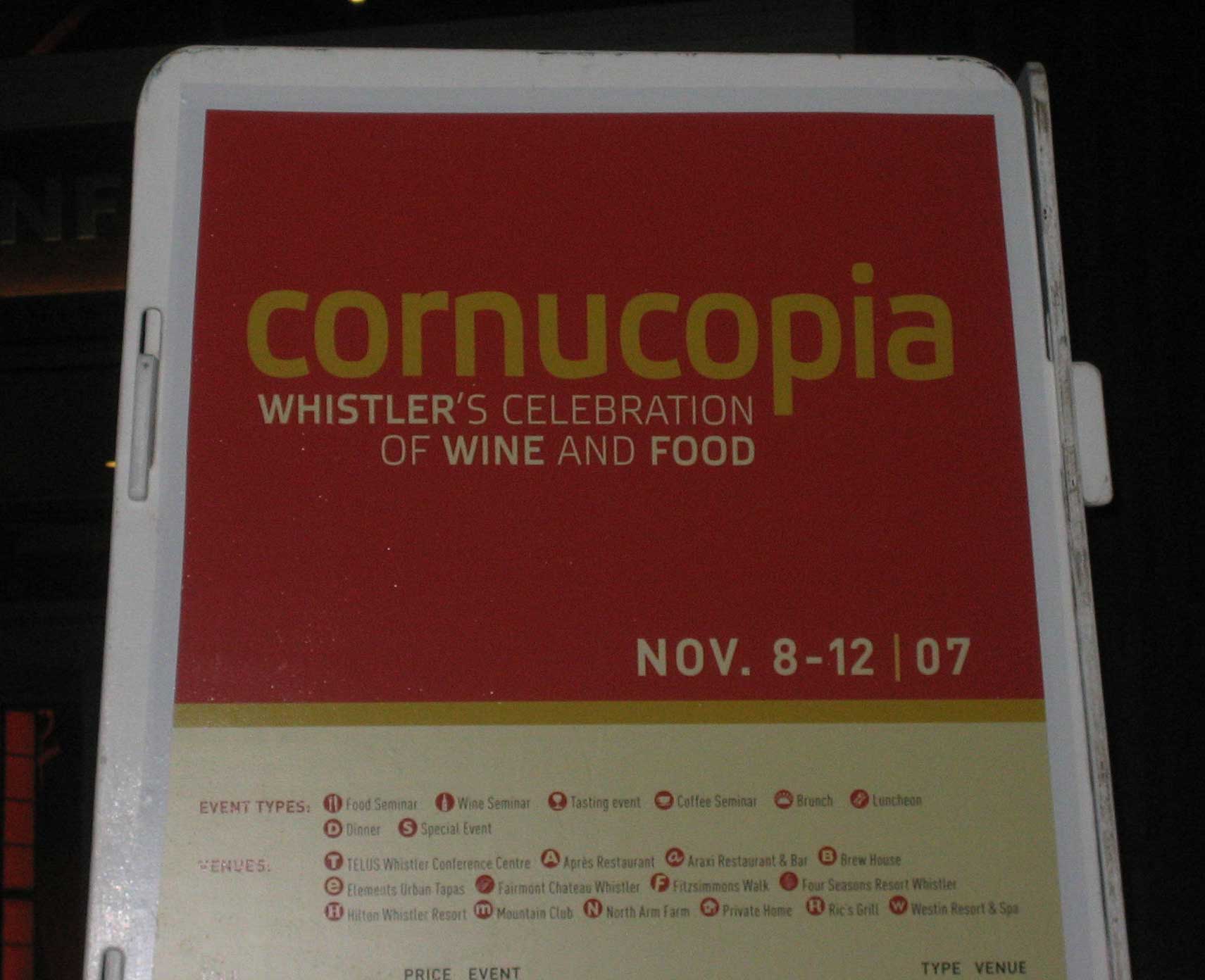 I arrived at Whistler Friday evening with barely enough time to grab a quick bite to eat, pick up my media pass and hit the hay. Saturday was going to be an early morning.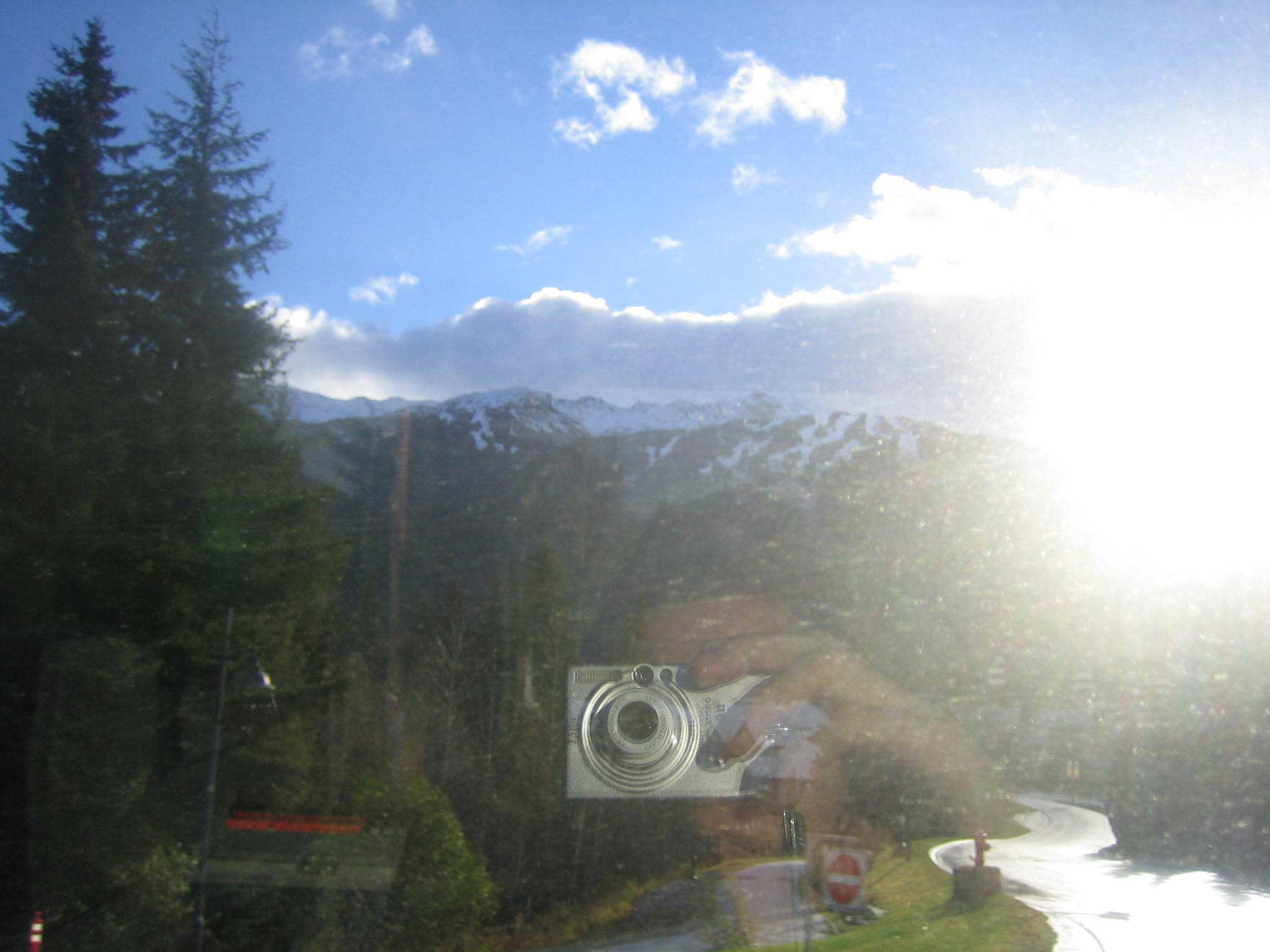 My first event on Saturday was a last-minute invitation the sold out Chef's Trip to the Farm. We boarded a bus at nine in the morning bound for Jordan Sturdy's farm in Pemberton, about 25 minutes North of Whistler. And a beautiful drive it was, cutting through the mountains on a narrow stretch of highway set the mood well for our arrival at the picturesque North Arms Farm in the Pemberton Valley.

The weather was unseasonably awesome, the sun gracing us with his presence for most of the trip. I was struck for the first time by the fact that I was actually in a valley when I turned around in a full 360 and saw mountains on the horizon everywhere I looked.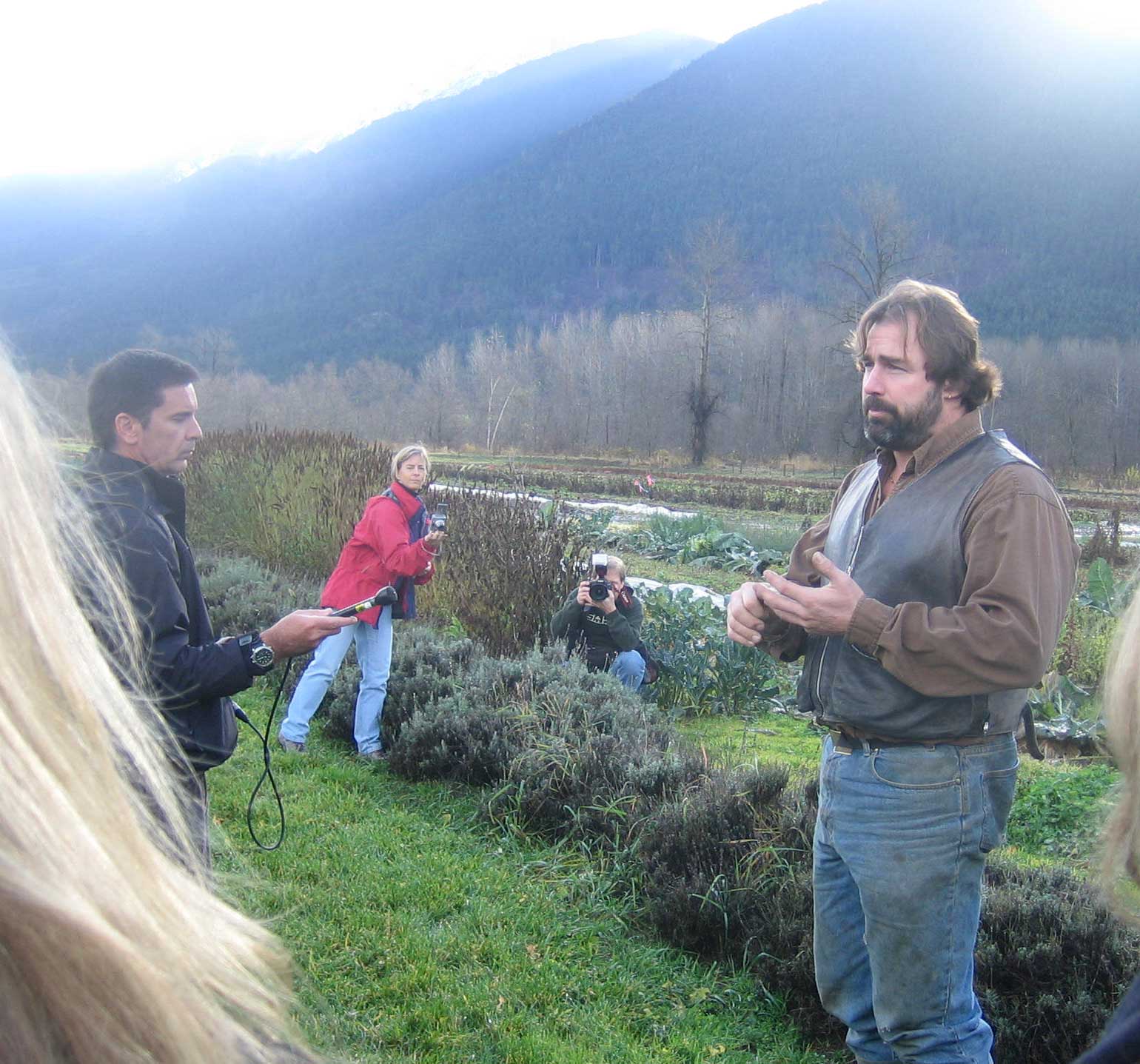 Jordan Sturdy, who also happens to be the mayor of Pemberton, was an impeccable guide as we explored his North Arms farm. We learned that potatoes are the number one crop in the area, and that any new seed needs to be planted seven seasons before the crop is ready to sell, to make sure it is not prone to disease. They also grow just about any other fruit or vegetable one could think of at the farm, partially to supply the demand of chefs at Whistler. Such crops include sunchokes, varieties of edible flowers, pumpkin, and black salsify.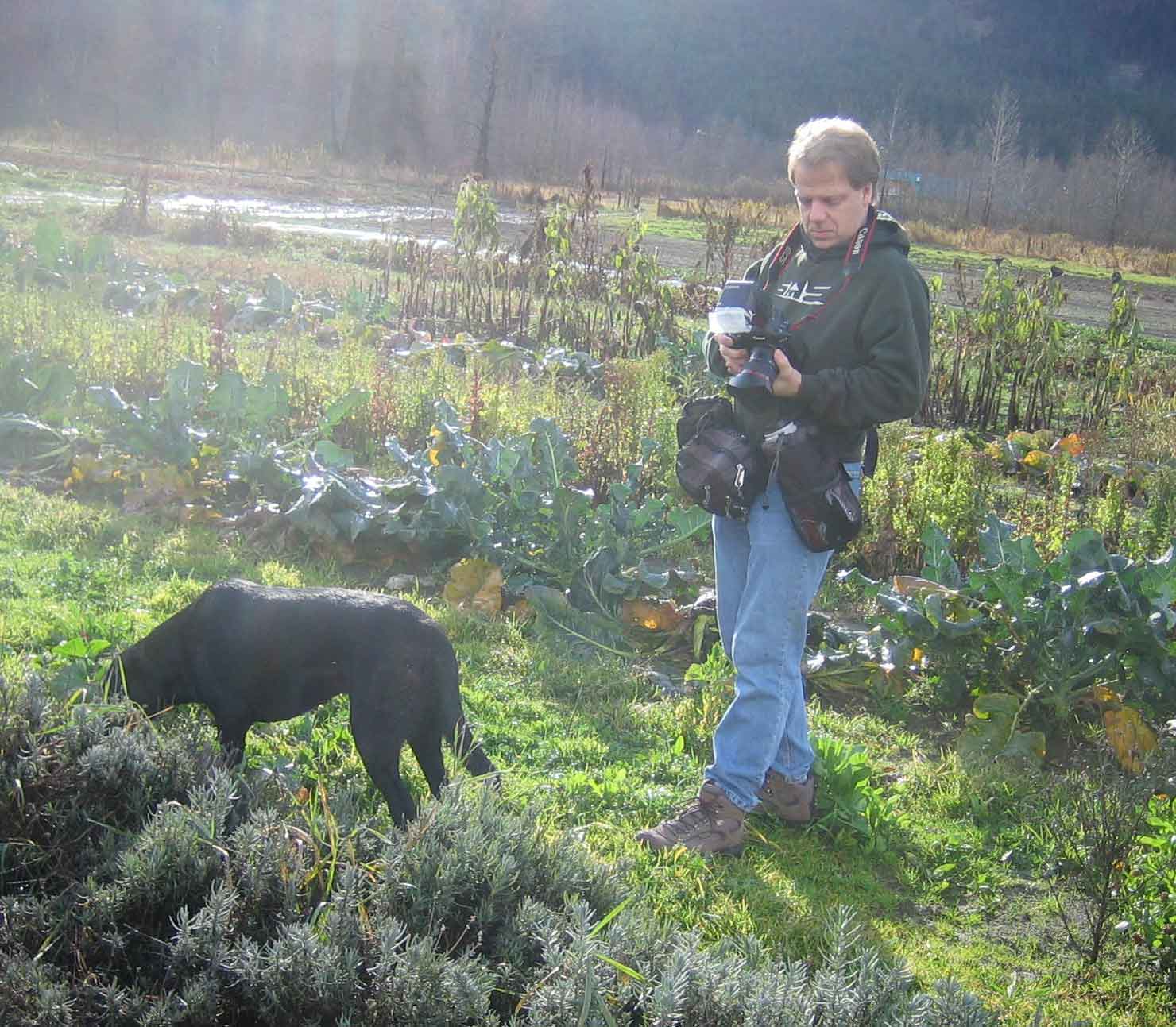 A dog and photographer were there.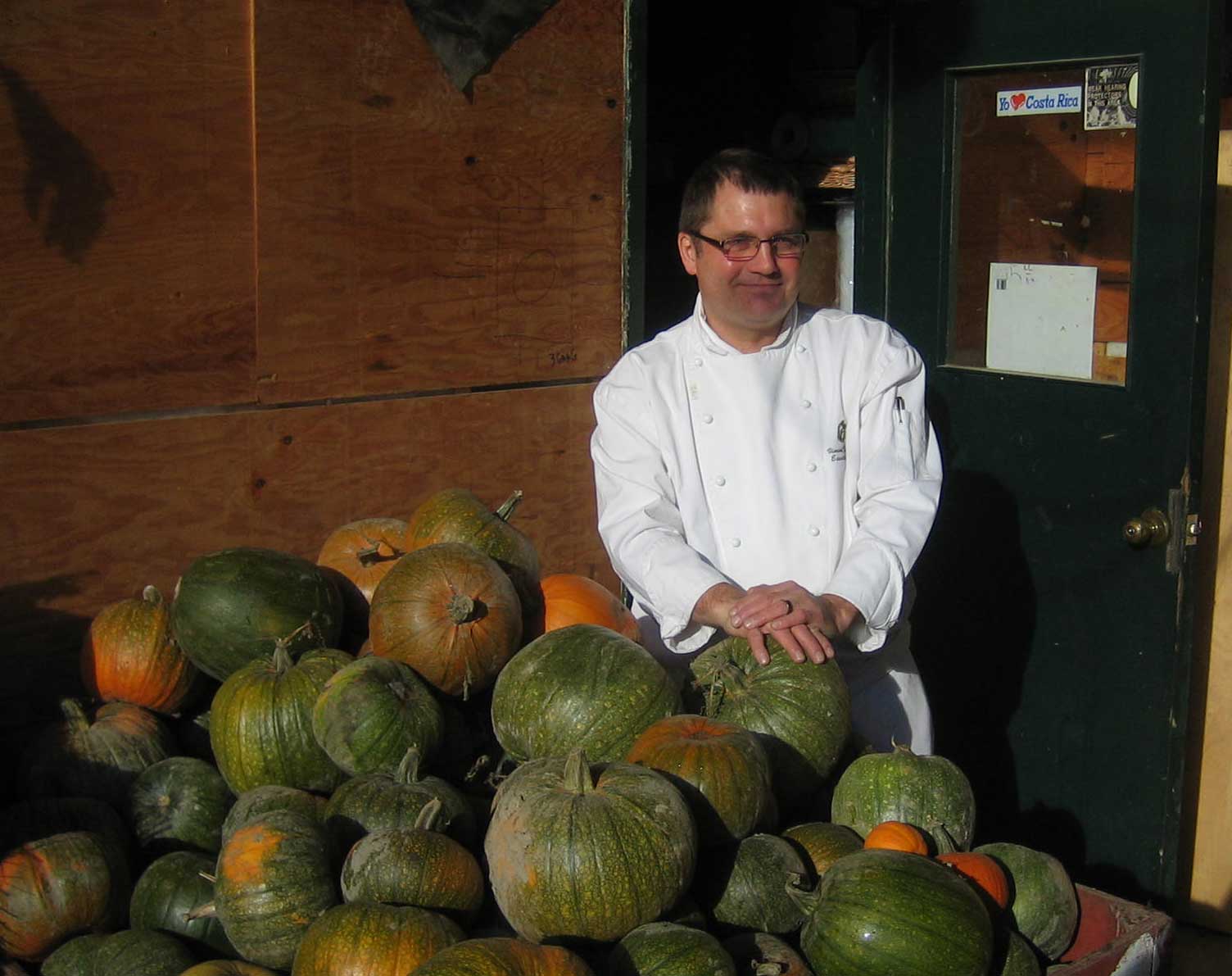 Afterwards, we were handed off to Vincent Stufano, the executive chef at the Fairmont Whistler.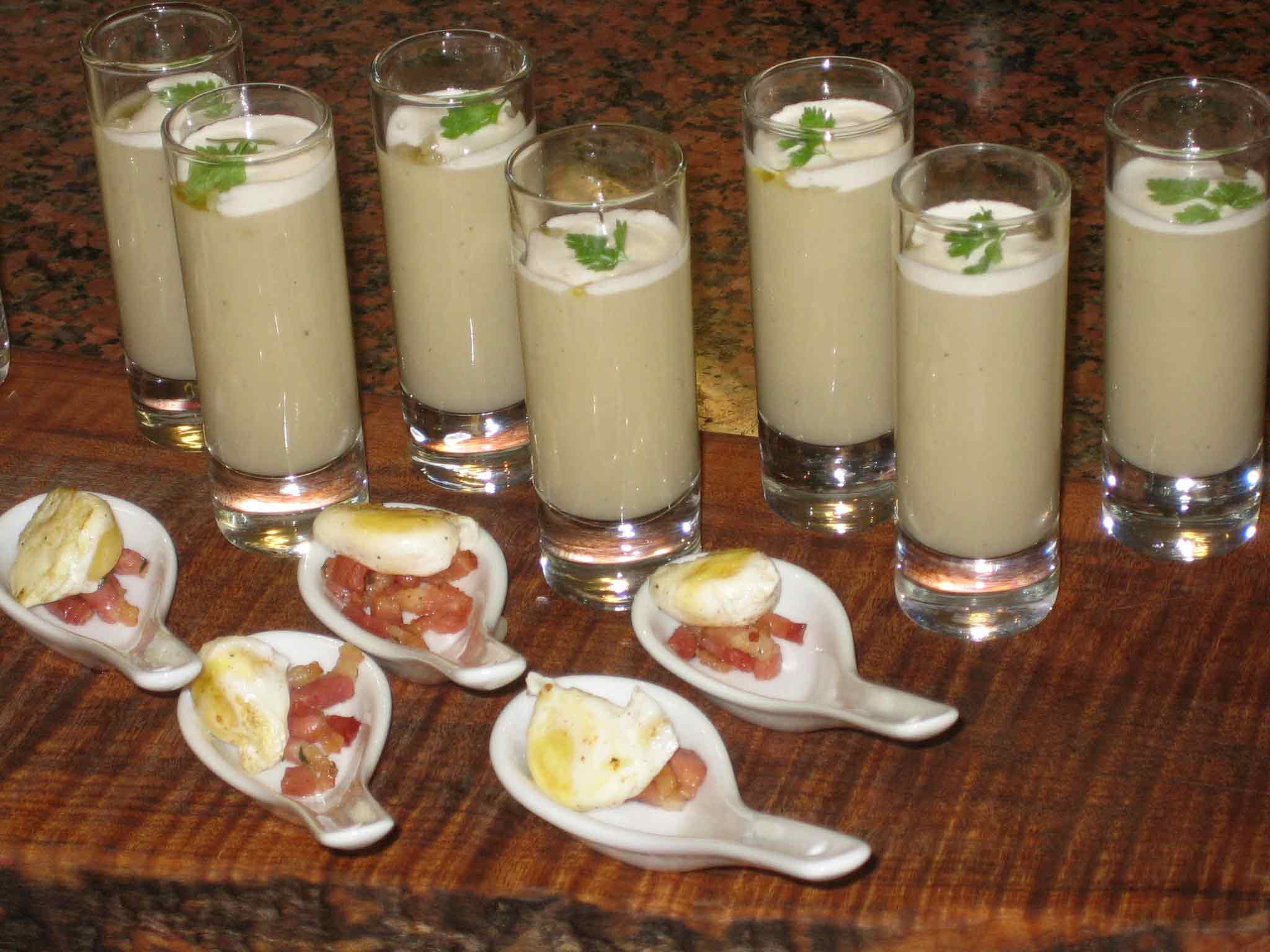 He took us into the farm's modest kitchen located in the barn.

We were treated to a starter of fried quail eggs and country bacon, washed down with a sunchoke cappuccino shooter. The sunchoke soup was divine, the rich smoothness of the sunchoke lent itself perfectly to this treatment. Chef Stufano made the soup without a chicken or beef stock to let the flavors of the sunchoke shine through.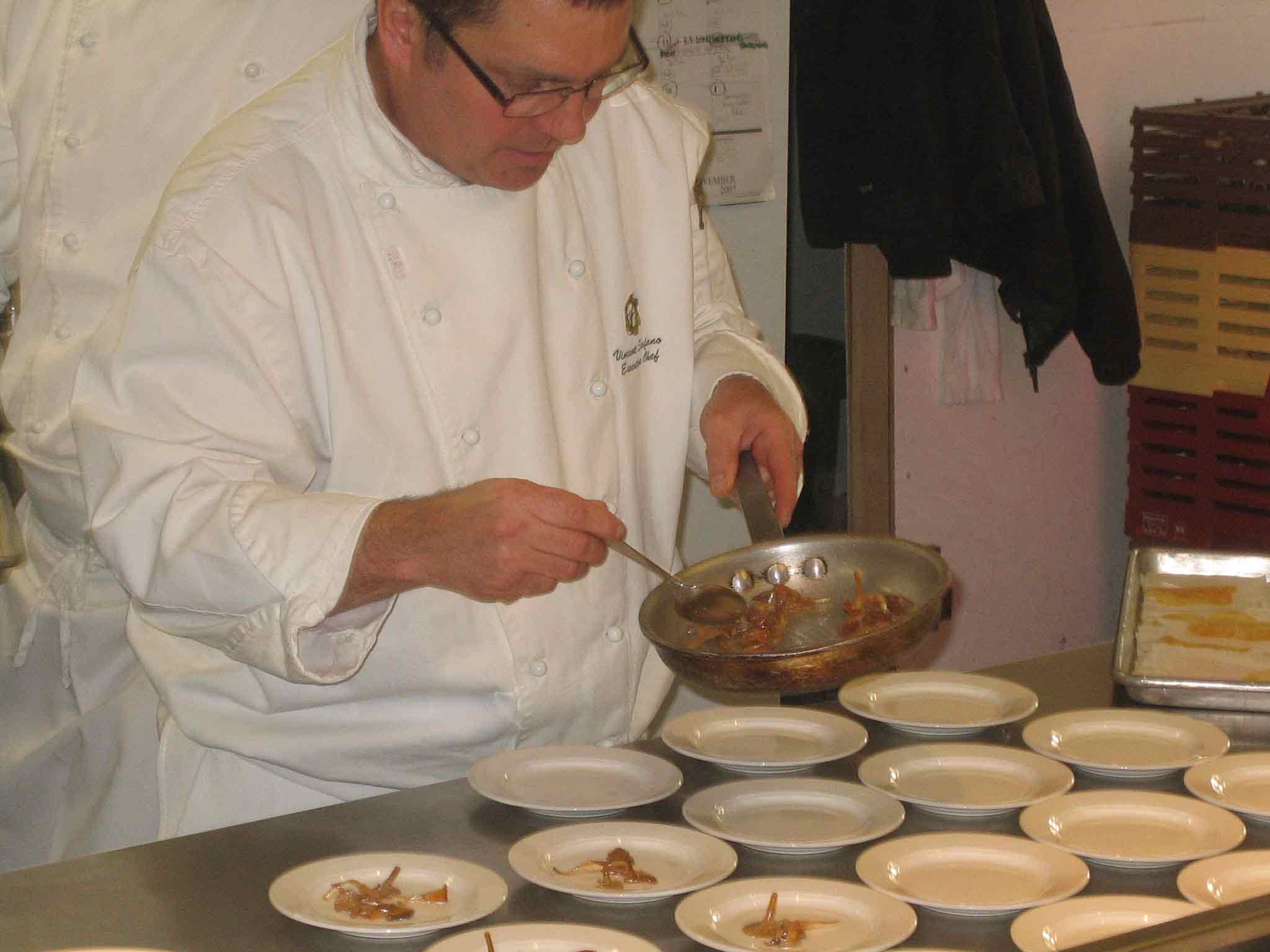 Next up were scallops.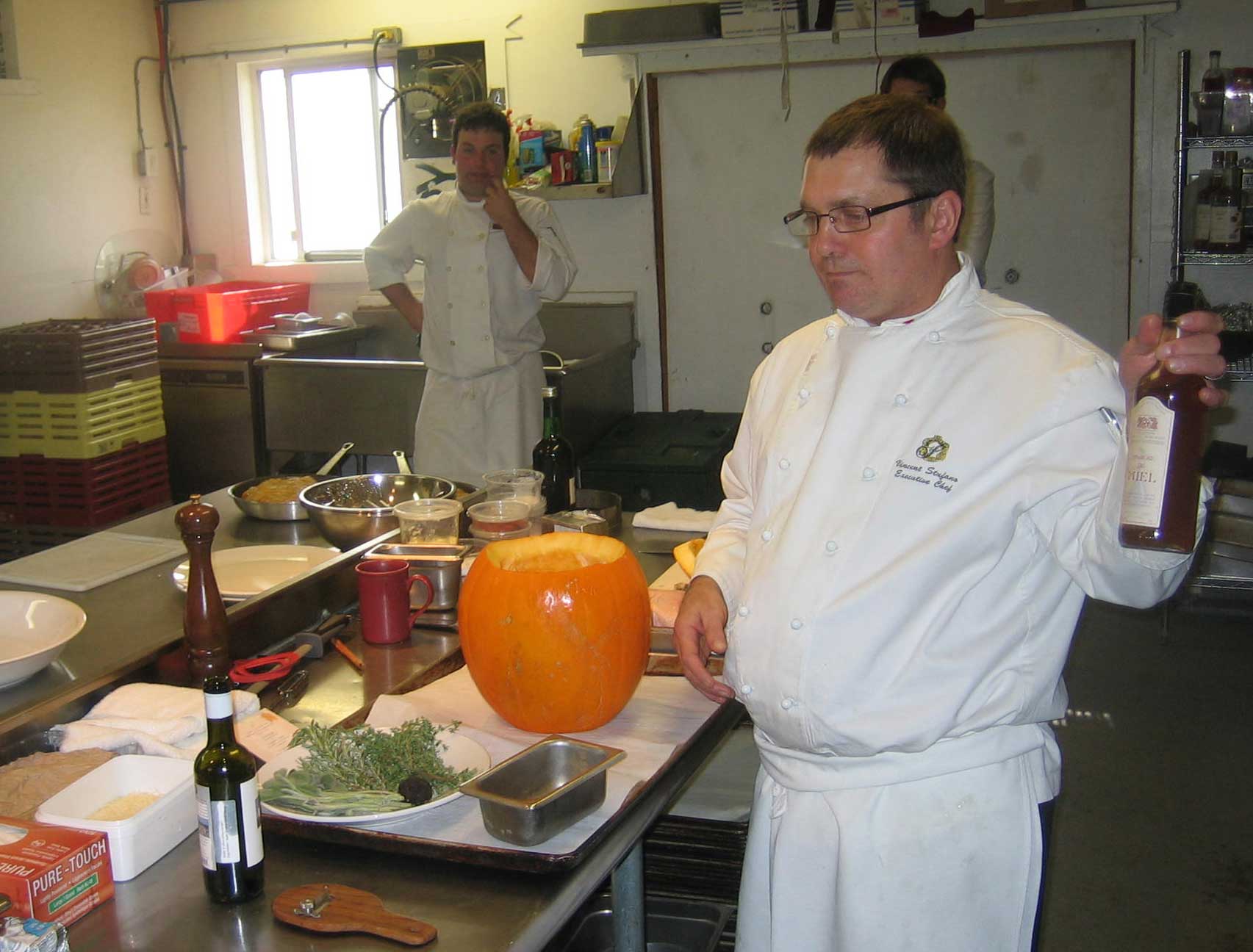 They were served with wonderfully earth chanterelle mushrooms and a quince-butter sauce. The quince lent a nice acidity to the sauce, but it was all mild enough to let the scallop star. Another hit.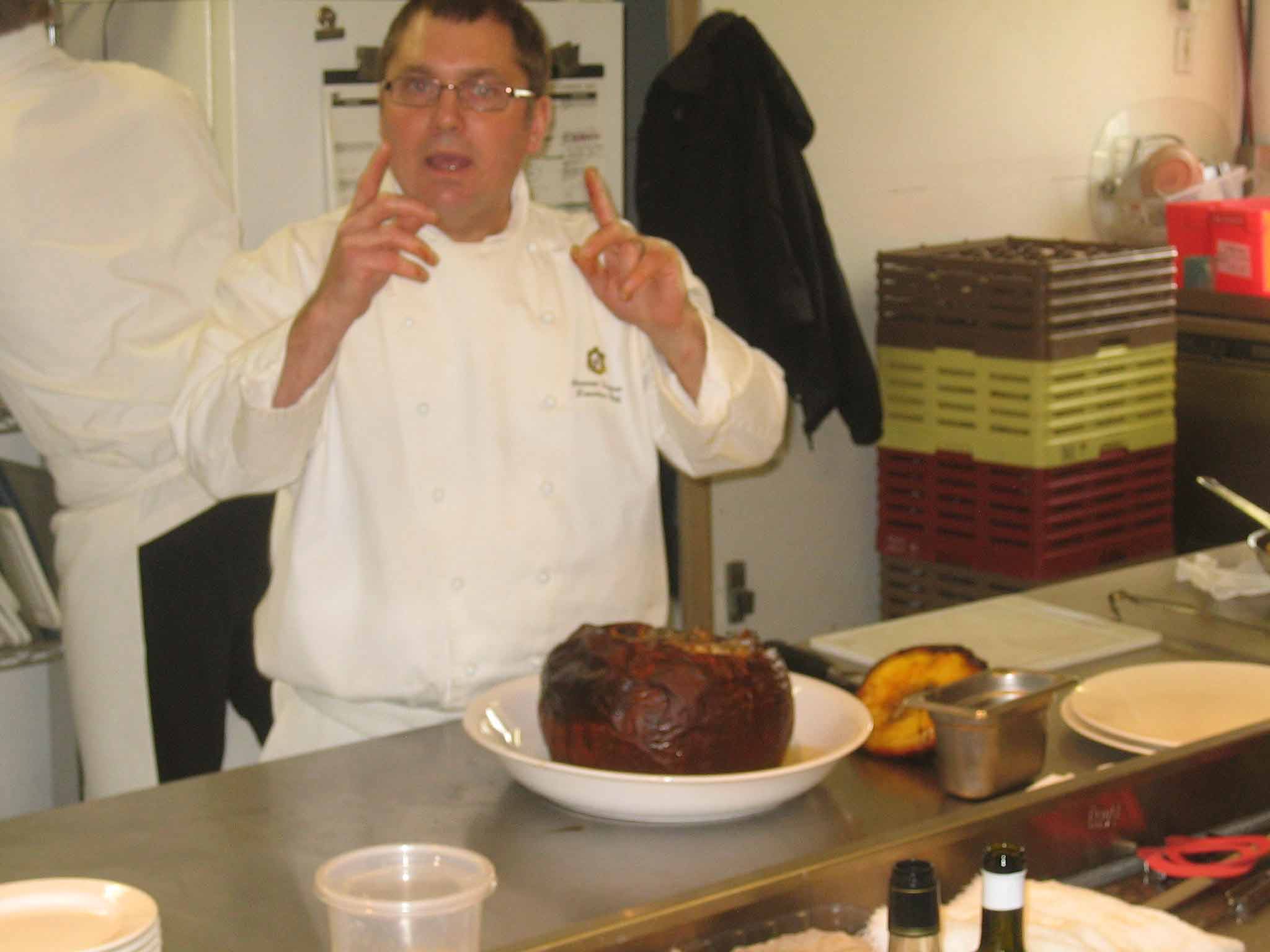 The next dish involved a pumpkin, chicken, and the pictured honey vinegar. Can you guess what it was?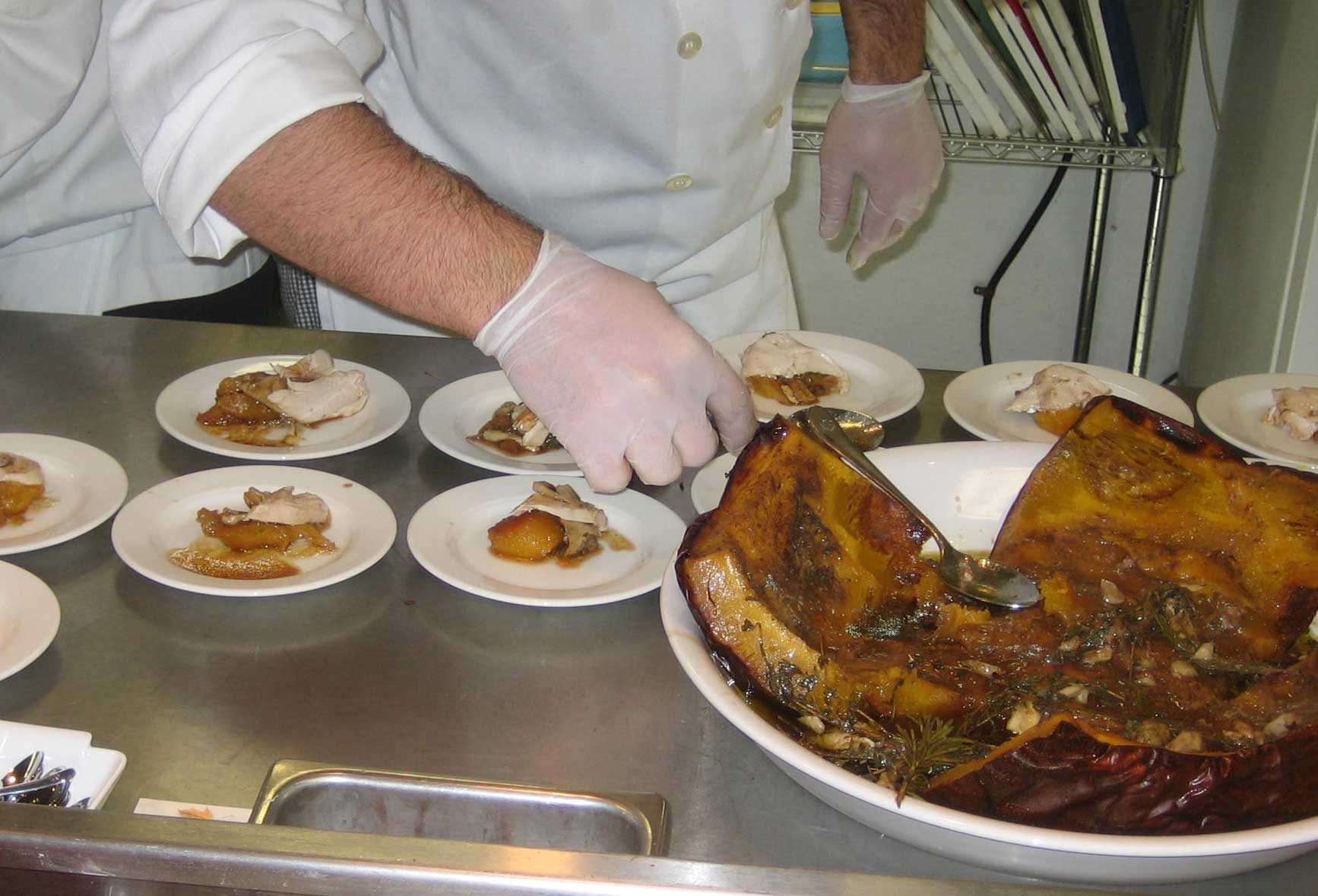 I certainly would not have been able to do so. Chef Stufano stuffed a pumpkin with several autumnal spices (cinnamon, clove, etc), the honey vinegar, fresh spices, a lobe a foie gras, and a whole chicken. The stuffed pumpkin was roasted slowly for several hours before it was dissected in front of our eyes. I should say here that I thought it was very nice that Chef Stufano and the kitchen staff showed up how to prepare each dish, although there was finished version waiting for us. The chicken was excellent, unbelievably moist and rich with flavors from the pumpkin. This kind of dish really evokes thoughts of the pending holidays, and while certainly not the most sophisticated with regards to presentation, it was homey and comforting.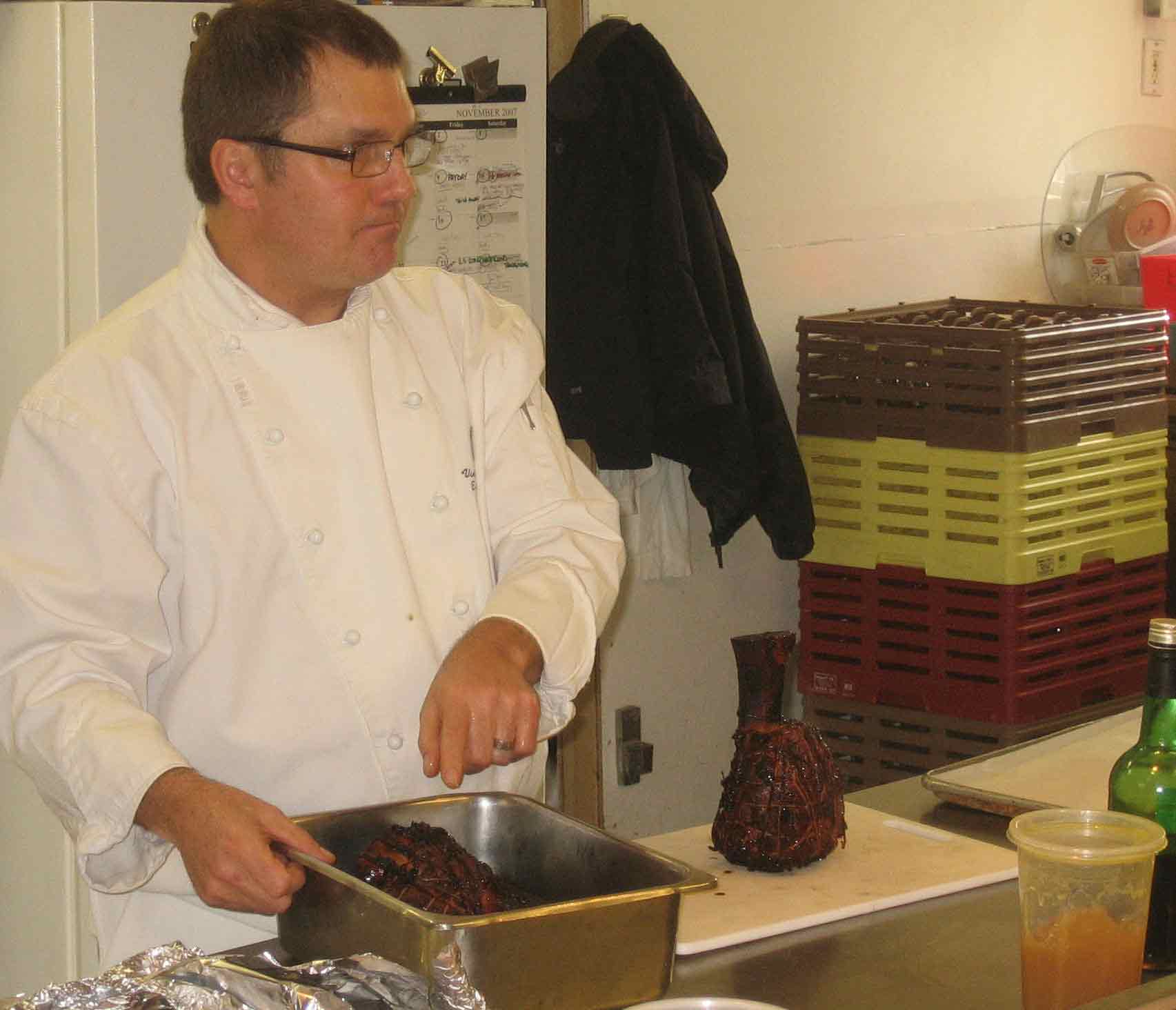 Next up was a veal shank braised in, you guessed it, an entire bottle of port.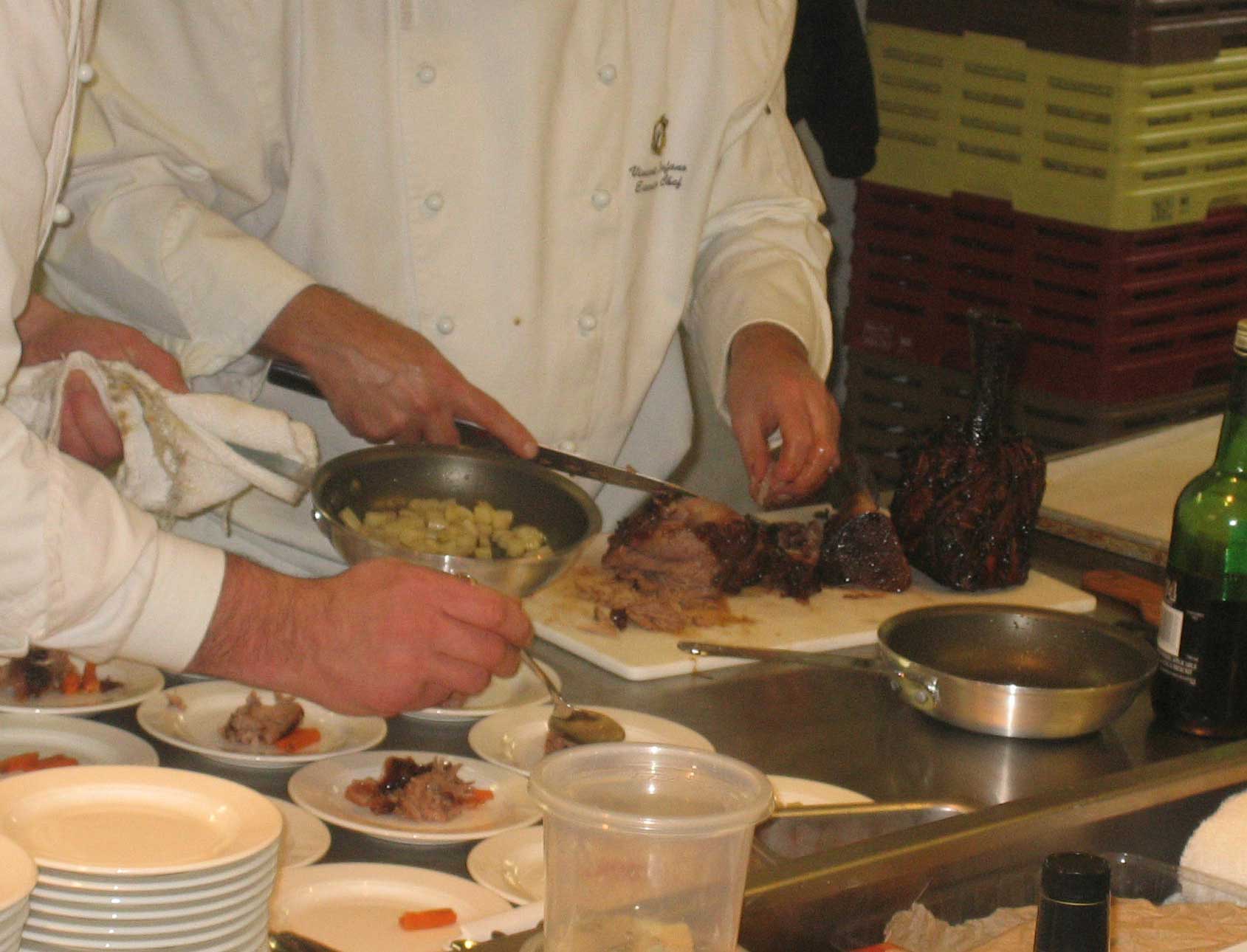 It was plated with salsify, carrots, sweetbreads, and a shaved white truffle. This was probably my favorite dish of the day because besides the obvious luxury of the dish, all of deep flavors played well together and created something bigger than the sum of its parts.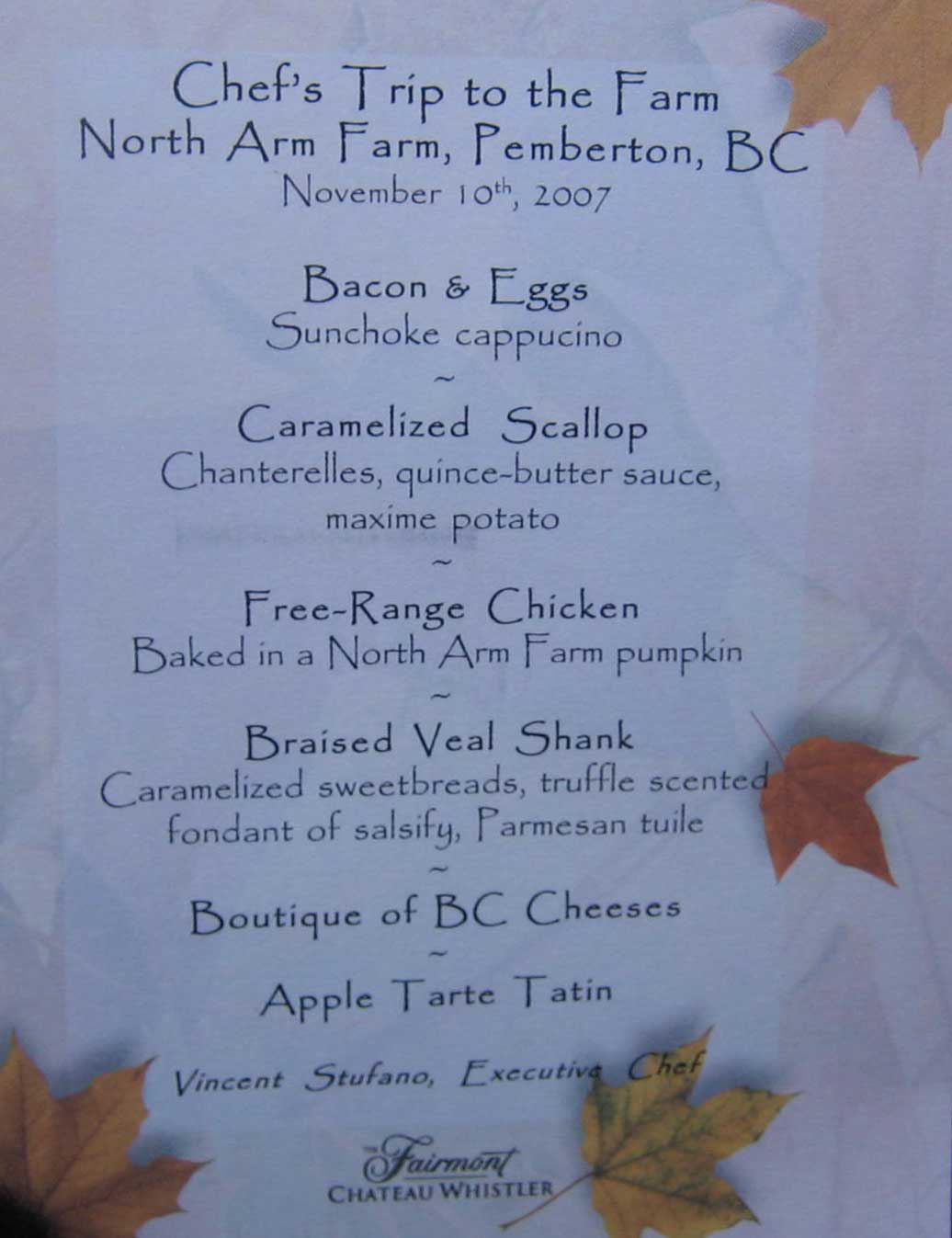 The meal ended with a nice selection of BC cheeses and finally a warm pear tarte tatin.
And soon enough we were back on the bus, headed for another round of seminars. The Chef's Trip was definitely one of my favorite Cornucopia experiences, where I learned a lot, had some wonderful food and met some great people. Isn't that what it's all about?? Next up: Battle of the Sexes.