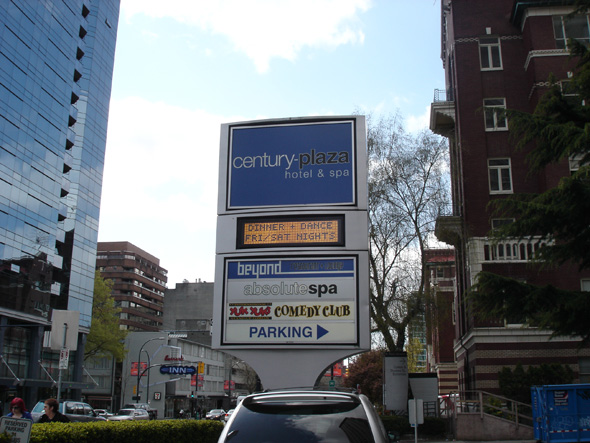 Beyond Restaurant & Lounge at the Century Plaza Hotel: Sunday Brunch Buffet
Located in the Century-Plaza hotel & Spa
1015 Burrard St. Vancouver
Brunch 10am – 2pm every Sunday.
Adults $24.95
12 & under $12.50
Seniors $17.50
Zero Stars (Out of a possible 4)
Hello readers! Let me take this opportunity to apologize for, what certainly feels to me, like a long hiatus. Life has been getting in the way of posting but with this submission I expect that we will be back on for regular tasty tales!
We're starting a Sunday Brunch series and our first adventure began two Sunday's ago at Beyond Restaurant's Sunday Brunch buffet. At Beyond they combine breakfast and lunch and give you the option of choosing one or the other or both. If you choose brekkie you get it at a reduced price and if you choose lunch you pay the full price of both regardless of whether you take advantage of the breakfast "side" of the buffet.
Naturally, we chose both!
As a bit of background: in a former life I traveled extensively throughout North America and have had the, mostly, good fortune of enjoying a vast array of hotel breakfast, lunch and dinner buffets. I offer this by way of the context I feel I have for hotel style buffets in general. I have eaten at many.
The other thing to note about this particular review is that it is a group effort. We are five buffeteers that contributed to the comments here and will be buffeteering going forward in this series.
As for Beyond, their website boasts that the Sunday brunch buffet is "an instant hit to start Sundays off right! Offering a colourful array of Beyond's best breakfast and lunch selections." We imagined tables overflowing with fruit and fresh pastries.  We imagined the food would be fresh and delicious. Ah, the wonders of imagination.
We arrived at what feels like a typical brunch buffet time of 11:30am. The restaurant was not very busy. I counted 3 other tables. The first thing noted when we walked into the restaurant area was that the buffet is quite small. That's not in itself necessarily a bad thing particularly if the dishes are all unique and delicious. However, not only was the selection limited, but also, most of the dishes were stale and had clearly been sitting out for a good amount of time. Sauces were congealed, all the hot breakfast items were overcooked except for the sausages which weren't cooked enough in the first place. Croissants were dry, the hot dishes were lukewarm in their chafing dishes, and the desserts, while looking pretty, tasted as though they were made and refrigerated the night before, and put out on the table numerous hours before we arrived.
Despite overall lackluster appearances and unappealing temperatures, some dishes were acceptable. The lamb phyllo, and meat satay were quite tasty, as was the artichoke salad.  We also enjoyed a beet salad and a particularly delicious stuffed and rolled porkloin that was being carved intermittently by varying staff members one of whom told me that they cooked it overnight in a slow oven. It tasted slow-cooked and was succulent and juicy. There was an omelet station too but there was never anyone there to cook omelet's and you couldn't really tell what it was unless you understood why all of those small dishes were sitting grouped together next to the pork loin.
Overall the breakfast buffet side was simply not good. There was a nice cheese and fruit selection on that side but, again, the fruit had been there awhile. I think the breakfast buffet had probably been there since 7am when breakfast began. Hard to tell exactly but it was far from fresh or even recently freshened.
In the dessert section the only really fresh items were the strawberries, the chocolate fountain and the whipped cream none of which deserve any criticism.
As for the service, it was lazy and intermittent. Our server tried to discourage us from ordering juice, making a strange big deal about the fact that it wasn't included in the buffet. Several things were simply forgotten when requested. Coffee refills rarely appeared and none of us ever received new utensils at any time we left the table to get more food so we lifted them from other surrounding tables. In response to the question of what to do with plates we had already used he told us we could put them on adjacent tables and he'd get them "later".
Remaining optimistic despite this unhappy experience, we're reluctant to completely write-off this restaurant.  Some of the items showed that there is culinary promise in the kitchen even if this buffet was poorly executed. We will, however, write-off this brunch.