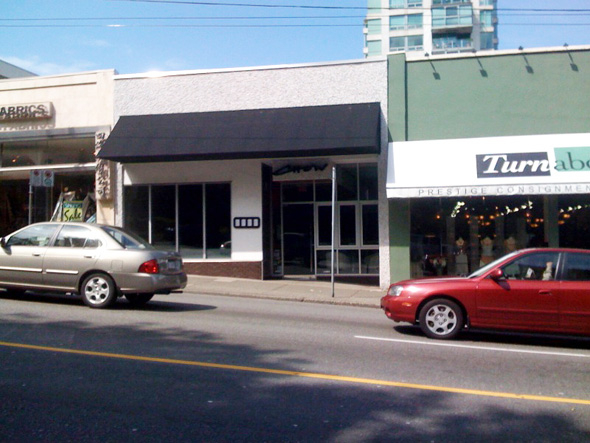 Chow
3121 Granville Street
604.608.2469
www.chow-restaurant.com
info@chow-restaurant.com
Lunch Mon-Fri service from 12:00
Dinner every evening service from 5:00
$38 prix fixe nightly 5:00-6:00
****Stars (out of a possible 4)
By Elisa Wakabayashi
Eat Vancouver Writer
My experience at Chow was so wonderful that I can't wait to go back and order the same things again! We arrived on a Friday at 6:30 and while the place was only medium busy to start it begin to fill and we were ultimately glad that we had made reservations. I'd been anticipating our dinner for awhile and had already been salivating over the menu on the Chow website so I  knew exactly what I wanted. We started with the Caesar salad: parmesan crisp, duck prosciutto, breadcrumbs ($12), deliciously clean in presentation with the items separated and a perfect share plate. Alongside it we shared the Albacore tuna tartar: avocado carpaccio, green papaya and grapefruit salad, preserved lemon, cilantro, taro chips ($16). I particularly  enjoyed the perfect balance of flavours in this dish. I have been craving fruit and tuna for quite some time now. I love that combination and this definitely didn't disappoint. However, both dishes had such an inviting presentation, and we were so hungry, that we forgot to take photos before we dove in to enjoy.
Both of us were so enamoured with the descriptions, and subsequent presentation of our chosen mains that we decided to share only a few bites with one another. Mine was the braised veal cheeks: sauteed spaetzel, smoked bacon, parsnip puree, brussel sprout leaves, mustard sauce ($26). This really caught my attention when I saw it on the website menu and I was really looking forward to trying it. Remembering this time, I patiently took a picture, and then savoured my first bite: a tender, juicy, magical flavour with such a caressing texture that made me want to raise a flock just for their cheeks. It was truly delicious. Usually I  would just eat the meat and leave the extras behind, but in this dish the spaetzel, bacon, puree, and brussel sprout leaves complimented the cheeks so perfectly that soon there was nothing on my plate.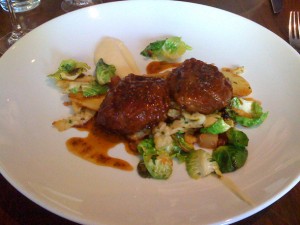 As for the other main, which was a 12oz 'AAA' beef striploin accompanied by a pomme puree with cheese curds, braised carrots, champignon de paris ($35), there was also no disappointment. Both meals were generous in proportion and so delicious that the only downside was we were left with no room to sample dessert. Have we learned our lesson? Probably not. I can't imagine dining in the restaurant again without ordering these two remarkable dishes.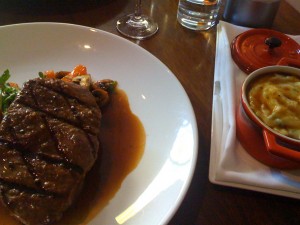 We were equally impressed with the drinks we had that night. I ordered a classic Shirley Temple which turned out to be perfectly constructed and delicious. I understand this is not daring, but I tread carefully with my beverages and I was driving that night. My dining companion was not driving, and so ordered a "Pony Water:" rye whisky, apricot du Roussillon, lillet, lemon juice, egg white ($11). We were suspicious at first, thinking this drink sounded quite rough and not at all pleasurable to drink, but our server, Claude, who's attentive service, knowledge and overall demeanor can be described as nothing short of "awesome" insisted on the smoothness of flavour of this concoction. He was correct, as servers who know their stuff usually are, and I and my dining companion were both smitten. Thanks again Claude!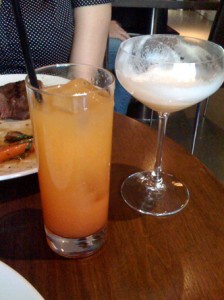 I must re-stress that I will be rushing to return to this establishment. The atmosphere was trendy but not snobby, clean but lacking an overwhelmingly sterile design, and, most importantly, the sumptuous food will invade my dreams until my next visit.