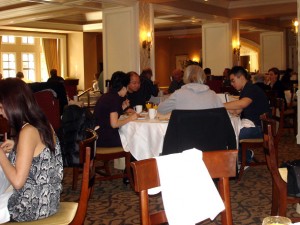 The Sutton Place Hotel
Sunday Jazz Brunch
Fleuri Restaurant 11:00am – 2:00pm (11:00am & 1:00pm Seatings)
Live Jazz Duo: 11:00am – 2:00pm
845 Burrard Street, Vancouver, Canada V6Z 2K6
604.682.5511 Fax 604.682.5513
By Staff Writer Elisa Wakabayashi and Doran Aisenstat
In another installment of our brunch series, the brunch bunch meets again, this time at The Sutton Place Hotel. The website claims that this is the "best brunch in the city." This just might be true though as only the second stop on this intermittent brunch tour it might be too soon for us to declare the validity of that statement.  However, as you will soon read, this was a very good but pricey offering at $38.95 per adult / $19.50 per child (4-12 yrs).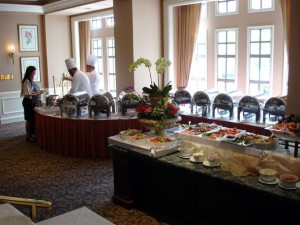 Upon arrival, we were shown to our table and almost immediately servers came around with jugs of freshly squeezed grapefruit juice and freshly squeezed orange juice. After the curious juice incident at the Century Plaza Hotel's Beyond Restaurant, we were all pleased to be see this offered as part of the brunch package and without any fuss. While on the topic, it must be mentioned that the overall service was very attentive coffee being constantly refreshed and dirty utensils and dishes promptly removed as we moved on to subsequent forays into the abundance of the brunch stations.
It should also be noted that this was a the Sutton's Sunday Jazz Brunch and throughout the meal, with few breaks, there was a lovely low key Jazz duet providing ambience and jazz standards in a very understated but elegant and professional manner framing up the brunch atmosphere.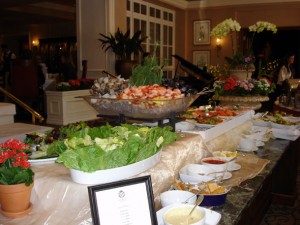 As for the food, the first thing we noticed when we walked in – particularly in comparison to our last event – was the sizeable and very fresh looking offering of varied brunch stations. There was a cold station with salads and seafoods, a traditional breakfast section in silver service hotplates and a carvery station with tender looking meats next to a busy omelet station.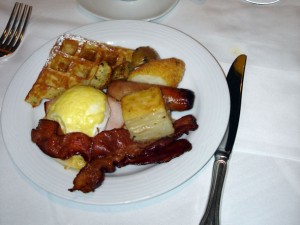 After the juices and coffees had been poured we quite literally bounded off to the buffet. Everything looked so delicious that before we had time to overly survey the spread, a couple of us (myself included) dove for the nearest section, which happened to be the salad and cold platter station. I filled my plate with fresh Caesar salad, smoked salmon, prawns, and a pasta salad. All of which proved to be delicious. I was quite happy to find that the cold prawns were already shelled, and overall made short work off this first cold course.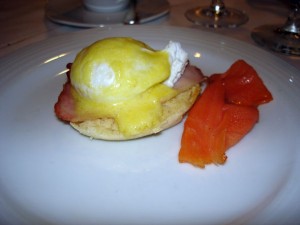 Back at the table, some of the brunch bunch had decided to dive into traditional breakfast food items and since breakfast is my favourite meal, jealously I could not wait to get started on my next serving. I piled on a Belgian waffle with syrup, eggs Benedict, bacon, a sausage, and a pancake! To be honest, I have had better waffles at a brunch – these didn't seem very fresh and were probably just not as popular with all the variety. I don't think eggs Benedict can ever really be their best if not made and served immediately, but for mass serving station style, these were very good. In a good mood, I can tolerate a modicum of mediocrity if accompanied by some greatness.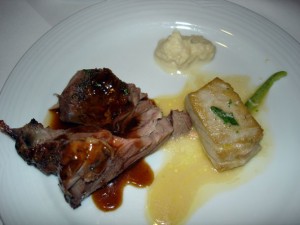 Which brings me to my next item: the carving station. Lamb. Delicious lamb. And roast beef. Both succulent, tender, properly cooked, fresh and completely satisfying with options for mustard, horseradish and au jus. This was greatness that overrode my slight disappointment with the buffet breakfast items.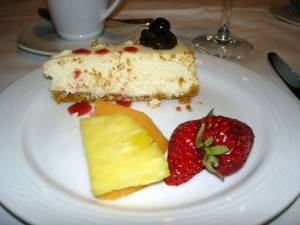 Due to a recent development of an allergy to chocolate, I was unable to sample the "Chocoholic Buffet." But other members of the brunch bunch remarked very favourably on several of the chocolate items. Gazing forlornly at the dessert table, I reluctantly grabbed some fruit. Originally dismissing a piece of cake as a lime cake (this sounded completely foul to me), my gaze shifted to the sign at the dessert table, which described this "lime" cake to be, instead, a green tea cheesecake! I rejoiced! With a sad little cracker, small portion of brie, and 2 melon slices, I snatched up the piece of cake (which I reluctantly shared with one of my dining companions who couldn't finish her own slice-you know who you are!). The cheese was delicious, fruit sweet and fresh, and the cake even more remarkable than I had anticipated. It was light and fluffy for a cheesecake. The flavour was creative and the presentation inviting (even though it appeared to be a lime cake), and its taste the perfect end to exactly the kind of brunch we all had hoped for before embarking on this latest addition to our brunching adventures.