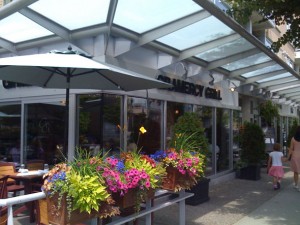 Gramercy Grill
2685 Arbutus Street, Vancouver
Telephone: 604.730.5666
Email: info@gramercygrillvancouver.com
Website: www.gramercygrillvancouver.com
Business Hours:
Mon. -Fri.    11:30am to Closing
Saturday      11:00am to Closing
Sunday     10am to Closing
**Stars (out of a possible 4)
Saturday's usually finds me, and one of my best friends, at my favorite local diner for breakfast – a ritual at the same location for more than ten years now –  I intend to review that establishment here soon. But this weekend my friend was unavailable and my beautiful girlfriend had the morning off from her yoga instructors course, so minus the usual brunch crew my partner and I hit up the Gramercy Grill for brunch.
Gramercy Grill touts itself as a Westside fave and has been around since 2001. Before I took over eatvancouver.net I had visited this neighborhood and neighborly spot a couple of times. Both, to my recollection, were favorable though the details escape me now. And my partner has had numerous positive dining experiences at GG in the past.
On this occasion, we arrived early, just after the 11am opening. We sat inside but adjacent to the good-sized patio in a bright spot. GG is a self-styled New York eatery and having been in a few such spots around Manhattan, GG emulates the right feel. Comfortable and warm. Unpretentious but stylish. And the rush of traffic on Arbutus adds a nice urban touch.
Regular brunch consists of an array of omelets and the ubiquitous Benny alongside the regular lunch menu. There was also a "tasting" menu for $16 that gave a choice of starter, main and dessert.  I had seen the brunch menu on the GG website and had already decided to have the Corn Beef Potato Hash but the description on the website and the description on the menu were different. The web menu says "corn beef, green onion potato cake
with poached eggs, vine ripened tomatoes & green salad" however on the menu there was no "green onion potato cake" and that was the key item that had drawn me to the dish. This was the first in a series of disappointments.
We both decided to try the tasting menu as this looked to be the best value and we were hungry.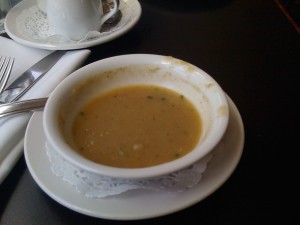 The starters offered a choice between fresh fruit or soup of the day. My partner had the fruit which was simple, fresh and light consisting mainly of cantaloupe and honeydew melon. There was a choice of two soups and I chose the Potato Asparagus Soup mainly because our server said it was cream based and it sounded like it might be like a warm creamy vichyssoise type soup. This was the next disappointment. Before tasting it I took the server up on her offer of ground pepper. Unfortunately, the soup was already very peppery and this just made it unduly so. There was also a strong heat that I suspect was an overly liberal application of Tabasco. Far from being a cream based soup this soup was fairly thin and the texture came mainly from potato starch and maybe the blended asparagus but there was no hint of asparagus or potato flavour, only the dominating heat and pepper.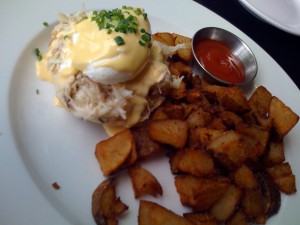 For the main, over the Omelet and Blueberry French Toast, we both selected the Crab and Tarragon Benny, consisting of a single Benny and a plateful of well-done hashbrowns. You can see by the photo that the Benny looks(ed) delicious but now came the third disappointment – my poached egg was quite overcooked. My partner's egg was perfectly cooked yielding the requisite yolk overflowing onto the crab below and mingling with the hollandaise but mine was medium-well. Ok, not the end of the world and just at the moment I was fretting the server came by to ask how things were tasting so I told her about, and showed her, my egg.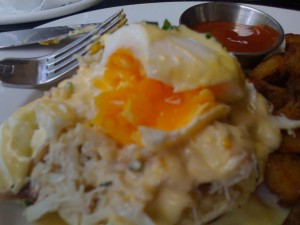 Now for disappointment number three. Far from being concerned, or helpful, the servers' response was that this was how eggs were cooked at Gramercy Grill. According to her, they cook them to medium. But next time I could specify the way I liked it and with that she took off. I was so flabbergasted and she was gone so quickly that I didn't even have time to point out that my partners eggs must be underdone given that logic and that there wasn't likely to be a next time given this attitude. I sat there for a few minutes fuming and debating over whether I was too hungry to care or whether I should push this issue further. It probably won't surprise our regular readers that I couldn't just sit there and take this attitude and overcooked food. And it was at this point, I am happy to say, the disappointments began to end and the whole experience took a turn for the better.
As I was looking around for a manager to whom I could escalate my complaint, the other server, a more mature gentleman who I had heard responding to customers earlier and seen bopping around the restaurant , came by to refill our waters and ask how we were doing. So, I told him.
Immediately he swept up my egg onto a sideplate exclaiming "no problem, let me take care of that right away" and whisked off to the kitchen. No more than 90 seconds later he was back with a new, properly poached egg and he continued to apologize and state that "there are no problems here only solutions," and, "we can't let an egg ruin your day," and other such phrases designed to make me feel good about complaining and rectifying the problem ASAP.
This was exactly what I expected and was very happy to see that someone at GG knew how to provide good service. Happily, he continued to serve us for the rest of the meal, coming by often and refilling water and coffee in a very attentive way and making us feel looked after and valued. I really appreciated it. He completely turned the situation around and made me want to come back to try them again.
As for the rest of the meal, with the egg renewed I dove into the Benny. The fresh crabmeat was abundant, fresh and really tasty – completely the opposite of our recent experience at The Sandbar (review to come). The hollandaise was light and tasty – I would have liked had they re-hollandaised the new egg but no matter – with the yolk mixing with the crab and the light flavour of tarragon it was delicious. The homefries were hot and tasty. Some folks may have found them too overly cooked but I like mine well-done and slightly crispy. My companion complained of overly salty and they probably were a touch too salty. Again, I like things well seasoned.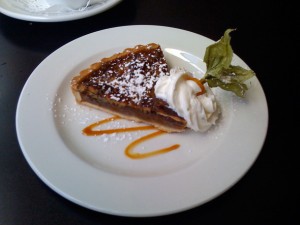 The final course was dessert. We both chose the pecan pie over the lemon tart and it was really tasty as well. Sweet but not cloyingly so as pecan pie can be and this was a firm pie, not too runny as pecan pie can also be. I inquired and the GG makes it themselves. Very nice.
Given the way we were initially treated when a small problem occurred I definitely would never have returned. But given the way the problem was rectified in such a professional manner and that the overall quality of the food was above average, I would recommend you give them a peek for brunch/lunch and I am looking forward to trying dinner at Gramercy Grill.