Hello Readers and Contributors!
It's nearly time again for one of the premier foodie events in the region so I am passing along the details to you. I confess I have never attended this event (yet), mainly due to scheduling issues, but my predecessor is/was a great fan! I am hoping to make an appearance this year but if you go drop in and post your thoughts here. If anyone wants to submit a review of the event we will be happy to consider it for proper publication too!
Here's the deets: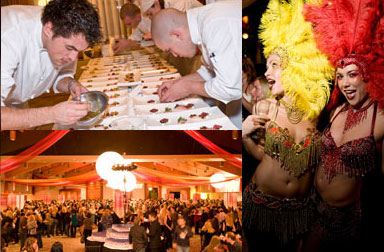 PLENTY OF WINE AND FOOD TO CELEBRATE AT WHISTLER'S 12TH CORNUCOPIA!
Whistler's trademark horn of plenty is set to overflow this November 12-15th, with more than fifty tastings, seminars, and parties scheduled to showcase the diversity of the resort's epicurean scene as well as its nous for throwing a world-class party.
Tickets and packages
Great accommodation AND Crush ticket packages!
3 Peak accommodation: from $170
4 Peak accommodation: from $201
5 Peak accommodation: from $214
Now available at www.whistlercornucopia.com alongside details of the four day event program. Make sure you get your tickets early, especially for Cornucopia's annual sell-out events!
Package price based on a 2 night stay for 2 people with 2 Crush only tickets for Friday, November 13th or Saturday, November 14th, 2009.
House Party – Best of BC opens Cornucopia Thursday, November 12th, 2009 5pm – 8pm
In 2009 we're kicking off the festival in true BC style and flair at the ultimate "House Party". Wine and dine the best that BC has to offer in gourmet BBQ, microbrewery beer, locally produced wine and even home grown vodka! Cornucopia is putting the "house" back in house party and welcoming festival attendees come on over and enjoy delights offered by our "city", our "backyard", our "house".
Trademark Events
Tickets are in high demand for Winemaker's Dinners, After Parties (tickets coming soon), and the two CRUSH Grand Gala Tastings. Offered both Friday November 13th and Saturday November 14th, to accommodate popular demand, the CRUSH experience for 2008 will feature 75 wineries showcasing regional and international flavour bringing the focus back to a wine tasting gala. After a successful launch last year the opportunity to prepare the palate at one of Whistler's fine restaurants with a selection of packaged set menus on offer with a Crush ticket returns, stay tuned for menus coming soon!
Something for everyone
Swirl, sniff, sip and savour a selection of vintages at various tasting events, make the scene at fabulous after-parties, brunches and buffets, or brush up on your wine expertise with seminars geared from the refined palate to the rookie.
Cornucopia brings Whistler to life – a feast of food and wine festivities – all conveniently located in the resort's pedestrian-friendly village. See FULL SCHEDULE.