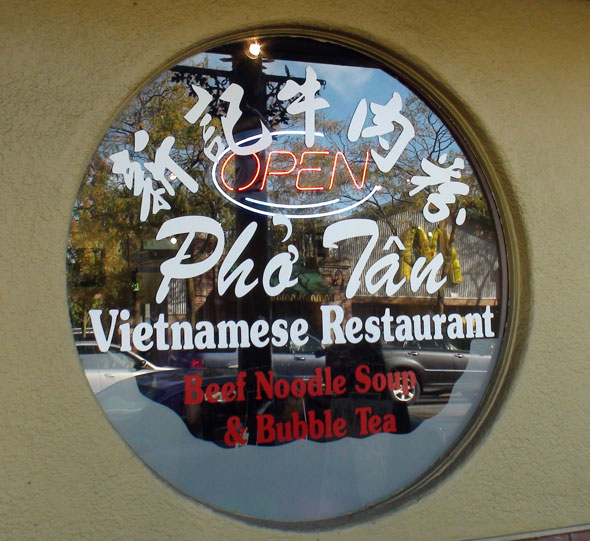 Pho Tan Vietnamese Beef Noodle Soup and Bubble Tea Restaurant
2076 W. 41st Ave, Vancouver, BC, V6M 1Y8
604.606.0688
Open 7 Days 10:30am – 9:30pm
**2Stars (our of a possible 4)
Is Pho Tan Kerrisdale a new contender in the ongoing Pho battle? How does it stack up?
A lot has been written about Pho on eatvancouver and loyal readers will have followed thoroughly the great "Pho-Down" saga, the journey, the winners and the losers. I too am a Pho fan along with all the other tasty Vietnamese dishes and, as such, will be continuing to add to the Pho knowledge we have on the site.
To remain consistent I have revived the original eatvancouver rating system for this Pho excursion and will be applying it to others going forward. Basing our Pho evaluation on scores out of 10 across the following categories:
Broth
Beef
Noodle
Condiment
Service/Atmosphere
Quality per $
The last category is more difficult to rank with the previous results as it is based on the price points from when that study was completed and therefore is not accurate when compared with current pricing. So, this will not be considered in this comparison but will be going forward.
All other items are based on our usual more subjective but no less vigorous scrutiny informed by our collectively experience.
A Contender?
Recently, we've discovered a new contender in the Pho battle – actually not entirely new but an offspring of a previous contender. Pho Tan Vietnamese Beef Noodle Soup and Bubble Tea Restaurant on 41st in Kerrisdale is the brother restaurant of Pho Tan on Main Street. I say brother because quite literally this location was started by, and is run by, the brother of the sister that runs the Main street restaurant. He explained to me recently that the Kerrisdale location was started with a more limited menu to test the neighborhood but that business is booming.
Being around the corner from my girlfriends place, we have eaten there a number of times and, on the whole, you are about to read a favorable review.
First, the Pho.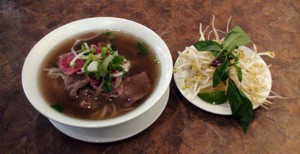 There's nothing particularly unique about the Pho at Pho Tan. It's what you would expect to find. And, it's completely consistent. The broth is flavourful but not overly aromatic or perfumed as some broths can be. It's not too salty and doesn't have that too-much-MSG aftertaste. It ranks high on our list but not at the top. There isn't as much depth of flavour as I would like to find. But, as I said, it's consistent and tasty.
The noodle to beef ratio is a bit off but not overly so. I like a little better balance where it definitely feels like you're eating a noodleful soup with some meat rather than a nice hearty soup with both. I realize this is a bit of a nit, but it's worth mentioning as in comparison the experience is different across Pho restaurants in general and it also speaks to the overall value.
On the condiments front, the herbs and sprouts are always fresh, the lime and pepper too, and abundant enough.
As a family run business the atmosphere is warm and welcoming though sometimes the speed and attentiveness suffer a tad. But in such a small place this is always overcome by simply calling out for whatever you need and it's taken care of with a smile.
Other Items
We have also tried a host of other items, more than once, including the Pho Bo Satay (beef) and Pho Ga Satay (chicken)- which were fully flavoured and even better than the standard Pho as well as Com Suon (porkchop on rice), Bun Nem Cha Gio, (springroll and minced pork on vermicelli) and Bun Ga Cha Gio. (spring roll and chicken on vermicelli). We've also availed ourselves of the selection of Banh Mi (Vietnamese Subs) and these have been delicious on fresh bread and well prepared. All have been consistently tasty and on par with other Vietnamese restaurants with similar offerings. Again, not overly unique, but good, fresh with nicely pickled garnish. The only exception was a recent encounter with the Com Suan where the porkchop was overcooked and thus rather dry and chewy. I've no doubt that it would have been corrected had my partner complained to me about it earlier. But we were in a rush and you all know how that can be.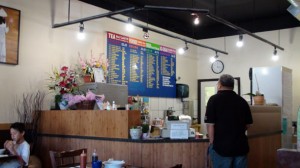 Lastly, I should mention that Pho Tan Kerrisdale makes a decent Bubble Tea too with all the expected fresh and powdered flavours and yummy additives. They're well trafficked on that front by a parade of youth from the nearby high-school as well as bubble tea fanciers of all ages, shapes and sizes in the community.
Overall on the Pho scale, after tabulating the score against the previous contenders, Pho Tan in Kerrisdale comes up third in the pack of 14.
If you're in the neighborhood and feeling Pho-ish, you should give them a try.