Mr. Sub versus Mr. Sushi
Mr. Sub
(604) 683-6152
Address: 781 Davie Street (map)
Mr. Sushi
(604) 683-6750 – free delivery in 2km radius
Address: 775 Davie Street (map)
Mr. Sub versus Mr. Sushi
a Showdown
By Jason Chin
Eat Vancouver writer
The time has come to answer the question that has burned in the souls and minds of Vancouverites for ages: What is better, Mr. Sub or Mr. Sushi? This question, nay, this conundrum has bothered me for nearly three years now, since the day I first wandered across the intersection of Howe and Davie and witnessed this bewildering confluence of prefixes. So many questions raced through my head…Had fate merely waved her ugly wand and placed these two independent yet formidable culinary giants right next to each other? Or were these two restaurants run by some sort of shadow organization (like the Pentavirate), banking on the notion that anyone happening by this intersection would certainly want either a sandwich or sushi?
Clearly the situation warranted further investigation. I arrived on the scene late one Thursday with an empty stomach (due to an awkwardly scheduled haircut…don't ask). I decided to enter Mr. Sub first and was immediately greeted by a pleasant young man behind the counter who asked me what he could make for me.
"Hold on there buddy, I have some questions first."
Unfortunately, he wasn't quite sure why there was a Mr. Sushi right next door. He'd heard rumor that two or three years ago they were run by the same man, but he wasn't sure. Luckily for me he did have a strong opinion about which was better – Mr. Sub of course. There are 900 Mr. Sub franchises and only one Mr. Sushi. Clearly the people have spoken.
I then asked him to make me the best sub they make and without a moment of hesitation, he went to work on The Ultimate Cheddar Club ($4.89 for a six inch). Think roast beef, turkey, ham, bacon, cheddar served on a choice of bread (whole wheat for me) with a variety of optional toppings (I chose lettuce, tomato, red onion, banana peppers, and olives) grilled in a Panini press-type of a device. Finally he asked me what sauces I wanted, at which point I balked, stuttered and eventually asked for his recommendation. Honey mustard and ranch – obviously.
I grabbed my sub, waved goodbye to my new friend, and headed next door. The woman who took my order at Mr. Sushi was more modest, refusing to weigh in on the Mr. Sushi versus Mr. Sub debate. She was also uncertain as to how these similarly prefixed restaurants ended up next door to each other. It was at this point I decided that maybe some questions are better left unanswered, and got with the showdown. Again, I asked about the absolute best item on the menu and was eventually steered towards the apparently very popular Crazy Boy Roll ($5.95). A bit of an unorthodox roll, the crazy boy is crab, cucumber and avocado roll served tempura style (battered and deep fried). It is then sliced lengthwise and served like boat with optional hot sauce (siracha). I also took this roll to go for a fully unbiased taste test back home.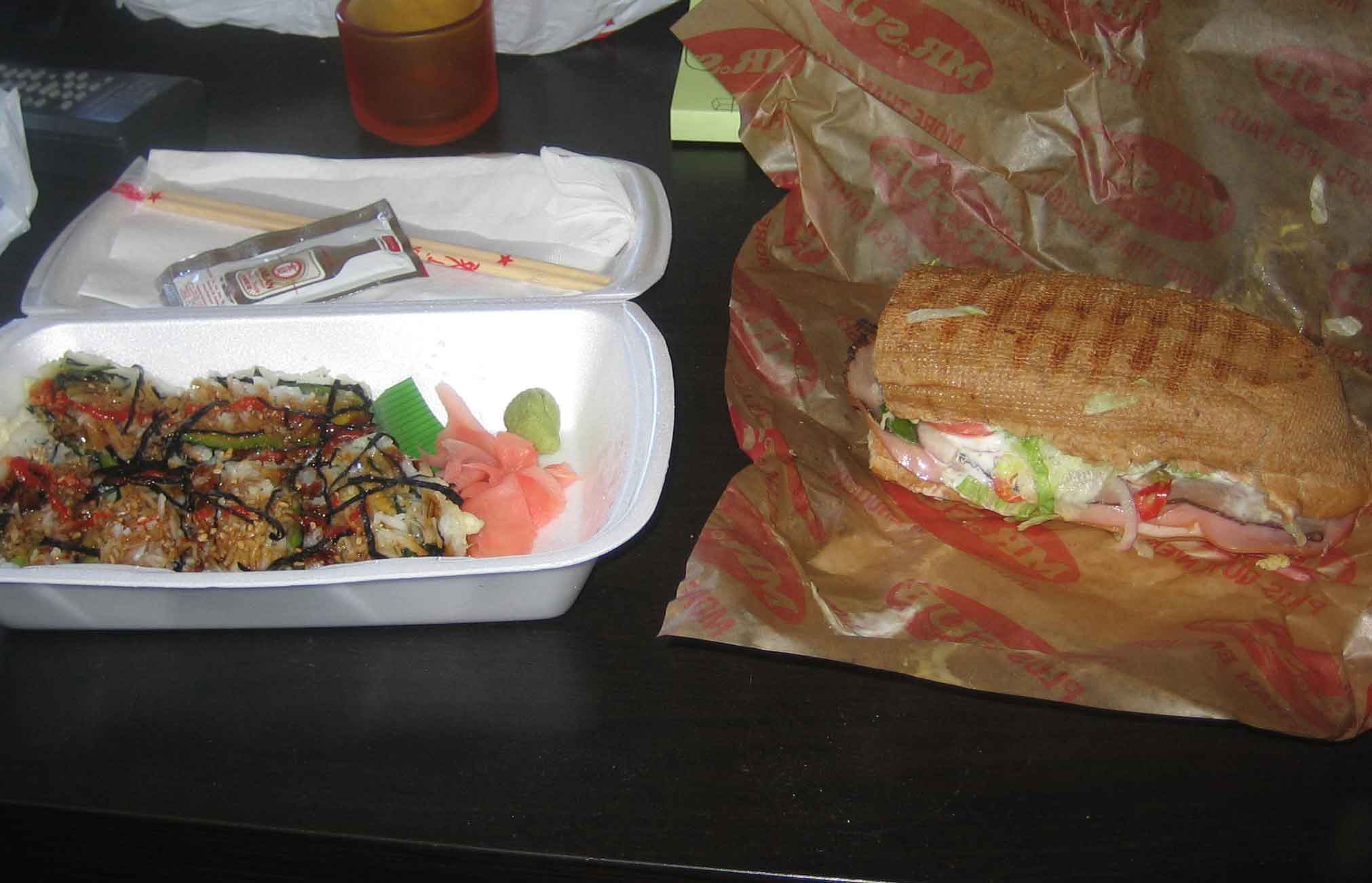 After a ten minute bus ride that felt more like an eternity, I arrived home and eagerly unwrapped the sub and roll. I was very worried at first that the bus ride would ruin the deep fried roll, neutralizing some of the crunchiness the tempura brings to the table. Fortunately, it didn't appear to have suffered much. The typical California roll flavors of course melded well together, and this roll was indeed brought to new heights with a slight crunch and warmth caused by the tempura treatment. A fine roll indeed. But how would Mr. Sub's finest hold up? Sogginess was also a concern with this grilled sub, but again the delay between preparation and consumption proved not great enough for any discernable effect. The sandwich itself was fine, hearty and not as disappointing as one might expect. I thought a little more cheese and meat, relative to other toppings would have provided more of the creamy melted clubhouse effect they were looking for, but hey, it was five bucks.
Clearly, this debate is not going to be easily concluded, so let's break it down on a point-by-point basis.
Freshness: Both were made to order with seemingly fresh ingredients …Advantage: Push
Creativity: Panini have been around for ages, but deep frying a roll? That takes guts… Advantage: Mr. Sushi
Healthiness: Even with the cheese and bacon, the sub was a good source of fiber and protein relative to fat… Advantage: Mr. Sub
Atmosphere: I prefer the blow-up sumo wrestlers and samurai paintings to the bland corporate tidings of Mr. Sub… Advantage: Mr. Sushi
Staff: Both were amicable and quick…Advantage: Push
Value: The sub costs less and is more filling… Advantage: Mr. Sub
So there it is 2-2-2; I can't say that I'm surprised. With two bigshots such as these, no one was expecting a blow out. But we didn't start this whole affair just to end in a deadlock and there is one factor left and only one of these similarly prefixed quick dining establishments can win. The question is simple: which one would I return to? And that restaurant, my dear readers, is Mr. Sushi. There are simply more interesting things to try at Mr. Sushi in an environment I would definitely enjoy dining in.
Bird-Magic, Red Sox-Yankees, Ali-Frazier, Coke-Pepsi, Potter-Voldemort – all of these classic rivalries seem to lose their glamour in the face of the Mr. Sushi-Mr. Sub conflict. But like these classic rivalries, victory was never a sure thing and I'm certain many will never be entirely pleased with the outcome. To these spectators I'll simply respond with a quote from the Sandlot, "I've seen enough to know I have seen too much."
Next for EatVancouver: What's this I'm hearing aboot Mr. Sparkle?